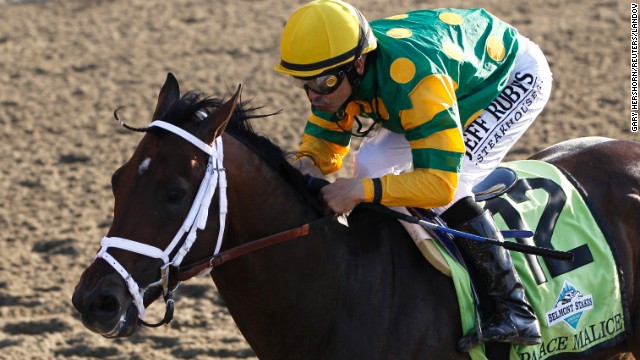 Palace Malice with jockey Mike Smith in the irons wins the 145th running of the Belmont Stakes, the final leg of horse racing's triple crown, at Belmont Park in Elmont, New York, June 8.
Jockey Mike Smith sits aboard Palace Malice in the winner's circle.
Jockey Mike E. Smith celebrates after riding Palace Malice to victory.
Palace Malice front and center during the race.
Palace Malace puts distance between himself and the rest of the field.
Palace Malice leads the pack.
The horses take to the track at the begining of the race.
The field leaves the starting gate.
A woman wearing a red hat attends the races on June 8.
A fan looks through binoculars.
A woman poses in her fashionable attire ahead of the running of the race.
Patrons place their bets.
A fan in an orange hat attends the races.
145th running of the Belmont Stakes
145th running of the Belmont Stakes
145th running of the Belmont Stakes
145th running of the Belmont Stakes
145th running of the Belmont Stakes
145th running of the Belmont Stakes
145th running of the Belmont Stakes
145th running of the Belmont Stakes
145th running of the Belmont Stakes
145th running of the Belmont Stakes
145th running of the Belmont Stakes
145th running of the Belmont Stakes
145th running of the Belmont Stakes