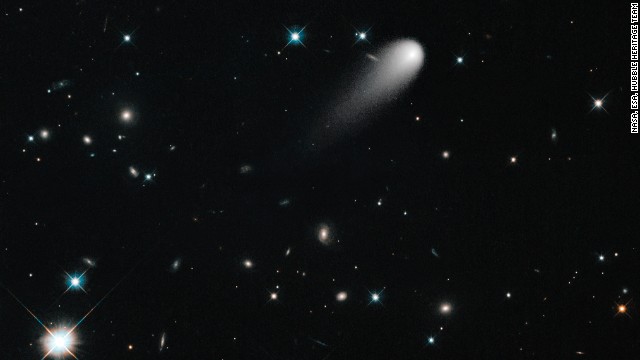 Color filters help create this vivid image of Comet ISON, captured by NASA's Hubble Space Telescope on April 30.
The Hubble Space Telescope took this picture of Comet ISON on April 10, 2013, when the comet was slightly closer than Jupiter's orbit, or about 386 million miles from our sun.
CAST Observatory
in Italy to capture this image of it on February 28.
In November, Comet ISON is expected to dive into the sun's atmosphere. Rolando Ligustri used a telescope at the
Comet PanSTARRS put on a show in both the Northern Hemisphere and Southern Hemispheres earlier this year. This image was taken by amateur astronomer Terry Lovejoy on February 12, 2013, from Brisbane, Australia. He used a QHY9 camera and an 8" telescope with 5 minutes exposure.
In 1986, the European spacecraft Giotto became one of the first spacecraft to encounter and photograph the nucleus of a comet. This photo shows Comet Halley's nucleus. The debris from the nucleus creates the trail of debris responsible for the Orionids meteor shower each October and the Eta Aquariids in May.
On July 3, 2005, NASA's Deep Impact fly-by spacecraft dropped its "impactor" probe into the path of Comet Tempel 1. There was a bright flash as the probe hit the comet. The images were beamed around the world in near real time on NASA TV and over the Internet. Orbiting telescopes watched from space and astronomers on the ground captured images, too.
NASA's Deep Impact mission's impactor probe snapped this picture 90 seconds before the probe was pummeled by Comet Tempel 1 on July 4, 2005.
Comet Wild 2's nucleus was photographed by NASA's Stardust spacecraft as it flew past in January 2004 and collected samples from the comet's coma. The spacecraft's return capsule ferried the samples back to Earth on January 15, 2006.
After returning the world's first particles from a comet, the Stardust capsule was packed up and shipped to the Smithsonian. The mission's principal investigator was surprised by the size and composition of the particles captured in the capsule's aerogel-lined collector.
This close-up view of Comet Hartley 2 was taken by NASA's EPOXI mission during a fly-by of the comet on November 4, 2010.
Comet Siding Spring looks like a red blaze in the sky in this infrared image taken on January 10, 2010, from NASA's Wide-field Infrared Survey Explorer (WISE).
This image of Comet NEAT was taken at Kitt Peak National Observatory near Tucson, Arizona, on May 7, 2004.
Comet Linear was photographed by a camera on the European Space Agency's Rosetta space probe on April 30, 2004. Rosetta is on its way to study Comet 67-P/Churyumov-Gerasimenko. On June 8, 2011, Rosetta was placed in hibernation. It will wake up when it reaches the comet in mid-2014, when it will drop a small lander onto the comet's surface.
One of the most famous comets is Hale-Bopp. It was discovered independently on July 23,1995, by Alan Hale in New Mexico and by Thomas Bopp in Arizona. It was one of the brightest comets in decades and was visible to the naked eye for several months.
Comet Lovejoy stunned scientists in December 2011 when it flew through the hot atmosphere of the sun and emerged intact. The comet was discovered by amateur astronomer Terry Lovejoy of Australia.
Up close with comets
Up close with comets
Up close with comets
Up close with comets
Up close with comets
Up close with comets
Up close with comets
Up close with comets
Up close with comets
Up close with comets
Up close with comets
Up close with comets
Up close with comets
Up close with comets
Up close with comets
STORY HIGHLIGHTS
Comet ISON discovered in September, should pass within Earth's view this year
Hubble team: Comet ISON's dust tail could wrap around Earth twice, then some
It is expected to pass within sun's atmosphere, and it should put on a big show
Experts: Comet won't threaten Earth, even if sun's heat breaks it apart as it passes
(CNN) -- Comet ISON may put on a show when it skims through the sun's atmosphere later this year. Right now, it's still far away, but we're keeping track and will give you regular updates. Here are five key facts about ISON as we await its arrival:
What's with the funky name?
Comet ISON was discovered by Russian astronomers Vitali Nevski and Artyom Novichonok in September 2012. It's named after their night-sky survey program, the International Scientific Optical Network, a group of observatories in 10 countries organized to track objects in space.
How big is it?
Measurements taken by the Hubble Space Telescope in April indicate ISON has a nucleus that is 3 to 4 miles across. The comet's head, or coma, is estimated to be 3,100 miles across, or 1.2 times the width of Australia. The Hubble team says its dust tail extends more than 57,000 miles -- more than twice the circumference of Earth, and far beyond the telescope's field of view.
OK, it's a comet. Aren't there lots of comets? Why is this one special?
Some early comet prognosticators have tagged ISON "the comet of the century."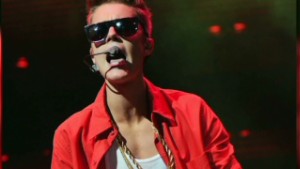 Justin Bieber to be launched into space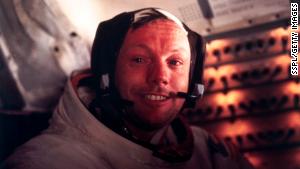 Neil Armstrong's famous quote analyzed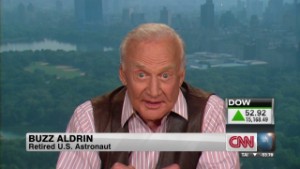 Aldrin: Space funding drying up quickly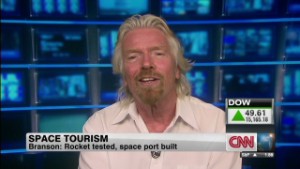 Branson: Space journeys to start in Dec.
"Comet ISON has the potential to be among the brightest comets of the last 50 years," Dennis Bodewits, an astronomer at University of Maryland at College Park, told NASA.
Bodewits and other astronomers used NASA's Swift satellite to estimate ISON's water and dust production.
"Comet ISON belongs to a class of comets called Sungrazing comets," Karl Battams of the Naval Research Lab told CNN. This means it will fly relatively close to our sun. These comets "teach us not only about comets, but also yield valuable and unique results about the sun," he said.
But before you get too excited, other experts caution it's too early to know what ISON will do.
"Predicting the behavior of comets is like predicting the behavior of cats -- can't really be done," Don Yeomans of NASA's Near-Earth Object Program told CNN.com in March.
Welcome to the Year of the Comet (we hope)
When can I see it?
In November, ISON is expected to fly through the sun's atmosphere at about 700,000 miles above the surface. If it survives the sun's heat, experts say it might glow as brightly as the moon and be briefly visible in daylight. Its tail might stretch far across the night sky. Or the sun could cause it to break apart.
Why asteroids don't surprise us anymore
What if ISON breaks apart? Is Earth in danger?
No. Experts say the comet won't threaten Earth. In fact, even if it breaks up, Battams says it could put on a big show.
"If Comet ISON splits, it might appear as a 'string of pearls' when viewed through a telescope," Battams told NASA. "It might even resemble the famous Comet Shoemaker-Levy 9 that hit Jupiter in 1994."
Whatever happens to ISON, sky watchers in the Northern Hemisphere should have a good view for several months. NASA says it will pass almost directly over the North Pole and will be visible all night long.
Follow @CNNLightYears on Twitter for more science news