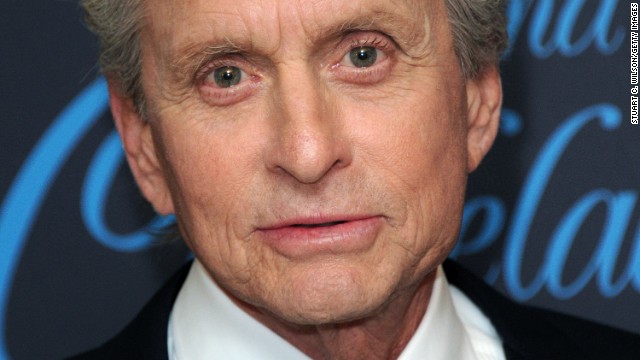 Award-winning actor Michael Douglas has been in the spotlight for much of his life. Take a look at his life and career.
His father, actor Kirk Douglas, sits with his brother, Joel and Michael, at then-Idlewild Airport, in 1955. Michael is the eldest son.
Douglass takes a break in the production of director David Miller's film, "Hail, Hero!" The 1969 movie was Douglas's first starring role.
From 1972 to 1976, Douglas starred in the television series, "Streets of San Francisco." Here, he is on set with co-star Karl Malden.
Douglas peers out of the window of a car as Inspector Steve Keller on "Streets of San Francisco."
From left, producer Michael Douglas, director Milos Forman, actress Louise Fletcher, actor Jack Nicholson and producer Saul Zaentz, hold Oscars at the 43th Academy Awards for the 1975 film, "One Flew Over the Cuckoo's Nest." Douglas has been nominated for and won two Academy Awards.
Douglas attends the 32nd Cannes Film Festival in May 1979.
A year after winning best actor for his role in "Wall Street," Douglas attends the 1989 Swifty Lazar Oscar Party at Spago in West Hollywood, California.
Douglas attends a ceremony for Jack Nicholson's American Film Institute 1994 Life Achievement Award at Beverly Hilton Hotel in Beverly Hills, California.
In 1997, the famed actor adds his handprints and footprints to the Hollywood Walk of Fame in California.
Douglas and Catherine Zeta-Jones attend an anniversary party for "Saturday Night Live" in 1999. On November 18, 2000, the couple married.
At the premiere of "It Runs In The Family," in April 2003, Douglas and his father, actor Kirk Douglas, left, embrace at the Bruin Theater in Los Angeles.
A poster of the actor is pictured on the opening day of the 2004 International Cannes Film Festival in France.
A bearded Douglas presents the award for Outstanding Film - Wide Release at the 2006 GLAAD Media Awards in New York City. In August 2010, he was diagnosed with throat cancer and began eight weeks of chemotherapy and radiation to treat a Stage 4 cancerous tumor.
British-born actress Zeta-Jones, right, arrives with Douglas and their children Dylan, left, and Carys in 2011 at Buckingham Palace in London. In January, Douglas announced in a "Today Show" interview that his cancerous tumor is gone.
Actors Matt Damon, left, and Michael Douglas attend the "Behind The Candelabra" premiere during the 2013 Annual Cannes Film Festival in France. Douglas starred as Liberace in the Steven Soderbergh-directed TV movie, which is based on Scott Thorson's 1988 autobiographical novel, "Behind the Candelabra: My Life With Liberace."
The film is Douglas' first role since announcing he "beat" throat cancer in January 2011. As he told EW, "It was great to get back. It gave me a new appreciation for what I do, taking advantage of it."
Scenes from Michael Douglas' life
Scenes from Michael Douglas' life
Scenes from Michael Douglas' life
Scenes from Michael Douglas' life
Scenes from Michael Douglas' life
Scenes from Michael Douglas' life
Scenes from Michael Douglas' life
Scenes from Michael Douglas' life
Scenes from Michael Douglas' life
Scenes from Michael Douglas' life
Scenes from Michael Douglas' life
Scenes from Michael Douglas' life
Scenes from Michael Douglas' life
Scenes from Michael Douglas' life
Scenes from Michael Douglas' life
Scenes from Michael Douglas' life
Scenes from Michael Douglas' life