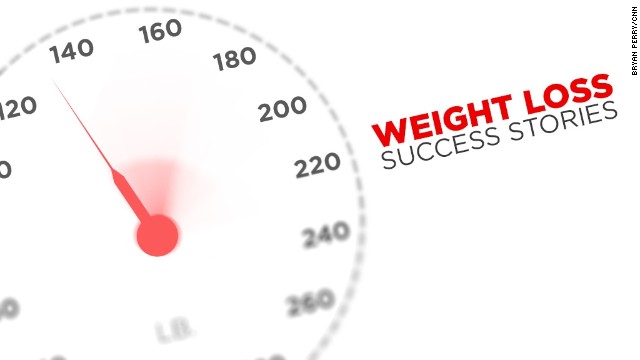 If you're in need of some inspiration to tackle your weight loss goal, look no further. CNN regularly profiles people who have lost a significant amount of weight. See their physical transformations by clicking through the gallery, then get started on your own. When you hit your goal weight, we
want to hear about it
.
body mass index of 87
(anything more than 30 is considered obese). Then a pulmonary embolism changed his life.
He says he's lost 370 pounds
.
For years, Bryan Ganey worked the night shift, binging on fast food and soda for breakfast, lunch and dinner. By 37, he had a
he lost 175 pounds
. Cook now weighs 240.
Darrin Cook grew up in New Orleans, where food was the center of his family's life. After evacuating for Hurricane Katrina, food became a comfort and a reminder of home. At his heaviest, Cook weighed 390 pounds. Between 2006 and 2010,
dropped 100 pounds
in less than two years and has continued to maintain her weight loss. Even her 10-year-old son has been inspired to pick up healthier habits.
Michelle Jackson was terrified to turn 40 in 2013, fearing that a slowing metabolism would prevent her from ever getting healthy. Determined to take control, she
"The Beast"
for a reason. Since February 2011 -- while dropping 100 pounds -- he's participated in a 5K, a 10K, a half-marathon, a marathon and an Ironman competition.
Mark Rucker's friends call him
Drew Manning's story
shocked America. The fitness trainer purposely put on 70 pounds last year, only to drop it all in six months. Manning said his goal was to understand better what his clients were going through as they struggled to lose weight.
After her college roommate died in 2009, Jacki Monaco treated her depression with junk food. Over the next two years, she gained 100 pounds. In 2011, she was diagnosed with binge eating disorder. She learned how to
lost more than 50 pounds
after a friend told him he was "unconciously hurting himself" with his unhealthy eating habits. Cedeno started working out for an hour a day and made smarter food choices to drop the weight.
Marcelo Cedeno
losing 80 pounds
would be her biggest battle until she was diagnosed with stage I leiomyosarcoma. Schaaf says her gym and healthy eating habits helped get her through chemotherapy.
Melissa Schaaf thought
dropped 130 pounds
by eating small, healthy portions multiple times a day.
The doctor had flat out told Dale Benzine: "Lose weight or die." Benzine decided to get gastric bypass surgery, reducing his stomach to the size of a golf ball. He's
I am 276 pounds lighter
, 14 jean sizes smaller, and no longer need a wheelchair, walker or cane to get around."
At her heaviest in March 2011, Theresa Borawski weighed 428 pounds. "I could no longer participate in life's activities and was forced to become a spectator while people around me lived their life," she wrote on iReport.com. "Today,
They got fit -- you can, too!
Bryan Ganey
Darrin Cook
Michelle Jackson
Mark Rucker
Drew Manning
The Teuscher family
The Gillises
Cherie Hart Steffen
Jacki Monaco
Marcelo Cedeno
Melissa Schaaf
Dale Benzine
Theresa Borawski
Deidre Robinson