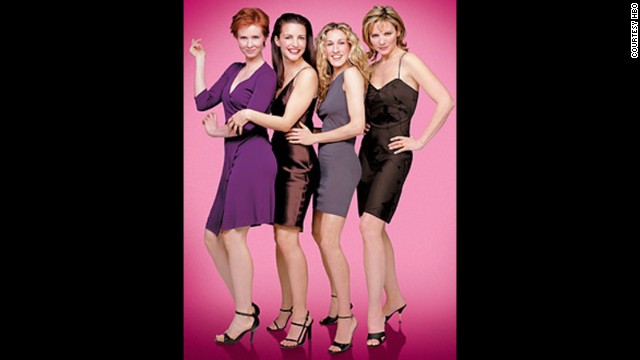 Hold on to your cosmos. The first episode of "Sex and the City" premiered 15 years ago on June 6, 1998. Here is what happened to Carrie Bradshaw and the gang who made us fall in love with them and New York City.
Sarah Jessica Parker was the quintessential New York City single girl Carrie Bradshaw. The mother of three used her character's fashion icon status to launch fragrances and a clothing line, Bitten. She has also appeared on "Glee" as Isabelle Wright, a Vogue executive who mentors Kurt.
She is slated to appear in 2013
in the Canadian comedy series "Sensitive Skin" about a woman in the midst of a midlife crisis.
Kim Cattrall's Samantha Jones arguably put the "Sex" in the show's title. In 2002 she and then-husband Mark Levinson co-authored "Satisfaction: The Art of the Female Orgasm."
Cynthia Nixon's Miranda Hobbes was a bit of a workaholic, and the actress has showed similar stamina. She has steadily worked on stage and screen, even appearing as herself on an episode of "30 Rock."
was cast in the CBS comedy "Bad Teacher"
which will co-star Ari Graynor and David Alan Grier.
Charlotte York Goldenblatt was the epitome of the good girl - who could go slightly bad when she had to. Actress Kristin Davis adopted a daughter in 2011 and in 2013
Swoon! We all loved to love and hate Mr. Big for how he treated Carrie. Actor Chris Noth also made a name for himself via the "Law & Order" franchise, where he played Detective Mike Logan on both the original series and the spinoff "Law & Order: Criminal Intent." He currently stars as Peter Florrick on CBS' "The Good Wife."
Kyle McLachlan played handsome doctor Trey MacDougal and has regularly appeared on TV shows, including a starring role on "Desperate Housewives," and gigs on "How I Met Your Mother" and "Portlandia."
David Eigenberg's Steve Brady tried so hard as Miranda's love interest and father of her baby. Most recently he's appeared as Christopher Herrmann on NBC's "Chicago Fire."
Raise your hand if you were also in love with furniture designer Aidan Shaw. Yep, us too. Actor John Corbett is not only the love of Bo Derek's life, but he also has starred in Showtime's "United States of Tara" and done voiceover work for company commercials including Applebee's.
Jason Lewis sent pulses racing as Jerry 'Smith' Jerrod, the model/actor who managed to snag even a small part of Samantha's heart. He appeared as Chad Barry on the TV show "Brothers & Sisters" and most recently co-starred in the film "The Pardon."
Willie Garson's Stanford Blatch has been referred to as the fifth member of the ladies group on the show. Since then he has appeared on shows like "White Collar" and "How to Live With Your Parents (For the Rest of Your Life)."
Catching up with 'Sex and The City' cast
Catching up with 'Sex and The City' cast
Catching up with 'Sex and The City' cast
Catching up with 'Sex and The City' cast
Catching up with 'Sex and The City' cast
Catching up with 'Sex and The City' cast
Catching up with 'Sex and The City' cast
Catching up with 'Sex and The City' cast
Catching up with 'Sex and The City' cast
Catching up with 'Sex and The City' cast
Catching up with 'Sex and The City' cast