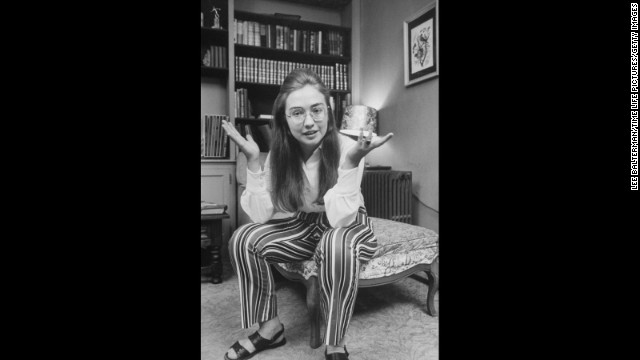 Reports are
flying
about who
could potentially portray a young Hillary Clinton in the upcoming biopic, "Rodham." Directed by James Ponsoldt ("Smashed," "The Spectacular Now"), the story will follow the former first lady and eventual secretary of state in her days as a lawyer in 1974, as she managed her blossoming career and marriage to the future President Bill Clinton. Here's who the rumor mill has churned out as casting options:
The Hollywood Reporter
suggested that the British actress is a front-runner to land the role. The Oscar-nominated actress, 28, already has a busy 2013, with starring roles in "The Great Gatsby" and "Inside Llewyn Davis."
Carey Mulligan's name was never mentioned in early speculative reports about castng, but on Thursday
The Wrap
, it was always between those two. The 22-year-old Oscar winner is plenty busy, though: Her "Hunger Games" film "Catching Fire" arrives in November, and then she'll star in David O. Russell's "American Hustle" and the next "X-Men" film, "Days of Future Past," after that.
Along with Mulligan, Jennifer Lawrence's name is being thrown about as a potential option for the part of a young Hillary Clinton -- and according to
Emma Stone's name has been mentioned frequently in the press as a possible casting choice. The 24-year-old has been a comedic standout in movies like "Superbad" and "Easy A," but she's also turned in more dramatic work in the Oscar nominated movie "The Help." Stone is currently filming the sequel to 2012's "The Amazing Spider-Man" with beau Andrew Garfield.
The Independent
as a potential choice to play Clinton. The 27-year-old has grown since her breakout role in 2004's "Mean Girls," taking on parts in the Oscar-nominated "Les Misérables" and "Lovelace," the biopic about the adult film star Linda Lovelace.
Amanda Seyfried was one of the actresses initially mentioned by
Currently famous for an alleged drunken arrest in April, Reese Witherspoon does have some acclaimed roles on her resume. The 37-year-old has shown herself a versatile actress, going from comedy ("Legally Blonde") to drama (her Oscar-winning turn in "Walk the Line") with no problem.
she's helming an adaptation of Truman Capote's "Summer Crossing"
for her first foray into feature film directing -- but her name has also been a popular one in the casting rumors. This October, she'll star alongside Joseph Gordon-Levitt in his feature
directorial debut, "Don Jon."
Scarlett Johansson is making moves behind the camera --
has since denied that she's up for the gig
. Instead, the "Zero Dark Thirty" actress reportedly
has her sights set on a role
in Christopher Nolan's 2014 sci-fi release, "Interstellar."
Jessica Chastain was brought up in the initial casting gossip, but the 36-year-old Oscar nominee
Casting 'Rodham': Who could play Hillary?
Carey Mulligan
Jennifer Lawrence
Emma Stone
Amanda Seyfried
Reese Witherspoon
Scarlett Johansson
Jessica Chastain