Ramadan Fast Facts
updated 2:07 PM EST, Tue November 25, 2014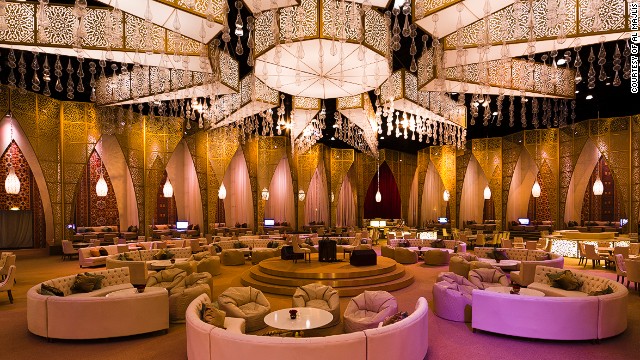 Bedouin-like tents, such as this one at Dubai's Madinet Jumeirah, are laid on by luxury hotels in the United Arab Emirates for people to break fast.
Many hotels serve hundreds of diners every evening, with specialties from Lebanese, Egyptian and Turkish cuisines.
The white, billowy-walled Asateer Tent at the Atlantis Palm Jumeirah features a fountain from which sesame paste flows.
Perhaps just the one piece. The UAE regularly issues health warnings ahead of Ramadan to encourage people not to over-indulge during evening meals.
The Ramadan tent experiences can cost up to $60 per head. Beyond the hotels, community and charitable tents serve thousands of free meals.
The Mega Tent pavilion at the Emirates Palace, Abu Dhabi, can serve up to 1,200 diners per day. The menu takes up to three months to prepare.
Ramadan post-fast hotspots in the UAE
Mezze, mezze and more mezze
Tahina fountains
Generous portions
Expensive tents, expansive tents
Mega tents
(CNN) -- Here is some background information about Ramadan, the Islamic holy month of fasting. In 2015, Ramadan will take place from June 18 at sundown through July 18 (dates vary slightly by country depending on the sighting of the moon).
Facts: Ramadan is the Islamic holy month of fasting during which Muslims may not eat or drink during daylight hours.
There are approximately 1.6 billion Muslims worldwide and 2.5 million in the United States.
Ramadan is celebrated as the month in which the prophet Mohammed received the first of the revelations that make up the Quran.
During Ramadan, Muslims abstain from food, drink (including water), and sexual intercourse from dawn until dusk.
Muslims are encouraged to eat a meal before dawn, and then break the fast immediately after sunset.
The fast is traditionally broken by eating dates and drinking water.
The end of Ramadan, called Id al Fitr, is a day of feasting.
Ramadan is the ninth month of the Muslim year.
Ramadan begins with the sighting of the new moon, the exact date often depending on clerics in a particular nation.
The Ramadan fast is one of the five pillars, or basic institutions, of Islam: Shahadah: Affirmation that there is no deity but God and Mohammed is His messenger. Salat: Praying five times daily. Zakat: Giving to charity. Sawm: Fasting during the month of Ramadan. Hajj: Making a pilgrimage to Mecca at least once in a lifetime.