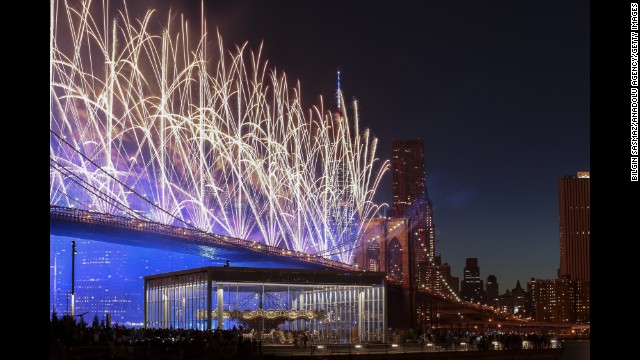 Fireworks are set off from the Brooklyn Bridge in New York, on Friday, July 4. The United States marked 238 years as an independent nation.
Macy's Fourth of July fireworks are seen from a Circle Line cruise ship in New York.
Fireworks dazzle the sky as part of the Jersey City Freedom & Fireworks Festival in Liberty State Park, New Jersey.
A Fourth of July fireworks celebration over the Mississippi River in New Orleans.
Fireworks illuminate the sky over the U.S. Capitol and the Washington Monument during celebrations on July 4.
Spectators watch a Fourth of July fireworks display over downtown Miami from Watson Island, Florida.
A fan in the infield looks on during qualifying for the NASCAR Nationwide Series Subway Firecracker 250 at Daytona International Speedway on July 4, in Daytona Beach, Florida.
Capt. Brandon Price of the Virginia National Guard and his daughter Chloe prepare to march in Leesburg, Virginia's Independence Day parade.
A fife and drum corps entertains the fans before the Detroit Tigers game against the Tampa Bay Rays at Comerica Park in Detroit.
A boy sits on the shoulders of his father before President Barack Obama and first lady Michelle Obama greet military families.
President Barack Obama and first lady Michelle Obama greet military families as they host an Independence Day celebration on the South Lawn at the White House.
People wave flags as the Independence Day parade rolls down Main Street in Eagar, Arizona.
Jim Stacey participates in an Independence Day parade in Avondale Estates, Georgia.
Sara Moore cheers during the South Walton Fourth of July Parade in Seaside, Florida.
Georgia Love Greenlee Doty rides her bike in the Fourth of July parade in Oxford, Mississippi.
U.S. Vice President Joe Biden greets a young spectator as he marches in an Independence Day parade in Philadelphia.
A woman decked out in red, white and blue participates in the annual golf cart parade at the Meadow Lake Senior Living Community in Tyler, Texas.
Walter Lindsay plays Whitney Houston's rendition of "The Star-Spangled Banner" during the golf cart parade in Tyler.
Zoe Webber drives a dune buggy with Jaxon Fanelli on board during the annual Baby Parade in Port Carbon, Pennsylvania.
Dave Hodgens walks on stilts during a parade in Mebane, North Carolina.
Leah Murphy holds an American flag during the Knollwood Fourth of July parade in Tyler.
Celebrating the Fourth of July
Celebrating the Fourth of July
Celebrating the Fourth of July
Celebrating the Fourth of July
Celebrating the Fourth of July
Celebrating the Fourth of July
Celebrating the Fourth of July
Celebrating the Fourth of July
Celebrating the Fourth of July
Celebrating the Fourth of July
Celebrating the Fourth of July
Celebrating the Fourth of July
Celebrating the Fourth of July
Celebrating the Fourth of July
Celebrating the Fourth of July
Celebrating the Fourth of July
Celebrating the Fourth of July
Celebrating the Fourth of July
Celebrating the Fourth of July
Celebrating the Fourth of July
Celebrating the Fourth of July