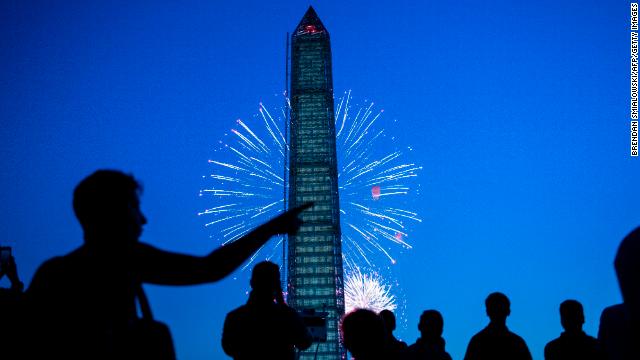 People watch fireworks burst behind the Washington Monument on the National Mall in Washington on Thursday, July 4. People across the United States gathered on Thursday to celebrate Independence Day with parades, picnics and fireworks.
Scott Webb celebrates during the finale of the Boston Pops Fourth of July Concert at the Hatch Shell in Boston.
Fireworks light up the sky behind the Empire State Building during the 27th annual Macy's Fourth of July fireworks show in New York.
Meriya Merrill, 3, cranes her neck to take in the Independence Day parade in Edina, Minnesota, as her grandmother holds a flag behind her.
A woman warms up at the Muscle Beach Independence Day bodybuilding contest in Los Angeles.
A man displays his patriotic pride while posing for a portrait during Fourth of July celebrations in Prescott, Arizona.
Children play on the South Lawn of the White House on the Fourth of July. President Barack Obama and the first family hosted members of the U.S. armed services and their families to celebrate the 237th anniversary of the counry's independence from the British Empire.
A re-enactor in colonial attire takes a photograph with his mobile phone before a public reading of the Declaration of Independence in Boston.
An American flag casts a shadow on the ground as spectators wait for a public reading the Declaration of Independence in Boston.
Neeley Mathes, 10, stands in front of the judges on Carr Avenue during the costume contest that follows the annual Central Gardens Fourth of July parade in Memphis, Tennessee.
Emma Winkler, 3, points as she re-enacts George Washington's crossing of the Delaware River while being pulled down Carr Avenue in Memphis with her 11-month-old sister, Elizabeth Winkler.
New York's annual Independence Day hot dog eating competition
yet again with a total of 69 hot dogs and buns on Thursday at Coney Island in Brooklyn.
Perennial chomping champ Joey Chestnut, center, wins
Decked out from head to toe in patriotism, 9-year-old Remi Schaber, left, and her brother Chase, 11, don spandex suits for the Independence Day parade in Cordova, Tennessee.
People line the streets to watch a Fourth of July parade in Ridgefield Park, New Jersey.
People participate in the Ridgefield Park parade.
An observer waves an American flag during the parade in Ridgefield Park.
A parade participant rides a penny farthing, or high-wheel bicycle, down the street in Ridgefield Park.
Ed Lunderman, a member of a Living History Musket Detail, fires his weapon to represent "the shot heard around the world" during a Fourth of July ceremony at Fort Sam Houston National Cemetery in San Antonio.
Statue of Liberty
to the public in New York on July 4.
A child attends a ceremony to reopen the
Members of the Old Guard attend the reopening ceremony of the Statue of Liberty, marking the first day it opened to the public after being shuttered by Superstorm Sandy in October.
Celebrating the Fourth of July
Celebrating the Fourth of July
Celebrating the Fourth of July
Celebrating the Fourth of July
Celebrating the Fourth of July
Celebrating the Fourth of July
Celebrating the Fourth of July
Celebrating the Fourth of July
Celebrating the Fourth of July
Celebrating the Fourth of July
Celebrating the Fourth of July
Celebrating the Fourth of July
Celebrating the Fourth of July
Celebrating the Fourth of July
Celebrating the Fourth of July
Celebrating the Fourth of July
Celebrating the Fourth of July
Celebrating the Fourth of July
Celebrating the Fourth of July
Celebrating the Fourth of July