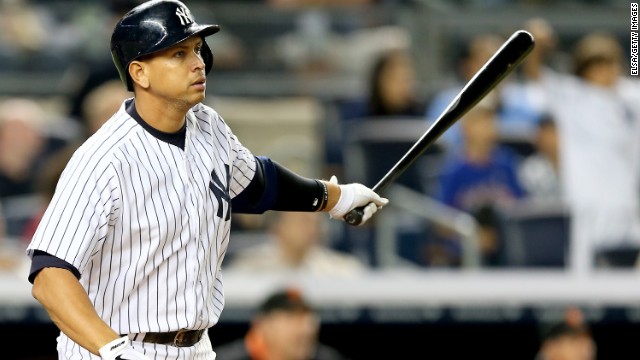 Alex Rodriguez is suspended for the 2014 regular and postseason over accusations of taking performance-enhancing drugs and having ties to the now-shuttered Biogenesis clinic in South Florida.
Barry Bonds is baseball's all-time home run leader, but some commentators say there should be an asterisk by his record. Though he's said he never knowingly used steroids, two San Francisco reporters wrote a book alleging he used performance-enhancing drugs. In 2007, he was indicted on charges of perjury and obstructing justice for allegedly lying to a grand jury investigating steroids and convicted of obstruction of justice. Here are some of Major League Baseball's biggest scandals:
Known as Rocket for his aggressive pitching style, Roger Clemens played pro ball for more than two decades, racking up seven Cy Young Awards. He left Major League Baseball under a cloud of steroid allegations, despite a court finding him not guilty of perjury in 2012 when he told Congress he never used the drugs.
After his former Texas Rangers teammate Jose Canseco accused him of using steroids, Rafael Palmeiro appeared before Congress in 2005 to deny the allegations. Later that year, he was suspended from baseball for testing positive for steroids. He maintains to this day he has never knowingly taken performance enhancers.
An Olympian and renowned long-ball hitter, Mark McGwire spent his entire career with the Oakland A's and St. Louis Cardinals, breaking the single-season home run record in 1998. In 2010, he admitted using steroids over the course of a decade but told Bob Costas in an interview he took them only for health reasons.
John Rocker's pitching career with the Atlanta Braves only lasted a few seasons because of his offensive comments about homosexuals, New Yorkers, Asian women and a black teammate in a Sports Illustrated article. Rocker faced large backlash and ultimately was cut by the Braves in 2001 and played for three other teams before calling it quits in 2003.
Cincinnati Reds owner Marge Schott faced lawsuits, fines from the MLB and suspensions during her career for her offhand comments and actions. Schott told ESPN in 1996 that "Hitler was good in the beginning, but he went too far." That comment drew a $25,000 fine and one-year suspension.
Former New York Yankees owner George Steinbrenner, center, was banned for life in 1990 for hiring a man to investigate Yankees outfielder Dave Winfield's background for any dirt. The ban was later reduced to a two-year suspension.
Cincinnati Reds switch-hitter Pete Rose was caught gambling on baseball games during the 1987 season. Fingerprints from betting slips and a handwriting expert's testimony ultimately led to Rose being banned from baseball.
Darryl Strawberry, right, was suspended multiple times throughout his career for cocaine possession and soliciting prostitutes. Strawberry released a book in which he claims that several players with the 1980s Mets committed the same offenses.
Pitcher Ferguson Jenkins was the first baseball player to be suspended for a drug-related offense. Ferguson was arrested in Toronto in 1980 for cocaine possession and promptly banned for life. However, the ban was lifted only a month later and he returned to the pitchers mound for the Chicago Cubs in 1982.
Gambler Arnold Rothstein was the financial backer accused of being behind the fixed 1919 World Series. Eight Chicago White Sox players were allegedly bribed to throw the game with money provided by Rothstein. He denied all allegations before a grand jury and was later exonerated of any wrongdoing. All eight players involved in the fix were banned for life.
Alex Rodriguez: Performance-enhancing drugs
Barry Bonds: Perjury indictment
Roger Clemens: Steroid allegations
Rafael Palmeiro: Steroid suspension
Mark McGwire: Steroids admission
John Rocker: Outrageous comments
Marge Schott: Hitler observation
George Steinbrenner: Dirty dealings
Pete Rose: Gambling on baseball
Darryl Strawberry: Cocaine, prostitutes
Ferguson Jenkins: First drug suspension
Chicago White Sox: The big fix
STORY HIGHLIGHTS
Mike Downey: ESPN reports as many as 20 baseball players could get suspended for PED use
He says this time, MLB should throw book at offenders, not slap wrist. Fans tired of this
He says years of steroid-use cases have ruined careers, stained the game.
Downey: Guilty parties, you know who you are; MLB, if you find dirt, clean it up
Editor's note: Mike Downey is a former columnist for the Los Angeles Times and the Chicago Tribune.
(CNN) -- Baseball is a dirty game, we know that. Grass stains. Rosin bags. Pine tar. Dust. Sweat. Spit. Tobacco drool.
But just how filthy IS it?
Exactly how many cheaters do we have out there, anyhow? Are there no angels in our outfields?
The hot rumor is Major League Baseball is about to throw the book -- harder, this time -- at players who allegedly got a boost from performance-enhancing drugs. As many as 20 players might be suspended, according to a report on ESPN.com. Some of the bans might be for as long as 100 games.
A feel-good Florida fellow named Tony Bosch ran Biogenesis, a Miami wellness clinic that is now closed. ESPN says sources indicated Bosch will be cooperating with MLB's top brass in identifying which pro athletes, among his clientele, were being supplied with PEDs.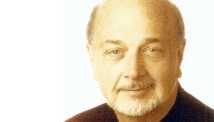 Mike Downey
Names being bandied about: Alex Rodriguez, three-time American League MVP; Ryan Braun, 2011 National League MVP; Melky Cabrera, 2012 All-star Game MVP; and, well, the rest of the lineup will be asked to line up.
Throw the bums out, some will scream. I am totally OK with this.
Who's legitimate and who ain't? That's all we want to know anymore.
We have spent much of this century wondering which individuals in the national pastime are squeaky clean and which are as stained as a dugout floor.
What about Barry Bonds, No. 1 on hitting's all-time home run list -- and who was convicted in 2011 of obstruction of justice for impeding a grand jury investigating the use of PEDs? What about A-Rod (No. 5 on the list), who in 2009 publicly confessed to steroid use between 2001-03?
What about Sammy Sosa (No. 8), who the New York Times reported was among the players who tested positive for a performance-enhancing drug in 2003? Mark McGwire (10), who in 2010 admitted to steroid use during the 1990s? Rafael Palmeiro (12), suspended in 2005 for a positive drug test? Manny Ramirez (14), suspended in 2009 for the same thing?
Did any or all bring a little "extra" to the plate when they stepped up to bat?
I don't know.
All I do know is, we're sick of it, man.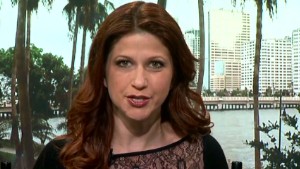 Baseball drug scandal brewing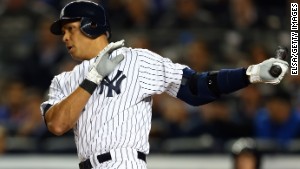 Report: MLB drug suspensions loom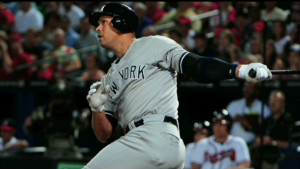 Report: A-Rod, others linked to PED list
Baseball's zero-tolerance policy is an absolute must. Oh, the players' union reps will surely react and be appalled and appeal. But if swingers and throwers are found to be dirty, they've gotta go. No slaps on the wrist. It's gotta hurt.
Back when he got booted for 50 games in 2009, Manny Ramirez was a big star. He has barely been heard from since. Manny and his 555 home runs (more than Mickey Mantle or Ted Williams or Lou Gehrig) have pretty much taken a powder since MLB suspended him that season for PEDs. When they pointed a finger his way for another possible violation in 2011, he chose instant retirement instead.
A couple of strikes and you're out.
A-Rod's in a jam. His reputation is already in disrepute from his 2009 mea culpa. He is 37 and his future is in doubt. He is injured and hasn't played a single inning for the Yankees so far in 2013. Now the 14-time All-Star with 647 lifetime home runs finds his name has come up again in this Biogenesis business in Miami, the town where he went to high school.
Braun is a puzzler. A 29-year-old outfielder for the Milwaukee Brewers, he was NL Rookie of the Year in 2007, MVP in '11. Then he got suspended for PEDs. Then he got un-suspended, successfully challenging the decision.
Now he's on the hot seat again, although he seems adamant that the truth will set him free. We will see.
Then there is Cabrera, 28, the man named Melky, whose pals call him "Leche," whose fans in San Francisco came to games dressed like milkmen.
In 2012, the Melk Man was hitting a healthy .346 and had just been voted the star of stars in the All-Star Game when he got banned 50 games for the detection in his bloodstream of "synthetic testosterone." He missed the rest of the season. He was eligible for the World Series, but the Giants didn't reinstate him. A day after they won it, they released Cabrera from the team.
Today he is a Toronto Blue Jay, persona non grata in the Bay Area where he was once so wildly popular. A second suspension could be in store for Cabrera if reports are correct that he could be snagged in the Miami net.
ESPN ran a long list of players besides Rodriguez, Braun and Cabrera "who might ultimately face discipline." A couple of these guys are among MLB's fastest-rising young stars.
Guilty parties, you know who you are.
Major League Baseball, you are slowly but surely figuring out who they are.
Get out your pail and mop. If you have found more dirt by your plate, do this game a big favor. Clean it up.
Follow us on Twitter @CNNOpinion
Join us on Facebook/CNNOpinion
The opinions expressed in this commentary are solely those of Mike Downey.