Neil Armstrong's 'small step for man' might be a misquote, study says
STORY HIGHLIGHTS
Armstrong was heard around the world calling the first moon walk a "small step for man"
He contended he had said "a man"
Numerous studies have been carried out
A new study of speech patterns near his hometown found he may have said "for a"
(CNN) -- When astronaut Neil Armstrong uttered what became one of the best-known -- and most debated -- quotes in all of history, he actually might have said it exactly the way he meant to, not the way people heard it.
After Armstrong lowered his left foot from the landing craft to the surface of the moon, people watching around the world heard him call it "one small step for man."
Both he and NASA initially insisted that he said "one small step for a man," and now a new and novel study on the much-analyzed quote backs him up.
Researchers from Michigan State University and Ohio State University have "bolstered Neil Armstrong's side of the story," said Laura Dilley, an MSU assistant professor of communicative sciences and disorders.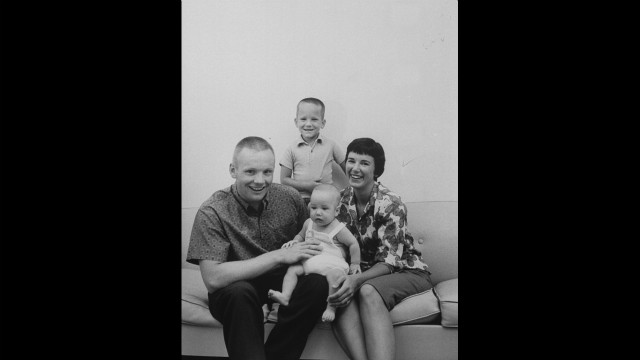 Astronaut Neil Armstrong, commander of Apollo 11 Lunar Landing Mission, with his family on August 26, 1963.
Neil Armstrong at the NASA Training Center on September 1, 1963.
Commander Neil Armstrong, right, and pilot David R. Scott prepare for the launch of Gemini 8 on March 16, 1966. In orbit, Armstrong had to bring the capsule under control when it began to spin out of control after docking with an unmanned target vehicle, and the mission was aborted.
Armstrong poses for a portrait in July 1969.
Armstrong leads crew mates Edwin 'Buzz' Aldrin and Michael Collins out of the space center on the Apollo 11 space mission to the moon.
Apollo 11, the first manned lunar landing mission, was launched on July 16, 1969, with astronauts Armstrong, Edwin "Buzz" Aldrin and Michael Collins on board. Armstrong and Aldrin became the first and second men to walk on the moon, on July 20, 1969.
Astronaut Neil Armstrong is seen in the reflection of Edwin 'Buzz' Aldrin's helmet during the pair's historic walk on the surface of the moon on July 20, 1969.
Armstrong and Aldrin spent roughly two hours on the moon's surface. The photos of the moonwalk were taken by Armstrong.
Neil Armstrong (whose footprint is shown on the moon's surface) had to override the Eagle lunar module's autopilot in order to prevent the craft from landing on the slope of a crater.
The Saturn V rocket carrying the crew of Apollo 11 takes off from Pad A, Launch Complex 39 at the Kennedy Space Center.
Armstrong presents a pair of pizzas in his kitchen in Houston, Texas, on March 1, 1969.
Armstrong said: "I thought we had a 90% chance of getting back safely to Earth on that flight, but only a 50-50 chance of making a successful landing on the first attempt."
The astronaut crew of the Apollo 11 mission are pictured in May 1969. Left to right are Neil Armstrong, commander; Michael Collins, command module pilot; and Edwin 'Buzz' Aldrin, lunar module pilot.
Armstrong, Aldrin and Collins wave to crowds at a parade held in August 1969 celebrating their voyage.
A commemorative button from 1969 celebrates the moon landing.
Armstrong receives the first Congressional Space Medal of Honor from President Jimmy Carter, right, assisted by Capt. Robert Peterson, on October 1, 1978. Armstrong, one of six astronauts to be presented the medal during ceremonies held in the Vehicle Assembly Building (VAB), was awarded for his performance during the Gemini 8 mission and the Apollo 11 mission.
President Richard Nixon applauds the Apollo 11 astronauts, who were confined in a quarantine trailer after their flight, on July 25, 1969.
Neil Armstrong talks about the space program during an appearance before a U.S. House committee in 1986.
Former Apollo astronauts meet with the media at the Apollo/Saturn V Center prior to a 30th anniversary banquet highlighting the contributions of aerospace employees who made the Apollo program possible on July 16, 1999. From left to right: Armstrong; Aldrin; Gene Cernan, who flew on Apollo10 and Apollo 17; and Walt Cunningham, who flew on Apollo 7.
Collins, Armstrong and Aldrin are honored on Capitol Hill in July 2009 on the 40th anniversary of their mission.
President Barack Obama poses for photographs with Armstrong in the Oval Office at the White House in 2009.
Armstrong testifies before the House Science, Space, and Technology Committee about human space flight on Capitol Hill in September 2011.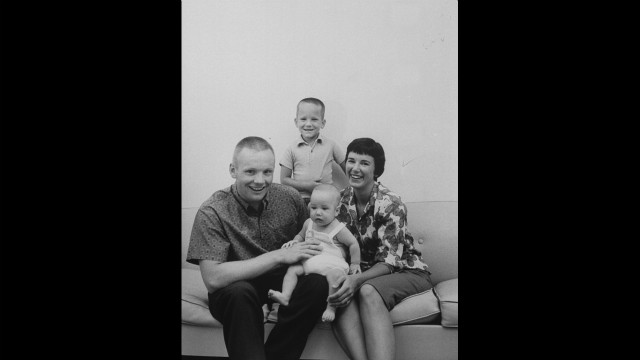 Armstrong: First man on the moon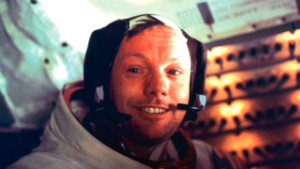 2012: Neil Armstrong remembered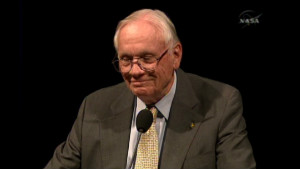 2009: Hear from astronaut Neil Armstrong
After becoming the first person to step on the moon in 1969, Armstrong said what was heard as: "That's one small step for man; one giant leap for mankind."
Later, as NASA explains, Armstrong said he had intended to say "a man," and thought he had. But he agreed that "a" did not seem audible in the recording.
Numerous intense studies have been carried out over the years, using high-tech equipment, all in the effort to discover whether he had indeed uttered that one little sound.
In 2006, Peter Shann Ford said he had found the "a" in a study of the audio waveform, NASA explains. Then, "more rigorous analyses of the transmission were undertaken by people with professional experience with audio waveforms and, most importantly, audio spectrograms. None of these analyses support Ford's conclusion."
First man on the moon gave rare interview
Until now, perhaps.
The MSU and OSU researchers took what they call a novel approach: studying how people from Armstrong's native central Ohio pronounce "for" and "for a."
The team studied recordings of 40 people in Columbus, near Armstrong's native town of Wapakoneta. They found numerous examples of "for" and "for a" sounding similar.
Their results suggest that it is entirely possible that Armstrong said what he claimed, though evidence indicates that people are statistically more likely to hear 'for man' instead of 'for a man' on the recording," Michigan State University said in a news release.
"We feel we've partially vindicated him," Dilley said. "But we'll most likely never know for sure exactly what he said."
Recalling Armstrong's "life well-lived"