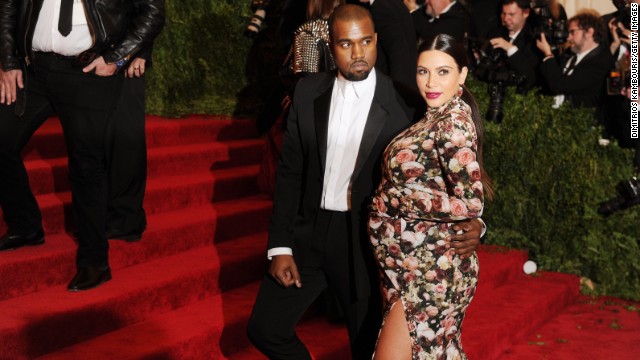 Kim Kardashian and Kanye West celebrated the birth of their daughter today
, but the baby's name is still under wraps. Maybe Kanye West and Kim Kardashian will go for the unexpected like they did here at this year's MET gala or maybe....
The couple could link up their names and make "Kimye" a real thing? No? OK, we will try again.
The couple love European cities and their baby was reportedly conceived near the Vatican in Rome. Here they leave the Valentino Haute-Couture Show as part of Paris Fashion Week in 2012. Paris or Rome West maybe?
extremely influential in his life
and inspired his song "Hey Mama." Here the pair appear at a signing for her book, "Raising Kanye: Life Lessons from the Mother of a Hip-Hop Superstar" in Los Angeles in 2007.
The rapper was very close to his mother, teacher and author Donda West, who died after surgery in 2007. He may want to pay tribute to her as she was
a unique name like "Easton."
That's right, a little girl named "Easton West" could happen.
Kardashian shot down rumors in March during a chat with Jay Leno that the baby would be named "North." But it appears the happy couple may be considering
Just 'cause we like it and this pic of West and Kardashian attending the Angel Ball 2012 in October 2012 in New York, we are going to throw the name "Angel West" out there.
already weighed in
with a "kontender." If it ain't broke, why fix it?
No self-respecting speculative list would be complete without a mention of a possible "K" name. Here sisters Khloe, Kourtney and Kim promote the "Kardashian Kollection" clothing line at Sears in Cerritos, California, on September 18, 2011. Kourtney
Possible Kim K and Kanye West baby names
Possible Kim K and Kanye West baby names
Possible Kim K and Kanye West baby names
Possible Kim K and Kanye West baby names
Possible Kim K and Kanye West baby names
Possible Kim K and Kanye West baby names
Possible Kim K and Kanye West baby names
Possible Kim K and Kanye West baby names