Yahoo pushes all users to new e-mail
STORY HIGHLIGHTS
Yahoo e-mail users must upgrade to the company's new version
Yahoo had announced overhaul to its e-mail service in December
Upgrade included thumbnails for attachments, new mobile features
Editor's note: Doug Gross covers consumer technology and the Web for CNN Tech. Follow him on Twitter or add him to your Circles on Google+.
(CNN) -- For Yahoo users who prefer old-school e-mailing, your grace period is over.
Monday is the first day that users will be required to upgrade to the latest version of of Yahoo's e-mail service, which according to various assessments is either the second or third most popular on the Web.
This change has been in the works since December, when Yahoo, under the guidance of new CEO Marissa Mayer, announced a major and long-awaited overhaul of e-mail.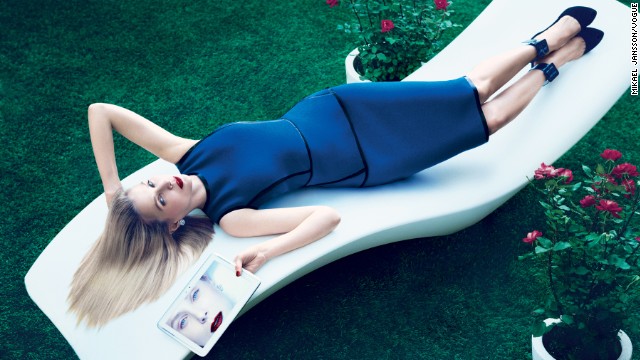 Yahoo CEO Marissa Mayer's photo spread in Vogue magazine has proven controversial, with some saying it detracts from the 3,000-word article that focuses on her successes and vision in a male-dominated tech world. The profile describes Mayer as an "unusually stylish geek." Take a look at other photos of her through the years.
Mayer was always an exceptional student, excelling in biology and chemistry. "When I was first at Stanford, I was very certain I was going to be a pediatric neurosurgeon," she says. However, a summer at youth science camp resulted in a change in thinking, and the path that would eventually lead to Google and later Yahoo.
In December 2009, Mayer married Zachary Bogue, a private-equity executive a year her junior.
While Mayer describes herself as an introvert, she says her husband, who she met after they were set up, is the flip side of the coin. "He finds social situations very energizing and for me, I find them very intimidating and draining."
Mayer accepted the National Design Award on behalf of Google in October 2008. But public speaking and social events haven't always been easy, says Mayer: "I'm a really shy person. ... Yet at Google, my colleagues would never believe that; because here, I'm outspoken because I feel comfortable and I feel like I can express my opinions and find my voice."
Early days at Google, Halloween 2004. After agonizing over 14 job offers, she chose to join Google in 1999 because, she says, "I felt like the smartest people were there, I felt like it was a risk and I felt like it was something I wasn't really prepared to do."
Mayer says every new product raises users' expectations. Here, Mayer is at Grand Central Station in New York for the launch of the Transit feature on Google Maps in 2008.
When she can, Mayer enjoys outdoor and sporting activities. She says, "I did a cross-country ski race once, it was 56 kilometers long, which is like 32 miles and I did it without training. ... I actually was slower on the cross-country skis than I would have been if I walked."
Mayer says gender doesn't matter if you have a passion for what you do. "I'm surrounded by all kinds of other people who are just as passionate and that passion is gender neutralizing."
Pictured in 2013, Mayer has often been named one of the most powerful women in business. "I didn't set out to be at the top of technology companies," she told Vogue magazine. "I'm just geeky and shy and I like to code. ... It's not like I had a grand plan where I weighed all the pros and cons of what I wanted to do—it just sort of happened."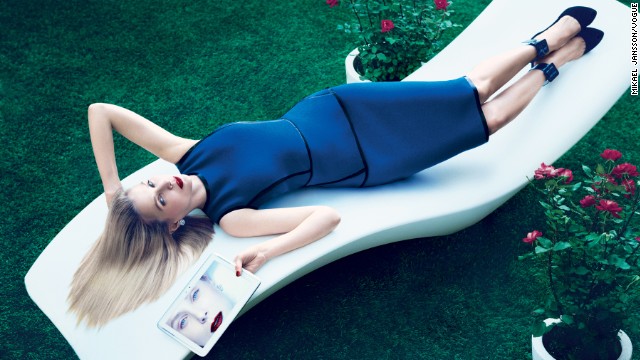 Marissa Mayer: Proud geek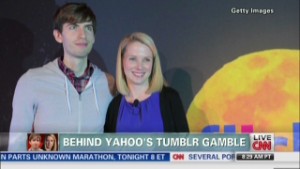 Behind Yahoo's Tumblr gamble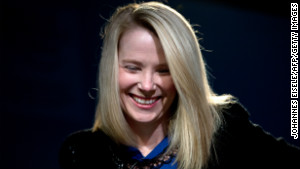 Why the interest in Yahoo CEO?
"You've told us loud and clear that you want fewer distractions when it comes to e-mail," Mayer said at the time. "You want to quickly login, communicate, and get on with your day. And we've listened."
The upgrades were made available for Web, Windows 8, iPhone/iPod touch and Android. But as is always the case when faced with change, some folks were more comfortable with older versions, including "Yahoo Classic," and were given until Monday to switch.
In a Yahoo Help post the company noted that upgrading requires users to agree to terms including "automated content scanning." That's technology similar to that used by Google with Gmail, which uses search algorithms, not real people, to read through the content of people's messages in order to target relevant advertising -- as well as other features -- to them.
Users may opt out of that feature by changing their settings.
The changes to the latest version of Yahoo Mail include removing some of the boxes that filled the page in the Web version and offering thumbnail images of attachments, presumably to help avoid clicking on scams, spam and other unwanted content.
On Mail for iPhone, users can select multiple messages and swipe to delete, highlight or file them away. The Android app was upgraded to, among other things, put less drain on battery life.
Still don't like the latest version? The Yahoo help post offers options for disgruntled users, including how to download your content and access it through another client and how to delete your account.