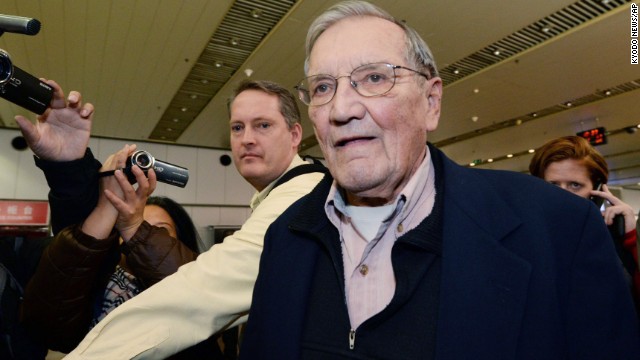 U.S. tourist and Korean War veteran Merrill Newman arrives at the Beijing airport Saturday, December 7, after being released by North Korea. Newman was
detained October 26 by North Korean authorities
just minutes before he was to depart the country after visiting through an organized tour. His son Jeff Newman says the Palo Alto, California, man had all the proper paperwork and set up his trip through a North Korean-approved travel agency.
Amir Hekmati
, a former U.S. Marine charged with spying. But he still
remains in solitary confinement
at Iran's notorious Evin Prison. Hekmati was detained in August 2011 during a visit to see his grandmother; his family and the Obama administration deny accusations that he was spying for the CIA.
An Iranian court threw out a death penalty conviction last year for
Kenneth Bae
, a U.S. citizen, to 15 years of hard labor for committing "hostile acts" against the state. Those alleged acts were not detailed by the country's state-run news agency when it
announced the sentence
Thursday, May 2. Bae, here in a photo from a Facebook page titled Remember Ken Bae, was arrested in November. "This was somebody who was a tour operator, who has been there in the past and has a visa to go to the North," a senior U.S. official told CNN.
A North Korean court sentenced
Yanira Maldonado, a U.S. citizen, right, on May 22, for alleged drug possession. She and her husband, Gary, were traveling from Mexico back to the United States when their bus was stopped and searched. She was released on Friday, May 31 and is back in the United States.
Mexican authorities arrested
Saeed Abedini
, a 33-year-old U.S. citizen of Iranian birth, was sentenced to eight years in prison in January, accused of attempting to undermine the Iranian government and endangering national security by establishing home churches.
Laura Ling
, center, and
Euna Lee
, to her right, spent 140 days in captivity after being charged with illegal entry to conduct a smear campaign. They were
freed in 2009
after a trip by former President Bill Clinton.
North Korea has arrested Americans before, only to release them after a visit by a prominent dignitary. Journalists
negotiated the release
of
Aijalon Gomes
, who was detained in 2010 after crossing into North Korea illegally from China. Analysts say high-level visits give Pyongyang a propaganda boost and a way to save face when it releases a prisoner.
Former President Jimmy Carter
Eddie Yong Su Jun
was released by North Korea a month after he was detained in April 2011. His alleged crime was not provided to the media. The American delegation that
secured his freedom
included Robert King, the U.S. special envoy for North Korean human rights issues.
Robert Park
was released by North Korea in 2010 without any apparent U.S. intervention. The Christian missionary crossed into North Korea from China, carrying a letter asking Kim Jong Il to free political prisoners and resign. North Korea's state-run news agency said
Park was released
after an "admission and sincere repentance of his wrongdoings." Here, Park holds a photo of Kim and a malnourished child during a protest in Seoul.
Josh Fattal
, center,
Sarah Shourd
, left, and
Shane Bauer
were detained by Iran while hiking near the Iraq-Iran border in July 2009. Iran charged them with illegal entry and espionage. Shourd was released on bail for medical reasons in September 2010; she never returned to face her charges. Bauer and Fattal were convicted in August 2011, but the next month they were
released on bail
and had their sentences commuted.
Haleh Esfandiari
, an Iranian-American scholar, was also detained at Evin Prison, spending months in solitary confinement before
Iran released her on bail
in August 2007. Esfandiari was visiting her ailing mother in Tehran when she was arrested and charged with harming Iran's national security.
Alan Gross
, at right with Rabbi Arthur Schneier, has been in Cuban custody since December 2009, when he was jailed while working as a subcontractor. Cuban authorities say Gross tried to set up illegal Internet connections on the island. Gross says he was just trying to help connect the Jewish community to the Internet. Former President Jimmy Carter and New Mexico Gov. Bill Richardson have both traveled to Cuba on Gross' behalf, but they were
unable to secure his release.
Robert Becker
, right,
chose to stay
and stand trial.
Sixteen Americans were among the dozens arrested in December 2011 when Egypt raided the offices of 10 nongovernmental organizations that it said received illegal foreign financing and were operating without a public license. Many of the employees posted bail and left the country after a travel ban was lifted a few months later.
James Foley
went missing
in November after his car was stopped by gunmen in Syria. He is likely being held by the Syrian government, according to the GlobalPost, an online international news outlet to which he contributed, and Foley's brother.
Freelance reporter
Timothy Tracy
was arrested in Venezuela
in April on allegations of funding opponents of newly elected President Nicolas Maduro, successor to the late Hugo Chavez. Tracy went to Venezuela to make a documentary about the political division gripping the country.
Filmmaker
Robert Levinson
has been missing since 2007
. His family says he was working as a private investigator in Iran when he disappeared. It's believed Levinson, now 64, is being held captive somewhere in southwest Asia.
Retired FBI agent
Americans detained abroad
Americans detained abroad
Americans detained abroad
Americans detained abroad
Americans detained abroad
Americans detained abroad
Americans detained abroad
Americans detained abroad
Americans detained abroad
Americans detained abroad
Americans detained abroad
Americans detained abroad
Americans detained abroad
Americans detained abroad
Americans detained abroad
Americans detained abroad
STORY HIGHLIGHTS
Check travel advisories on the State Department website, or UK website
Don't make yourself a target by sticking out as a tourist
More than 2,500 Americans are arrested abroad every year
If you're detained, you have a right to a visit with an official from U.S. consulate, expert says
(CNN) -- Going to travel abroad? Here's a tip: Blend.
Don't stick out as a tourist because it's like wearing a "Mug me!" sign, travel experts say.
The harrowing experience of an Arizona mother ending up in a Mexican border jail has prompted travel experts to renew some do's and don't's for traveling.
Every year, more than 2,500 Americans are arrested abroad, with 30% of those cases related to illegal drugs, the U.S. State Department says.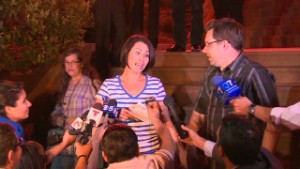 Yadira Maldonado libre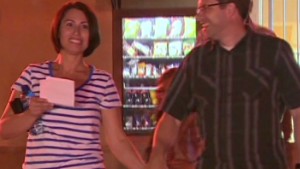 Arizona mom released from prison
The experience of Yanira Maldonado of Arizona -- freed from jail Friday after being accused of drug possession -- seems a case of a person "being in the wrong place at the wrong time," said travel expert Pauline Frommer, publisher of Frommers.com. A Mexican court determined that prosecutors did not provide evidence.
Still, the incident calls for globe trotters to be reminded of a few basics, experts say.
Do a little homework
The U.S. State Department publishes travel advisories online.
So does the U.K. version of that agency, the Foreign & Commonwealth Office.
In fact, Frommer likes the U.K. government's travel advisories better because they are time-stamped and more detailed, such as giving the number of pickpockets over what period of time in a country.
"The State Department has very good announcements about what areas are safe and what aren't," Frommer said. "There are certain parts of Mexico that aren't safe: there are border regions you don't want to be a tourist in, and Acapulco -- that's a problem."
Still, many parts of Mexico remain enjoyable destinations for tourism, Frommer said. In fact, she's visited the country three times in the past few years: Cancun, Cozumel and Mexico City.
If a U.S. citizen is arrested abroad, he or she is subject to that country's laws and may not enjoy the same protections as provided in the United States. The State Department stands "ready to assist incarcerated citizens and their families within the limits of our authority in accordance with international law," the agency says.
If you are detained abroad and there is U.S. consular representation in that country, you have a right to a visit from a U.S. government official, said Alex Puig, regional security director of Americas for International SOS, a medical and security services firm operating in 70 countries.
Be the gray man
This is a simple one: blend in.
Don't look like a tourist.
It may make you an easy mark for muggers or thieves, Puig said.
"Most travelers the last thing they worry about is keeping a low profile," Puig said. "The last thing you really think about is that I should dress in to fit in their local environment. Americans are quite casual in their dress. I land at a foreign airport, and I go into the immigration line and I can easily pick out the Americans by their dress. They like to wear jeans and white tennis shoes and they like to wear college shirts like Georgia Tech.
"You don't want to raise your profile by the way you dress," he added.
Think as if it's going to be stolen
Don't carry a lot of money.
There's no reason to in this age of connectivity.
And leave the good jewelry at home. Take credit cards.
"The truth is that in all tourist destinations nowadays there are ATMs aplenty," Frommer said. "You want to rely on your plastic because it can be replaced."
And make sure you have a credit card with a sufficient cash advance in case you need to post bond to get out of jail, said Texas attorney Louis Lopez, who represented a man framed by drug cartels.
Be aware of your surroundings
You can bet that Americans traveling in Mexico are now looking under their seat -- especially on buses -- before they sit down, Puig said. That's because the Arizona mother was jailed after the Mexican military allegedly found marijuana under her bus seat.
"Out of this bad situation comes good learning," Puig said. "You can't take anything for granted when you are outside of your normal environment."
The Internet readily offers local news on the country you'll be visiting. The U.S.-Mexico border, for example, is renowned for drug smuggling -- all heading into the United States.
The bus carrying Maldonado and her husband was traveling to Arizona from Mexico.
"Just be aware of drugs going from south to north, and drug traffickers are going to use every means available to move their drugs," Puig said. "So you have to be alert."