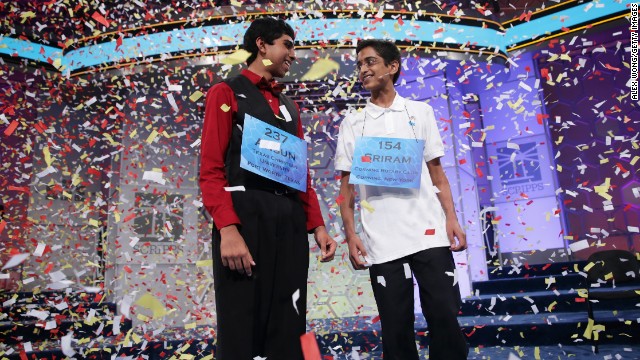 Ansun Sujoe, left, and Sriram Hathwar became co-champions of the 2014 Scripps National Spelling Bee competition Sujoe spelled the word "feuilleton" and Hathwar spelled the word "stichomythia." They both spelled their words correctly as they exhausted the words on the bee's list, becoming the first co-champions since 1962.
Arvind Mahankali won the 2013 Scripps National Spelling Bee after spelling "knaidel," which is a dumpling. Click through to see the rest of the winners from the past 15 years. The definitions of their winning words are from the Merriam-Webster dictionary.
Snigdha Nandipati won in 2012 with the word "guetapens," which means an ambush.
Sukanya Roy won in 2011 with the word "cymotrichous," an adjective that means "having the hair wavy."
Anamika Veeramani won in 2010 with the word "stromuhr," which is an instrument that measures the amount and speed of blood flow through an artery.
Kavya Shivashankar won in 2009 when she correctly spelled "laodicean," which means lukewarm or indifferent, particularly in matters of politics or religion.
Sameer Mishra won in 2008 with the word "guerdon," which is a reward or recompense.
Evan O'Dorney won in 2007 with the word "serrefine," small forceps used for clamping a blood vessel.
Katharine Close won in 2006 by correctly spelling "ursprache," a language that is reconstructed from evidence of later languages.
Anurag Kashyap won in 2005 with the word "appoggiatura," a smaller embellishing note or tone that precedes a melodic note or tone.
David Tidmarsh won in 2004 with the word "autochthonous," an adjective that means indigenous or native.
Sai R. Gunturi won in 2003 with the word "pococurante," meaning indifferent or nonchalant.
Pratyush Buddiga won in 2002 with the word "prospicience," which is the act of looking forward or having foresight.
Sean Conley won in 2001 with "succedaneum," defined as "a substitute."
George Abraham Thampy won in 2000 with the French word "démarche," meaning a course of action, typically in politics.
Nupur Lala won in 1999 with the word "logorrhea," meaning excessive and incoherent talkativeness or wordiness.
Jody-Anne Maxwell won in 1998 after correctly spelling "chiaroscurist," which is an artist who specializes in chiaroscuro, or contrasting the effects of light and shade in a work of art.
National Spelling Bee champions
National Spelling Bee champions
National Spelling Bee champions
National Spelling Bee champions
National Spelling Bee champions
National Spelling Bee champions
National Spelling Bee champions
National Spelling Bee champions
National Spelling Bee champions
National Spelling Bee champions
National Spelling Bee champions
National Spelling Bee champions
National Spelling Bee champions
National Spelling Bee champions
National Spelling Bee champions
National Spelling Bee champions
National Spelling Bee champions