$527 million in cocaine intercepted en route to U.S.
updated 3:52 PM EDT, Sat June 1, 2013
STORY HIGHLIGHTS
Memorial Day weekend seizures yield cocaine worth more than $500 million
In first of two busts, authorities had to fire on and sink boat to apprehend three suspects
Second bust involved chase in and out of shoals along Panamanian coastline
Crews in Western Caribbean, Eastern Pacific seized 59 tons of cocaine in fiscal year 2012
(CNN) -- Authorities intercepted two speedboats -- sinking one -- and recovered thousands of pounds of cocaine worth more than $500 million.
"These two disruptions are an example of the international cooperative law enforcement effort to disrupt transnational criminal activity and deny their profiting from such activity," Doug Garner, U.S. Customs and Border Protection's director of national air security operations in Jacksonville, Florida, said in a news release.
The Memorial Day weekend drug bust, which was announced Wednesday, resulted from two separate interdiction efforts, the first unfolding Friday north of the Galapagos Islands, west of Ecuador in the Pacific Ocean.
A Customs and Border Protection Office of Air and Marine crew spotted a 30-foot speedboat. After realizing that they'd been spotted, three people on the boat started chucking packages of cocaine into the water. They also "began washing the boat to eliminate traces of cocaine," the release said.
In small-town USA, business as usual for cartels
A law enforcement helicopter, responding to a call from the Customs and Border Protection crew, tracked down the boat and fired shots to disable it. Three suspects were arrested as the boat sunk into the ocean, according to the release.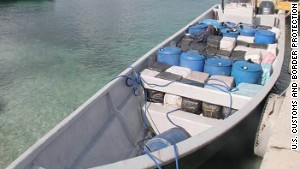 This speedboat was found carrying more than 3 tons of cocaine, authorities say.
"This joint effort denied criminal organizations more than $82 million dollars from cocaine proceeds," it said.
The next evening, a Customs and Border Protection crew in the Western Caribbean saw a three-engine speedboat moving rapidly near the Panamanian-Colombian border. The boat's driver tried to evade police by moving closer to the Panamanian coastline and maneuvering "in and out of shoals and other obstructions," according to the agency.
Colombia arrests fake nuns with cocaine under their habits
The crew told Panamanian police to intercept the boat, which was carrying bundles of cocaine weighing more than 6,000 pounds. Authorities estimate their value at more than $445 million.
The Customs and Border Protection Office of Air and Marine P-3 crews patrol a 42 million-square-mile swath of the Western Caribbean and Eastern Pacific in search of drugs destined for U.S. shores. In fiscal 2012, P-3 crews seized almost 59 tons of cocaine valued at $8.8 billion.
Two brothers, two uncles accused of trafficking cocaine to Italy
Official: Hong Kong drug operation hauls $98 million worth of cocaine
Australian police seize $246 million worth of drugs smuggled inside steamroller