STORY HIGHLIGHTS
NEW: Preliminary autopsy results fail to reveal cause of death, sheriff says
Searchers found Cullen Finnerty's body on Tuesday
He was a standout quarterback for Grand Valley State University from 2003-2006
He called Sunday from a fishing trip to say he was "leery" of something, sheriff says
(CNN) -- Sometime Sunday, onetime college football standout Cullen Finnerty called his family from a fishing trip to say he was nervous. He wanted off the river.
That's the last thing anyone heard from the Grand Valley State University football star, who played from 2003 to 2006.
Searchers found his body Tuesday night under heavy foliage, about a half-mile from the boat he'd left at the bottom of a river landing near Baldwin, Michigan, about 65 miles north of Grand Rapids.
"He said he was leery of some things," Lake County, Michigan, Sheriff Bob Hilts said Wednesday. "We are not sure what was he was leery of. No one witnessed anything."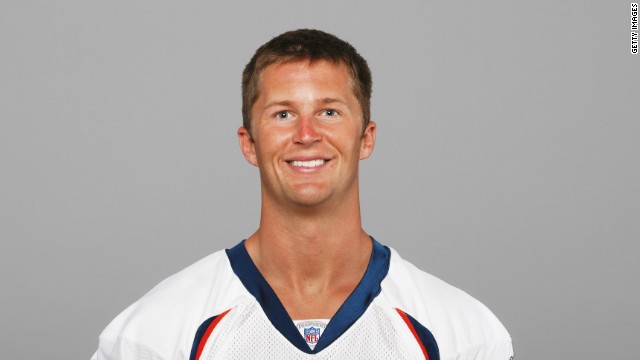 Cullen Finnerty, a former star college quarterback who was briefly on NFL team rosters, was found dead on Tuesday, May 28, near Baldwin, Michigan. The 30-year-old had gone missing two days earlier while on a fishing trip, his alma mater, Grand Valley State University, tweeted. Here, Finnerty appears while on the Denver Broncos, a team that he signed with in 2008.
Finnerty practices with the Baltimore Ravens in June 2007 in Owings Mills, Maryland. Finnerty joined the Ravens in 2007 for one year but never played in a regular season game.
Finnerty in action in December 2007 at Qwest Field in Seattle.
Finnerty, then a quarterback for Grand Valley State, passes against Northwest Missouri State in the NCAA Division II championship game in Florence, Alabama, in December 2005. Finnerty compiled a 36-4 record at Grand Valley State, winning national championships in three seasons.
Finnerty fights through the pack during the championship game in December 2005. Grand Valley defeated Northwest Missouri State 21-17.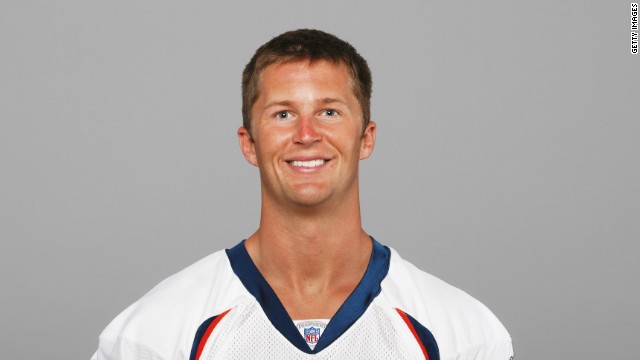 Photos: Ex-college football star Cullen Finnerty
Investigators found no obvious signs of trauma on Finnerty's body, and there was no evidence of foul play, Hilts said.
The cause of Finnerty's death remains undetermined, despite an autopsy Wednesday, Hilts said. The medical examiner is now waiting on toxicology reports, he said.
Remembering the college football career of Division II great Finnerty
Tests are also being conducted on Finnerty's brain, Hilts said. Family members had expressed concern due to concussions Finnerty had suffered in the past, the sheriff said.
Authorities believe some sort of miscommunication left Finnerty without a ride after he left the river, Hilts explained.
Grand Valley State University sent students, staff and alumni to Lake County to help in the search for Finnerty, who led the school to three championships.
"He's a big character kid and had a lot of friendships," head football coach Matt Mitchell said in a video posted on Grand Valley State's website. "I think that's the only reason why so many people are coming to his aid."
The Brighton, Michigan, native played four seasons at Grand Valley State, which traditionally has one of the premier programs in Division II college football.
Finnerty compiled a 51-4 record, according to the university, winning national championships in three seasons.
D2football.com, a website focused on NCAA Division II football, named Finnerty its player of the decade in the division for the 2000s.
After graduation, he joined the Baltimore Ravens. Finnerty never got into a regular season game, although -- as the Baltimore Sun reported -- he was called up from the practice squad and put on the Ravens' active roster in December 2007. The Denver Post reported Finnerty was briefly with the Denver Broncos the next year.
Grand Valley State assistant football coach Jim Schaak, who was among those taking part in Tuesday's search, told CNN affiliate WPBN/WTOM that Finnerty was married with two young children.
CNN's Karan Olson and Greg Botelho contributed to this report.