STORY HIGHLIGHTS
Adebolajo condemns attack, offers condolences to Rigby's family
The second suspect, identified as Michael Adebowale, was released from a hospital
He will be questioned by counterterrorism investigators, police said
Eight charged after Monday rally by far-right group
(CNN) -- One of the suspects in last week's slaying of a British soldier was discharged from a hospital Tuesday and is now in custody at a police station in south London, Metropolitan Police said.
The suspect, whom a family friend identified as Michael Adebowale, will be questioned by officers from Scotland Yard's counterterrorism command, police said. He also has been arrested on suspicion of the attempted murder of a police officer, police said but provided no details.
Adebowale, 22, was one of two men wounded by police at the scene of the grisly attack in the southeast London district of Woolwich. The killing of Lee Rigby, who had served as an infantryman in Afghanistan and Cyprus, shocked people across the United Kingdom.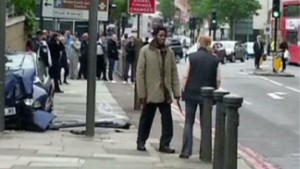 Why woman approached London suspects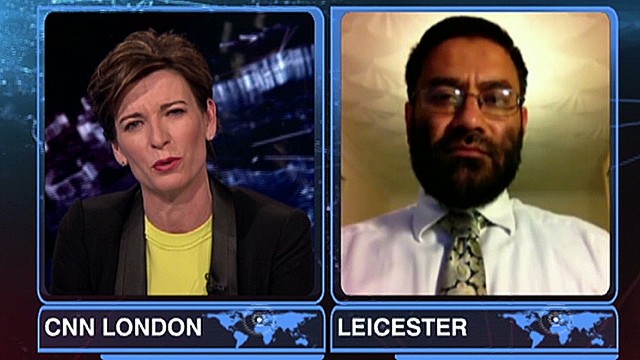 Former jihadist calls attack 'cowardly'

Four more arrests in brutal UK slaying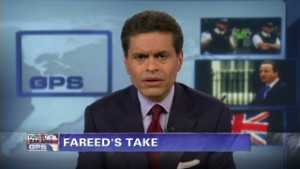 Fareed's Take: Terror in London
READ MORE: After soldier's slaying, Britain forms extremism task force
In all, 10 people have been arrested in connection with the killing. Two were released without charges, while six others have been freed on bail -- the most recent a 50-year-old man arrested Monday night on suspicion of conspiracy to murder.
The second wounded suspect, identified by friends, acquaintances and British news outlets as Michael Adebolajo, was still hospitalized under police guard Tuesday.
Adebolajo, a 28-year-old British national of Nigerian descent, was identified as the man toting a meat cleaver and large kitchen knife in his bloody hands in a video shot at the scene. In it, he declared Rigby had been targeted "because Muslims are dying daily" at the hands of British troops like him.
READ MORE: 'Armies of one': Are lone wolf attacks the future of terrorism?
In a statement, Adebolajo's family offered its "heartfelt condolence" to Rigby's family, adding, "Nothing we say can undo the events of last week."
"We wish to state openly that we believe that there is no place for violence in the name of religion or politics," the family said. "We believe all right-thinking members of society share this view wherever they were born and whatever their religion and political beliefs. We wholeheartedly condemn all those who engage in acts of terror and fully reject any suggestion by them that religion or politics can justify this kind of violence."
Adebolajo had been a follower of Al-Muhajiroun, a British group of Islamic extremists virulently opposed to British participation in the invasion of Iraq and openly supportive of al Qaeda, according to several Al-Muhajiroun insiders. He attended meetings of the group in London before moving away from the group two or three years ago, they said.
Kenyan counterterrorism sources told CNN that Adebolajo had been arrested in Kenya in 2010, along with three other men who had been waiting to catch a boat to Somalia. Islamist militants control much of southern Somalia and have long been affiliated with al Qaeda.
READ MORE: Far-right marchers rally amid tensions over Woolwich killing
While a Kenyan government spokesman had said earlier that Adebolajo was in the country using a different name, official Kenyan documentation shows that at the time of his arrest, he identified himself as Michael Adebolajo.
It's unclear why Adebolajo traveled to Kenya or what happened after his 2010 arrest. But authorities are looking into his travels to the region as part of their investigation into Rigby's killing.
Rigby was married with a 2-year-old son. He was off duty when he was hit by a car, then hacked to death last Wednesday on a street in the working-class neighborhood of Woolwich.
He served as a drummer in the Royal Regiment of Fusiliers, performing at ceremonial occasions. Since 2011, he had been a recruiter at the regiment's headquarters in the Tower of London.
His slaying sparked a series of arrests over the weekend and prompted officials to announce plans for a task force to tackle extremism in Britain.
Cub Scout leader, ex-teacher confronted London terrorist
On Saturday, more than 1,500 protesters from the far-right English Defence League pointed to the soldier's slaying and called for Muslims to leave the United Kingdom at a rally in northern England. Another EDL demonstration Monday near Prime Minister David Cameron's office led to charges against eight people ranging from racially aggravated criminal damage to violent disorder, Metropolitan Police announced Tuesday.
The EDL argues that Islamic law is poised to overthrow British society and calls for Britons to act aggressively to pre-empt it. Its symbolism resembles that of neo-fascist groups, and its logo is adorned with red medieval crosses.
The aftermath of the killing has also raised concerns about rising Islamophobia in Britain.
A mosque in Grimsby, on England's East Coast, was set ablaze on Sunday, resulting in the arrests of two men on suspicion of arson. And Fiyaz Mughal, who operates a hotline for Muslims under attack, said he received 162 reports from people who said they had been called names, assaulted or had things thrown at them in the two days after Rigby's killing.
Before that attack, Mughal said he received around five complaints per day.
Scotland Yard said its officers "are providing increased visibility, engagement and reassurance on all boroughs" in the aftermath of Monday's demonstrations.
"Neighbourhood officers are engaging face-to-face with the public and listening to any concerns they have," it said.
CNN Correspondent Nima Elbagir contributed to this report.