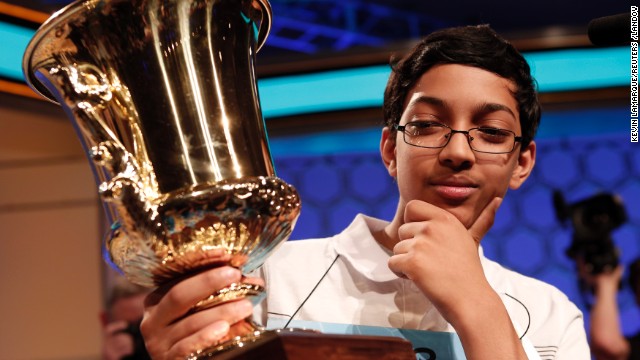 Arvind Mahankali, a 13-year-old from Bayside Hills, New York, won the Scripps National Spelling Bee, spelling "knaidel," a dumpling, on May 30. Definitions for the words spelled were taken from Merriam-Webster.
Take a look back at previous winners
.
Confetti falls on Mahankali after he won the bee.
Mahankali holds his trophy while speaking to reporters after his victory.
The contest started with 281 contestants from eight nations, narrowed down to 11 spellers for the championship round. This year brought a new challenge for the contestants. For the first time, the bee instituted vocabulary tests during the first and fourth rounds. The competition took place at Gaylord National Resort and Convention Center in National Harbor, Maryland.
The final three competitors, Pranav Sivakuma, left, Sriram J. Hathwar, center, and Arvind V. Mahankali chat as former competitors' chairs are removed from the stage.
Sriram J. Hathwar, representing New York, waves goodbye after misspelling "ptyalagogue," during the championship round on May 30.
Amber Born, representing Massachusetts, misspelled "hallali," a huntsman's bugle call, during the championship round on May 30.
Vismaya J. Kharkar, representing Utah, was eliminated from the championship round on May 30, after mispelling "paryphodrome," which describes leaf venation that has a vein that closely follows the margin.
Syamantak Payra, representing Texas, was eliminated during the champtionship round when he mispelled "cipollino," a light-colored Roman marble, on May 30.
Chetan G. Reddy, representing Texas, reacts after misspelling "kaburi," a land crab common to mangrove swamps, during the championship round on May 30.
Finalists line up after being announced ahead of the final round on Thursday, May 30. Only 11 contestants will compete in the final.
Jonathan Caldwell, representing Tennessee, reacts to misspelling "pergameneous," meaning to resemble parchment, in the sixth round on May 30.
Lucas Michael Urbanski, from Illinois, waits to compete during the semifinals on Thursday, May 30. Urbanski spelled "parvanimity," the state of having a little or ignoble mind, in round five.
Amber Born of Marblehead, Massachusetts, celebrates after she spells "pediculicide," an agent for destroying lice, in round five on May 30.
Joseph Kirkpatrick, from Indiana, reacts after misspelling "ignimbrite," a hard rock formed from volcanic ash, in the fifth round on May 30.
Isabel Cholbi, right, of San Bernardina, California, celebrates after spelling "telergy," in round five on May 30. Telergy is the hypothetical action of one person's thoughts and desires on the brain of a different person via an unknown form of energy transmission.
Dylan O'Connor of Alexandria Bay, New York, smiles after spelling "acervation," which means a heaping up, in round three on Wednesday, May 29.
Mollie J. Symons of Halifax, Nova Scotia, Canada, returns to her seat after spelling "ombrology," a branch of meteorology dealing with rain, in round three on May 29.
Abram Mikhaeel Goda, left, of Bridgeport, Connecticut, hi-fives Himanvi Kopuri of Denver, Colorado, after he spells "nomenclative," of or relating to name or the act of naming, in round three on May 29.
Zander Reed of Ankeny, Iowa, reaches to adjust the microphone before spelling "blottesque" in the third round on May 29. Blottesque means to be painted with blot-like brushwork.
Eboseremhen Eigbe of Galloway, New Jersey, is comforted by his father after he misspelling the word "meiosis" during the third round on May 29. Meiosis is the complex nuclear process that results in the production of cells (as gametes) with half the number of chromosomes of the original cell.
Alexander Schembra of Lillington, North Carolina, lowers the microphone before attempting, and failing, to spell "Beethovenian" during round three on May 29. Beethovenian is an adjective used to describe things that are related to or characteristic of Ludwig van Beethoven, his works or musical style.
Minka Gill of Kokomo, Indiana, spells "corpuscle" during round two on May 29. A corpuscle mean a minute or elementary particle or a living cell that is isolated and not a continuous part of other tissue -- like a red or white blood cell.
Kennith Gonzalez of Union City, New Jersey, yawns during round two on May 29. Kennith correctly spelled "tarragon." Tarragon is a European wormwood grown for it's aromatic foliage used in making pickles and vinegar.
Mollie J. Symons of Halifax, Nova Scotia, Canada, smiles as she spells "charpoy" in the second round on May 29. A charpoy is a bed made of a frame strung with light rope or tape, typically found in India.
Aleena Boby, in front, of Fort Myers, Florida, spelled "galjoen," an African fish, and Grace Remmer, behind, of St. Augustine, Florida, spelled "repertoire," a set of skills, devices, or knowledge possessed by a person, on May 29.
Parents wave to the competitors on May 29.
Katie Peterson of Palm Desert, California, concentrates as she spells "kirtle" on May 29. A kirtle is long tunic or coat-like garment.
Spellers wait for their turn on May 29.
Zerin Wetzel of Fort Irwin, California, reacts as she fails to spell "commissar" on May 29. A commissar is most commonly defined as a Communist Party official responsible for teaching party principles and policies and ensuring party loyalty.
Lucas Michael Urbanski of Crystal Lake, Illinois, waits his turn on May 29. Urbanski later spelled "hartebeest," a large African antelope that was nearly exterminated.
Giabao Tonthat of Escondido, California, spells "Qatari," a person living in Qatar, on May 29.
2009 Bee champion Kavya Shivashankar
, waits her turn on May 29. Shivashankar later spelled "intaglio," a figure or design created as an impression below the surface level of stone or similar material.
Vanya Shivashankar of Olathe, Kansas, younger sister of
Photos: Scripps National Spelling Bee
Photos: Scripps National Spelling Bee
Photos: Scripps National Spelling Bee
Scripps National Spelling Bee
Photos: Scripps National Spelling Bee
Photos: Scripps National Spelling Bee
Photos: Scripps National Spelling Bee
Photos: Scripps National Spelling Bee
Photos: Scripps National Spelling Bee
Photos: Scripps National Spelling Bee
Scripps National Spelling Bee
Scripps National Spelling Bee
Scripps National Spelling Bee
Scripps National Spelling Bee
Scripps National Spelling Bee
Scripps National Spelling Bee
Scripps National Spelling Bee
Scripps National Spelling Bee
Scripps National Spelling Bee
Scripps National Spelling Bee
Scripps National Spelling Bee
Scripps National Spelling Bee
Scripps National Spelling Bee
Scripps National Spelling Bee
Scripps National Spelling Bee
Scripps National Spelling Bee
Scripps National Spelling Bee
Scripps National Spelling Bee
Scripps National Spelling Bee
Scripps National Spelling Bee
Scripps National Spelling Bee
Scripps National Spelling Bee
Scripps National Spelling Bee