Mount Everest: By the numbers
updated 9:36 AM EDT, Sun May 26, 2013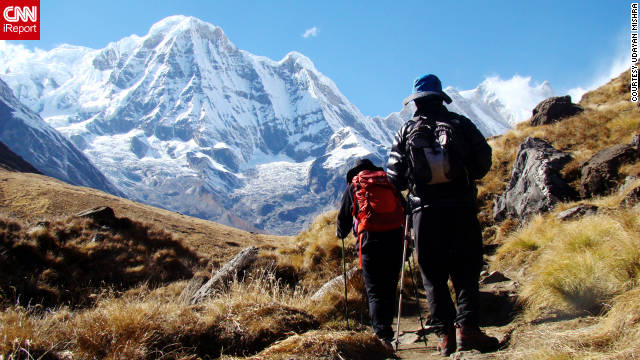 iReporter Udayan Mishra captures trekkers as they walk their final steps to reach Annapurna base camp in Nepal.
"This photo was taken on a dawn hike up to Kala Patthar, towards the end of a two-week trek from Lukla to Everest Base Camp. It is about minus 30 degrees Celsius without taking into consideration the wind chill. A truly spectacular region - I can't wait to go back," says iReporter Ruth Stewart.
"Beholding the sunrise taking its time was an amazing experience and was worth all the walk uphill. The Fishtail Mountain, 6,997 meters (22,950 feet) on left, seemed to have been waiting for the first rays of sunshine to fall on it for quite some time," says iReporter Udayan Mishra.
iReporter Ruth Stewart says her two-week trek to Everest Base Camp was one of the most challenging treks she has ever done.
iReporter Joseph Orona took this photograph of Mount Everest from a commercial aircraft flying from Lhasa, Tibet, to Kathmandu, Nepal.
"I first trekked in Nepal in the early 1980s. Without doubt, Himalayan glaciers in Nepal have shrunk dramatically during this period," says iReporter Barry Wenlock.
"When the first sunlight hit the Himalayas, I was captured by the soft golden color of the first sunrise," says iReporter Duangmon Chaturapitaporn.
"Don't be discouraged, the Annapurna Circuit is a trail for almost everyone. There are tea houses along the way which offer a clean and simple place to stay and eat. There are even options to hire porters and guides, though for an experienced hiker, we didn't feel it was necessary. This is one of the most amazing treks in the world and we can't wait to go back to do it again!" says iReporter Dean Gakos.
"Home to the highest monastery in Nepal, the Tengboche Monastery is situated in the Khumjung Valley, Solukhumbu, within the Sagarmatha (Everest) National Park, Nepal. A peaceful, quiet, chilled and serene place, it is also home for Buddhist monks," says iReporter Kuna Rajandran.
Trekking in Nepal
Trekking in Nepal
Trekking in Nepal
Trekking in Nepal
Trekking in Nepal
Trekking in Nepal
Trekking in Nepal
Trekking in Nepal
Trekking in Nepal
STORY HIGHLIGHTS
Mount Everest's height has been recalculated over the years
There have been over 200 fatalities
The temperature doesn't register above a negative degree of Fahrenheit
(CNN) -- Here are a few facts about the highest mountain in the world.
1 - The rank of Mount Everest on the list of tallest mountains in the world.
29,035 ft - Elevation of Mount Everest.
7 ft - Total amount added to the measurement of the original elevation after being recalculated several times over the years, most recently in 1999. The first, surveyed between 1952 and 1954, was listed as 29,028 feet.
1953 - The year in which Everest's summit was reached for the first time, by Edmund Hillary and Tenzing Norgay, on May 29th. 2013 is the 60th anniversary.
17,600 ft - Elevation of the base camp on the southern side of the mountain.
21 - Record for the most summits by one person - held by Apa Sherpa, of Nepal.
80 - Age of the oldest person to ever climb Mount Everest, Yuichiro Miura, from Japan. He'd better not get too comfortable, though, because the 81 year old former record holder, Min Bahadur Sherchan, is preparing to climb Everest again soon.
-31 to -4 F - Temperature range on Mount Everest. The most common time to go is in May, when there's less wind.
29.44% - Success rate of Mount Everest climbers from 1922 to 2006, according to AdventureStats.com.
5654 - Total ascents, from 1953 to 2011.
219 - Fatalities, from 1922 - 2010.
633 - Record for the highest number of summits in one year, 2007, as reported by Everest expert Alan Arnette on his blog.
27 - Expedition teams that climbed Mount Everest in 2011, according to the Nepalese Ministry of Culture, Tourism, and Aviation.
$70,000 - Cost of a permit from the Nepalese government, for seven people to climb.
481 - Climbers from the United Kingdom in 2011, the most from any nationality.
Everest climbers, widower recount deadly traffic jam in 2012
Everest men: On top of the world in 1963