STORY HIGHLIGHTS
NEW: People hold up picture of a graduate's mom who died in the tornado
Three high school classes in Moore, Oklahoma, have their graduation ceremonies
"It's ... the closing of one chapter and the opening of another," a student says
Funerals continue to be held for some of the 24 killed
Moore, Oklahoma (CNN) -- Five days ago, Miranda Mann huddled in a science classroom at Southmoore High School. She should have been filed with pride, relief and excitement about her upcoming graduation. Instead, she was filled with fear as a devastating tornado powered through her central Oklahoma city.
The 18-year-old has been literally picking up the pieces of her life since.
Her house was unrecognizable, except for her and her mother's cars, after the twister destroyed it Monday.
Her family sifted through rubble and salvaged some things, only to see many of them -- such as her prized book collection -- ruined by torrential rains.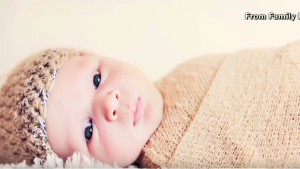 Loved ones remember tornado victims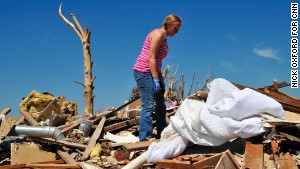 OutFront Recap: 05/24/13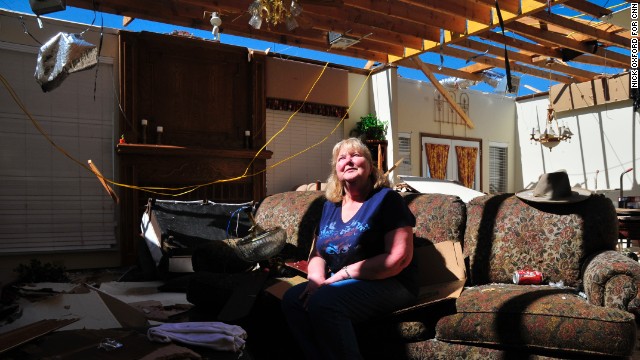 Frieda Stanley sits in what was once her living room. Her Oklahoma City neighborhood was hit by a deadly twister in May 1999 and again on Monday.
The nameless neighborhood, near SW 149 and May Avenue in Oklahoma City, sits on the spot where the 1999 and 2013 tornado paths intersect.
Lisa Brown helps her former colleague Kay Taylor pull belongings from the wreckage of her home. Taylor, a former PE teacher and school counselor, was most concerned about finding her collections of pennies, gumball machines and ladybug figures.
Kay Taylor, 63, moved into her home here after the 1999 tornado. She plans to rebuild.
Families on Tuesday and Wednesday searched for recognizable objects hidden in the anonymous rubble.
Cheryl Richeson survived Monday's tornado by hiding out in her family's safe room, which is built to withstand Oklahoma's severe weather.
Some people in this neighborhood say they will rebuild. Others aren't sure they trust the skies here.
George Stanley recorded the tornado on his iPhone before waiting out the storm in his neighbor's underground storm shelter. He doesn't plan to leave. "It's my paradise out here," he said.
Residents talked about how they survived this storm and the 1999 tornado as they pulled photos and other personal belongings from their homes.
Kay Taylor lives next door to her 94-year-old aunt, whose home was destroyed by tornadoes in 1999 and this week. Both women plan to stay on this land.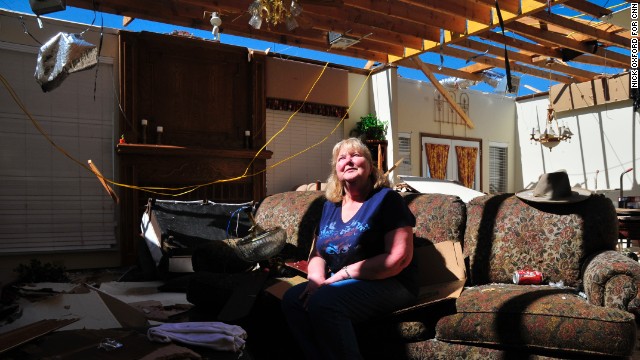 Living in tornado alley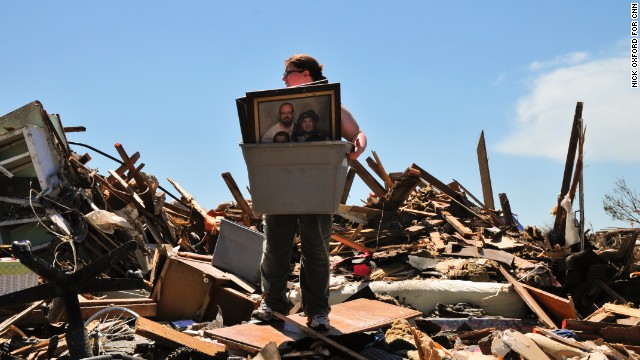 Heather Shannon helps a friend find family photos and other keepsakes at her home in Moore, Oklahoma, on May 22. People who lost their homes to the tornado on Monday continue to search through the rubble in hopes of finding some of their belongings.
Jon Cook salvaged a flag that was presented to his family when his grandfather, a Korean War veteran, passed away.
Payton Jo Lindsey sits on her grandmother's hope chest amid the ruins where her family's home once stood.
Aidan Fox, 9, was happy to find a baseball bat behind his grandparents' house in Moore on May 22.
Lori Lacey found her dog Lillie two days after the tornado destroyed her home.
Chelsea and Shane Stanfield discovered some family photos of them with their son, Lane.
Kelcy Trowbridge searches for family keepsakes in the rubble of her home.
Thomas and Kelcy Trowbridge found a basket adorned with footprints from one of their two children.
Jennifer Nutty-Marquez, left, and Jamie Plunk saved a poster of Nutty-Marquez's son, Caleb, from the wreckage of their home.
Carolyn Booher found her husband's wedding ring and several photos of her parents in the debris.
Jason Keen and his wife, Katy, search through the wreckage in a field of debris behind their house.
Thomas and Lisa Jones located some family photos of them and their son, Anthony.
Scott, left, and Buddy Whitmore recovered a bowl that belonged to their grandmother.
The items salvaged by Scott and Jill Ashbaugh included a photo of their 2-year-old son, Carter, and one of their wedding photos.
Jill Ashbaugh works to remove her family's recovered belongings from their home.
Trisha Jones and her fiance, Shaun Samuel, recovered a photo collage that Trisha received as a graduation gift.
A flag hangs from a tree in a neighborhood in Moore that was in the direct path of the Oklahoma tornado.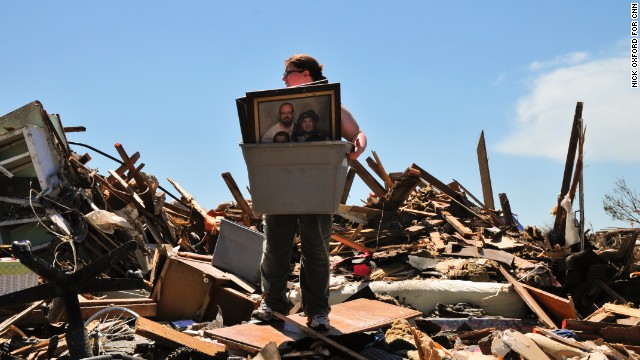 Photos: Recovered from the wreckage
Mann doesn't want to live in Moore, wary of a place that's been hit by two EF5 tornadoes -- the strongest possible -- over the past 14 years. There's been plenty of time, and way too many reasons, for tears.
But finally ... finally, Saturday was a time to smile.
"My family is all here, we get to be together," Mann said about her graduation at Oklahoma City's Cox Convention Center. "(You can) relax and let your hair down, because you know that we're not going back to the house today. We're not going to see that."
Southmoore High's seniors were one of three classes celebrating their commencement ceremonies at the facility. The date had been set for months, and it wasn't moved after the storm killed 24 people, injured more than 375 others and damaged 12,000 residences in and around the metropolitan area.
A tornado bearing down; a mom in labor
Jake Spradling is glad the show went on. Like Mann, he's a Southmoore High senior; like her, he no longer has a place to call home.
The hours since Monday have been "overwhelming," Spradling admitted, though he said the outpouring of support -- offers to bunk early at Northwestern Oklahoma State University where he'll head this fall, dozens of text messages and "calls out of the wazoo" with offers of help -- have made a big difference.
He knows people who lost family members, and many more who lost homes. He knows that they need time to plan and attend funerals, to clean up debris, to figure out what happens next.
Even with all that, "I'm glad it's today," Spradling said. "It means to me that we're not going on different routes.
"We're staying on the same path that we were meant to be on."
One block, two tornadoes: Life in the crosshairs
Graduation festivities were infused by the tragedy, including speakers' remarks and other poignant reminders. One happened when Southmoore's Alyson Costilla walked across the stage to get her diploma and about a dozen people in the crowd stood up and held up pictures of her mother Terri Long, who died in a 7-Eleven ravaged by the powerful winds.
Outside the convention center, the seniors from Southmoore, Westmoore and Moore high schools won't have to go far to be reminded of the devastation.
Funeral homes and churches are busy with services for those killed.
Ten of those killed were children, including seven second- and third-graders at Plaza Towers Elementary School. After three funerals earlier in the week, two more of those students were to be buried Saturday.
Transforming Moore back into the city it had been won't be easy. Its public schools alone suffered $45 million in damage, including the two elementary schools that were leveled. Insurance claims related to Monday's storm will likely top $2 billion, according to Kelly Collins from the Oklahoma Insurance Department.
But residents aren't doing it all alone.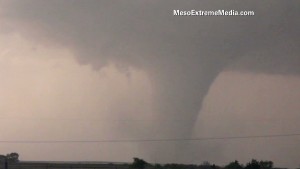 Hear 911 tapes from Oklahoma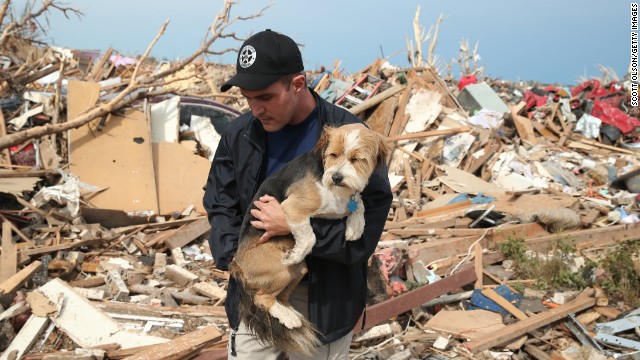 Sean Xuereb recovers a dog from the rubble of a home that was destroyed by the massive tornado that hit Moore, Oklahoma, on Monday, May 20. A website has been set up to help lost and found pets, and shelters have been set up to help displaced and injured animals. For ways to help, visit CNN.com/impact.
Volunteer Paula McCoart feeds a dog at a shelter for displaced pets on Thursday, May 23.
A cat rests with her kittens at a shelter on May 23.
Volunteer Tiffany Pacheco holds a small dog at an animal shelter on May 23.
A dog gets checked out by veterinarian Dr. Nancy Newcomb after it was found in the rubble of a house on May 23.
A dog rests in a cage at an animal shelter on May 23.
Beberly Berenner holds her family dog Lillie, who was dug out of their tornado-devastated home by a neighbor.
Dogs sit in cages at a shelter for displaced pets on May 23.
Notes written by the vet are left on the cage of a dog while he rests at an animal shelter on May 23.
Yolanda Soliz, left, checks a dog as she searches for her pets, lost during the May 20 tornado.
Farrell Ramsey holds his dog Tiger after he found him at an animal shelter on May 23.
A dog rests in a cage at an animal shelter in Moore.
June Simson embraces her cat Sammi after she found him standing on the rubble of her destroyed home on May 21.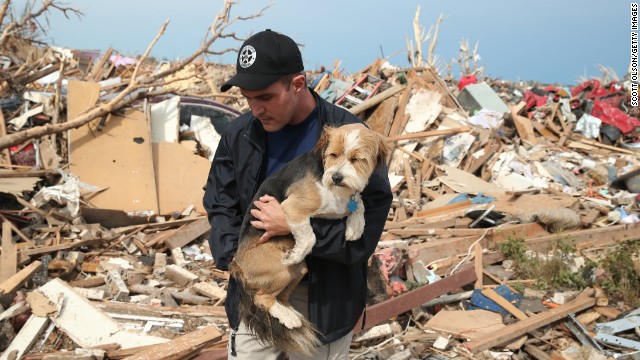 Pets rescued after Oklahoma tornado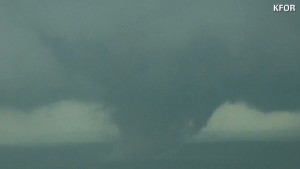 OKC twisters: 15 years in 2 minutes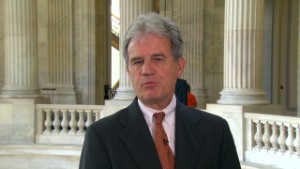 Coburn: Govt. shouldn't mandate shelters
Honest advice from Joplin to Moore
Besides the presence of FEMA representatives and other public officials on the ground, they've had friends, relatives, even strangers come out to help.
Sharon Liston has spent the last 25 years teaching math at Westmoore High, from which she's retiring after 40 years total in the profession.
On Friday, a day before her school's graduation, a caravan of students arrived at her home to clean up her 3-acre property.
"It looked like a wall of students with trash cans and trash sacks, and they literally picked up every stick within that three acres there," Liston said.
Principals recall day tornado hit
That kind of help makes it easier for Moore's residents to move on from this horrific week.
Saturday's graduation ceremonies are similar, in that way. It means the end of one thing, and the beginning of another. A fresh start.
"It's just the closing of one chapter and the opening of another," Spradling said. "...It's one of those flipping of the pages that means a lot to everybody here."
Tornado heading your way? Here's what to do
CNN's Eric Fiegel reported from Oklahoma, while Greg Botelho reported and wrote this story from Atlanta. CNN's Mariano Castillo contributed to this report.