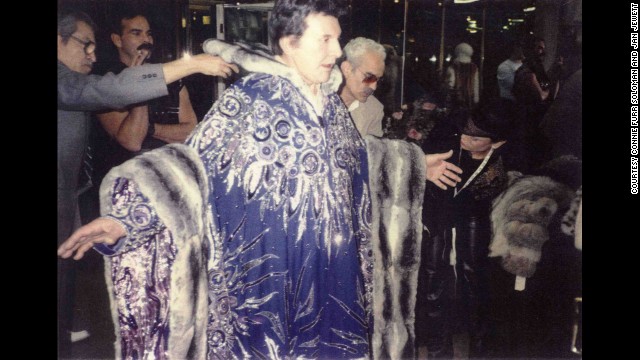 Liberace's extravagant style is as famous as his music, and his looks will be on full display in Stephen Soderbergh's "Behind the Candelabra" when the film premieres on HBO May 26.
A sneak peek has shown
star Michael Douglas as Liberace in an elaborate fur and Matt Damon as his lover Scott Thorson in the snazziest chauffeur suit possible. But Liberace's eye-catching costumes, like this purple and silver cape with rare empress Chincilla fur, are also described in detail
in the new book, "Liberace Extravaganza!"
Here is a selection of some of its images:
The 150-page tome offers more than 260 full-color photos of his items, like these red boots with fur.
"Liberace Extravaganza!" was authorized by the Liberace Foundation and written by costume designers Connie Furr Soloman and Jan Jewett.
A white bow tie with silver detail is the type of accessory that became a Liberace signature.
Liberace focused on the details from head to toe, such as with these yellow shoes.
Flamboyant outfits like this Neptune Outfit were what audiences had come to expect from the talented musician.
Liberace attends a fitting with Anna Nateece at her salon.
This bow tie had the addition of fringe to add to its decadence.
This lush outfit is described as his Christmas cape.
There would be no missing this pair of black flame boots.
Another glittering bow tie from the star's collection, this time in gold
Liberace's "flame" costume
Here, Liberace is seen with Michael Travis and Primo.
A pair of white boots
A black upside-down monkey fur cape
A look at one of Liberace's dazzling bow ties proves he was never one to shy away from something bright.
Liberace's purple and pink Phoenix costume
'One of a kind': What Liberace wore
'One of a kind': What Liberace wore
'One of a kind': What Liberace wore
'One of a kind': What Liberace wore
'One of a kind': What Liberace wore
'One of a kind': What Liberace wore
'One of a kind': What Liberace wore
'One of a kind': What Liberace wore
'One of a kind': What Liberace wore
'One of a kind': What Liberace wore
'One of a kind': What Liberace wore
'One of a kind': What Liberace wore
'One of a kind': What Liberace wore
'One of a kind': What Liberace wore
One of a kind: What Liberace wore
'One of a kind': What Liberace wore
'One of a kind': What Liberace wore