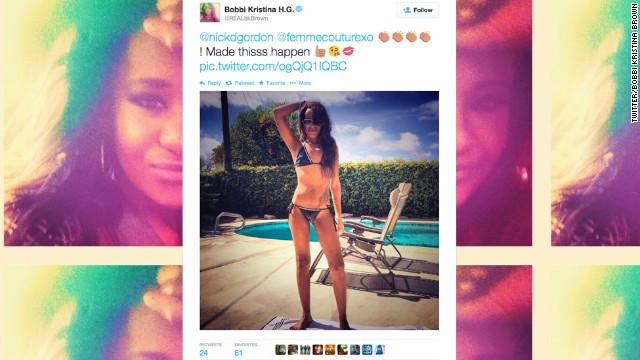 It's that time of the year again when folks strip down and head for the water for a bit of fun in the sun. Whitney Houston's daughter, Bobbi Kristina,
took photo of her poolside relaxation on March 6
, but it ended up leaving several wondering whether she'd become too thin. According to the 21-year-old, this is just her natural bikini body. See how other celebs dress when they're ready for a dip.
Singer Pink got a jump on the action in February 2013 when she and her husband, Carey Hart, spent the day on the beach in Miami with their daughter, Willow.
Mommy-to-be again Halle Berry headed to the beach in Hawaii with her fiance, Olivier Martinez, and her daughter, Nahla, in March 2013.
her rumored fiance
, Wladimir Klitschko, enjoyed some time together on the beach with friends in Hollywood, Florida, in March 2013.
"Nashville" actress Hayden Panettiere and
Rachel Bilson enjoyed a day on the beach with friends while on vacation in Barbados in April 2013.
Patrick Schwarzenegger (son of Arnold and Maria) joined some friends in having a blast on the beach while on vacation in Miami in March 2013.
Jessica Alba vacationed with husband Cash Warren in St Barts in April 2013.
"Dallas" actor Jesse Metcalfe gave his fiancee, Cara Santana, a lift at the beach in Santa Monica, California, in April 2013.
Nina Dobrev hung out with friends (including actress Julianne Hough) on the beach in Miami in April 2013.
Nicole Richie donned a black bikini in St Barts in April 2013.
"Wolverine" star Hugh Jackman enjoyed an early morning swim at Bondi Beach in Sydney in July 2012.
Jada Pinkett Smith shows off her athletic figure at the beach in Kauai, Hawaii, in November 2012.
British model Kate Moss hit the beach in St Barts in December 2012.
Actor Jim Carrey walked the beach in Malibu with an unidentified woman in September 2012.
reportedly is not unhappy
that Gomez and Justin Bieber have broken up, the pair were plenty happy when they vacationed in Maui in 2011.
While Selena Gomez's friend Taylor Swift
Photos: Celebs show off beach bodies
Celebs and their beach bodies
Celebs and their beach bodies
Celebs and their beach bodies
Celebs and their beach bodies
Celebs and their beach bodies
Celebs and their beach bodies
Celebs and their beach bodies
Celebs and their beach bodies
Celebs and their beach bodies
Celebs and their beach bodies
Celebs and their beach bodies
Celebs and their beach bodies
Celebs and their beach bodies
Celebs and their beach bodies