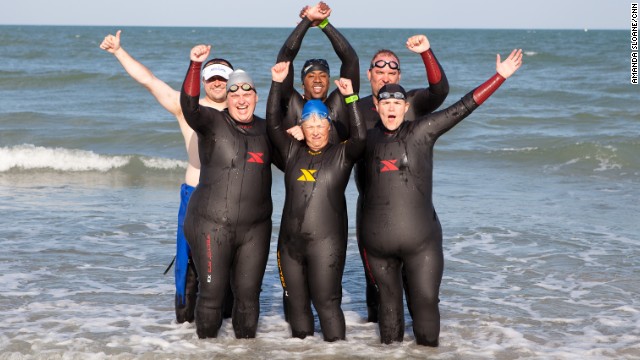 The CNN Fit Nation "6-Pack" conquered the ocean in Clermont, Florida, on their midway training trip in May. Team members
Tabitha McMahon
, front row from left,
Rae Timme
and
Annette Miller
and
Douglas Mogle
, back row, from left,
Will Cleveland
and
Stacy Mantooth
are training to race the 2013 Nautica Malibu Triathlon on September 8 alongside CNN's Dr. Sanjay Gupta.
Tabitha McMahon straps on her helmet as she prepares for one of the group's training rides.
Miller prepares for the team's morning bike ride.
Gupta, right, and Timme lead the way.
It's group photo time for the "6-Pack" and their coaches and fellow Fit Nation triathletes.
The Fit Nation team heads out for a run along one of Clermont's clay trails.
Timme keeps a steady pace during the 5.3-mile run.
Cleveland tackles the hills with ease.
McMahon slows as the trail rounds a bend.
Wow, we're impressed. The "6-Pack" is in serious training mode.
The team celebrates after completing a run in the Florida heat.
Members of the "6-Pack" practice racing into the water before their first ocean swim.
Miller is amused as she struggles to put on her wetsuit for the first time.
Cleveland, right, helps Mantooth stretch out his suit.
Timme hesitates as she walks into the ocean for the first time.
Gupta takes a short break during a swim workout.
Cleveland and Mogle practice the dead man's float.
Using flippers during practice helps team members strengthen their kick and ankle flexibility.
Coach April Burkey instructs the team on proper stroke techniques.
A underwater view of the team during training.
Cleveland powers through the water.
The Fit Nation team tackles a long bike ride during training.
Rajesh Durbal joins the Fit Nation team on its ride. Durbal was the first triple amputee to compete in the Ironman World Championship.
Mogle gets a quick roadside checkup.
Karl Riecken, an exercise physiologist at the National Training Center in Clermont, checks Cleveland's running form.
Timme stretches her hip flexor at the National Training Center.
Mantooth has his swim kick analyzed at the National Training Center.
Burkey makes this look easy, doesn't she?
Castelli, right, and McMahon share a lane.
Hydration is key for the Fit Nation athletes. They carry water on them at all times, even while swimming.
Timme adjusts her goggles before jumping into the pool at the National Training Center.
Fit Nation '6-Pack' hits Florida
Fit Nation '6-Pack' hits Florida
Fit Nation '6-Pack' hits Florida
Fit Nation '6-Pack' hits Florida
Fit Nation '6-Pack' hits Florida
Fit Nation '6-Pack' hits Florida
Fit Nation '6-Pack' hits Florida
Fit Nation '6-Pack' hits Florida
Fit Nation '6-Pack' hits Florida
Fit Nation '6-Pack' hits Florida
Fit Nation '6-Pack' hits Florida
Fit Nation '6-Pack' hits Florida
Fit Nation '6-Pack' hits Florida
Fit Nation '6-Pack' hits Florida
Fit Nation '6-Pack' hits Florida
Fit Nation '6-Pack' hits Florida
Fit Nation '6-Pack' hits Florida
Fit Nation '6-Pack' hits Florida
Fit Nation '6-Pack' hits Florida
Fit Nation '6-Pack' hits Florida
Fit Nation '6-Pack' hits Florida
Fit Nation '6-Pack' hits Florida
Fit Nation '6-Pack' hits Florida
Fit Nation '6-Pack' hits Florida
Fit Nation '6-Pack' hits Florida
Fit Nation '6-Pack' hits Florida
Fit Nation '6-Pack' hits Florida
Fit Nation '6-Pack' hits Florida
Fit Nation '6-Pack' hits Florida
Fit Nation '6-Pack' hits Florida
Fit Nation '6-Pack' hits Florida