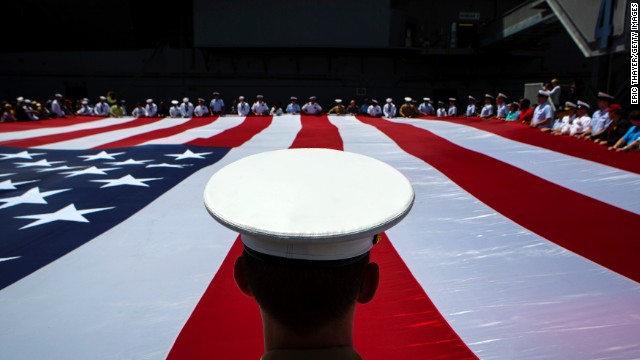 Members of the military unfurl an American flag during a wreath-laying ceremony at the Intrepid Sea, Air & Space Museum in New York on Monday, May 26.
A flyover takes place on May 26 over the Vietnam Veterans of Oregon Memorial at Washington Park in Portland, Oregon.
Pablo Sandoval, left, and David Huff of the San Francisco Giants stand for a moment of silence during their Memorial Day game against the Chicago Cubs at AT&T Park in San Francisco on May 26.
American Legion member Richard Clark participates in the annual Memorial Day observances at the Vicksburg National Cemetery in Vicksburg, Mississippi, on May 26.
After visiting the grave of her husband, World War II veteran William Murphy, Raymonde Murphy walks past graves at the National Memorial Cemetery of Arizona in Phoenix on May 26.
Korean War veterans participate in a Memorial Day parade in Fairfield, Connecticut, on May 26.
Joseph Felner, who was part of the D-Day landing operation during World War II, participates in the Memorial Day parade in Fairfield on May 26.
Pvt. John Schena of the Georgia State Defense Force salutes after placing a rose at a Pearl Harbor memorial May 26 at Marietta National Cemetery in Marietta, Georgia.
President Barack Obama speaks at Arlington National Cemetery in Arlington, Virginia, on May 26.
Robert Becker performs taps during a ceremony May 26 at Blandford Cemetery in Petersburg, Virginia.
Mike Sunderhaus of Bel Air, Maryland, becomes emotional Sunday, May 25, as he visits the grave of his friend, Marine Lance Cpl. Jeremiah E. Savage, at Arlington National Cemetery. Savage was killed in 2004 during Operation Iraqi Freedom.
World War II veteran Jimmy Bishop Jr. looks at names on the Vietnam Veterans Memorial in Washington on May 25.
Military personnel stand at attention May 25 during the National Memorial Day Concert at the Capitol in Washington.
Obama does a Hawaiian "shaka" as he greets U.S. troops during a surprise visit to Afghanistan on May 25.
Country singer Brad Paisley greets troops prior to Obama's arrival at Bagram Air Field on May 25.
Divers deploy an American flag on the USNS General Hoyt S. Vandenberg, an artificial reef about seven miles off Key West, Florida, on May 25.
Sarah Greene wipes tears as she visits the grave of her husband, Marine Lt. Col. David S. Greene, at Arlington National Cemetery on May 25. He was killed in Iraq in 2004.
An American veteran passes by marble walls engraved with names of fallen U.S. soldiers at the Manila American Cemetery and Memorial in Taguig, Philippines, on May 25.
Americans honor fallen veterans
Americans honor fallen veterans
Americans honor fallen veterans
Americans honor fallen veterans
Americans honor fallen veterans
Americans honor fallen veterans
Americans honor fallen veterans
Americans honor fallen veterans
Americans honor fallen veterans
Americans honor fallen veterans
Americans honor fallen veterans
Americans honor fallen veterans
Americans honor fallen veterans
Americans honor fallen veterans
Americans honor fallen veterans
Americans honor fallen veterans
Americans honor fallen veterans
Americans honor fallen veterans