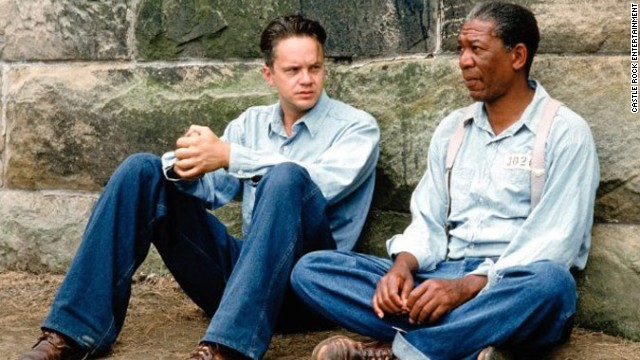 "Shawshank Redemption" (1994)
: This story of two men who form a lasting friendship while in prison is a drama rather than the usual buddy movie comedy, but the work of Morgan Freeman and Tim Robbins is a duo performance at its finest.
"Dumb & Dumber" (1994): It's just one of Jim Carrey's string of 1994 comedies. The actor crafted a standout favorite alongside Jeff Daniels in this movie about two idiotic but lovable friends.
"Some Like It Hot" (1959): In this classic comedy, Tony Curtis and Jack Lemmon star as a pair of musicians who disguise themselves as ladies in an all-woman band to escape mobsters. They set off for Florida with designs on Marilyn Monroe's Sugar Kane.
"Butch Cassidy and the Sundance Kid" (1969): This classic Western features Paul Newman and Robert Redford as a pair of outlaws who remain loyal until the end.
"The Blues Brothers" (1980): Soulful and mischievous musicians Jake (John Belushi) and Elwood (Dan Aykroyd) weren't just buds but, as the title suggests, brothers, as well. The characters survived the jump from being a "Saturday Night Live" skit to landing on the big screen with "a mission from God" in 1980. "Blues Brothers" has since become a fan favorite and spawned a sequel in 1998.
"48 HRS." (1982): Eddie Murphy's first movie role has become one of his most iconic. The comedian/actor played a criminal who was teamed up with a police officer (Nick Nolte) to track down a killer in -- you guessed it -- 48 hours.
"Lethal Weapon" (1987): The partnership between "I'm too old for this s**t" Murtaugh (Danny Glover) and Riggs (Mel Gibson) may have been a reluctant one, but it's also one of the most entertaining pairings of the past 30 years. The two went on to star in three additional films in the franchise.
"Midnight Run" (1988): Robert De Niro's bounty hunter Jack Walsh thought he was going on a simple midnight run to apprehend Charles Grodin's "The Duke." What follows is a comedy thriller that uses just about every mode of transportation imaginable while highlighting De Niro and Grodin's impeccable chemistry.
"Thelma & Louise" (1991): The buddy movie is a genre typically filled with stories of male bonding, but 1991's "Thelma & Louise" changed perceptions. The acclaimed drama, which has beats of humor and poignancy, celebrated female friendships in a new way.
"Wayne's World" (1992): Another comedy with roots in "Saturday Night Live," Dana Carvey and Mike Myers influenced a generation -- and generated plenty of catchphrases -- as local public access talk show hosts Garth and Wayne.
"Grumpy Old Men" (1993): As former friends who later became epic rivals, Jack Lemmon's John and Walter Matthau's Max showed in this comedy that the best comrades can also make the worst enemies.
"Bad Boys" (1995)
: Will Smith and Martin Lawrence were two hilarious partners in crime fighting in this debut action movie from Michael Bay. Producer Jerry Bruckheimer
hasn't given up hope
on a "Bad Boys III" to follow the 2003 sequel.
"Swingers" (1996): Before "The Hangover" movies became forever tied to Las Vegas, Sin City was the territory of Jon Favreau's Mike and Vince Vaughn's Trent. Trying to help his friend recover from a breakup, playboy Trent leads lady-seeking escapades from Vegas to L.A.
"Romy & Michele's High School Reunion" (1997): Outside of the usual buddy movie template, "Romy & Michele" has become a cult favorite. Lisa Kudrow and Mira Sorvino portray besties who come up with a comically transparent plan to appear successful at their 10-year high school reunion.
"The Big Lebowski" (1998): When The Dude gets mixed up with The Big Lebowski, his friends and bowling buddies (as played by John Goodman and Steve Buscemi) have his back.
"Wedding Crashers" (2005): Vince Vaughn was once again portraying the brash playboy to great effect in "Wedding Crashers," which also starred Owen Wilson as Vaughn's more sensitive party-crashing cohort.
"Harold and Kumar Go to White Castle" (2004): Although this comedy literally follows two pot-smoking pals (played by John Cho and Kal Penn) as they satisfy their desire for White Castle, it's also helped turn the actors into household names.
"I Love You, Man" (2009): Paul Rudd plays a soon-to-be-married guy without any friends to be his best man -- until he meets Jason Segel's eccentric Sydney Fife.
"Superbad" (2007): A buddy movie set amid the drama of high school, Jonah Hill had a breakout role along with Michael Cera and "McLovin'" Christopher-Mintz Plasse as they portrayed a trio of uncool kids whose use of a fake IDs sets off the night of their lives.
"The Hangover" (2009): Todd Phillips first "Hangover" installment was an outlandish breath of fresh air when it bowed in June 2009. Between Mike Tyson's appearance, a tiger and a baby, the adventures of this group of friends in Vegas for a bachelor party have become legendary.
20 great buddy movies
20 great buddy movies
20 great buddy movies
20 great buddy movies
20 great buddy movies
20 great buddy movies
20 great buddy movies
20 great buddy movies
20 great buddy movies
20 great buddy movies
20 great buddy movies
20 great buddy movies
20 great buddy movies
20 great buddy movies
20 great buddy movies
20 great buddy movies
20 great buddy movies
20 great buddy movies
20 great buddy movies
20 great buddy movies