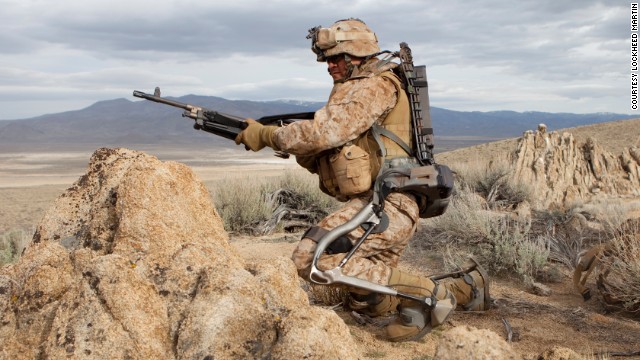 Lockheed Martin's HULC exoskeleton is designed to allow soldiers to carry superhuman loads.
Cyberdyne's HAL-5 suit could take rescue workers into dangerous zones in the future. For now, it is allowing hundreds of Japanese patients suffering from muscle weakness to get around.
Kobalabs' Muscle Suit aims to provide a smart solution for health workers needing to carry people and heavy loads.
The Argo ReWalk aims to give people suffering from paralysis the power to walk again. It has already propelled Claire Lomas (pictured) to the finish of the London Marathon.
Ekso Bionics is also developing exoskeletons for rehabilitation. Here, Architect Robert Woo takes his first steps since a construction accident paralyzed him from the waist down.
Nasa's X-1 suit could be vital for astronauts venturing into deep space.
Lockheed Martin HULC
Cyberdyne HAL-5
Muscle Suit by Kobalab
Argo ReWalk
Ekso Bionics Ekso
Nasa X-1
STORY HIGHLIGHTS
Take a look at some of the most amazing exoskeleton technology
Bionics expert says exoskeletons will become more common in the next five years
Powered suits are in development for military, personal and medical use
Exoskeletons have allowed paralyzed people to walk and given soldiers super strength
(CNN) -- If you've been dreaming of strapping on your own "Iron Man" armor, you might have to wait a while longer. But revolutionary "bionic exoskeletons," like the metal suit worn by comic book hero Tony Stark, might be closer than you think -- just don't expect to fly away in one.
Exoskeleton developers working in rehabilitation are leading the way, creating wearable robotic suits that allow people with lower-body paralysis to walk upright again.
Other developers are hoping to enhance users' existing strengths, with the DARPA Warrior Web project aiming to produce an undetectable under-suit exoskeleton for the U.S. Military.
Bionics expert Thomas Sugar says that medical and military exoskeletons are going to become a much more common sight -- and that exoskeletons for the average person are not far behind.
In the next five years we're going to see more and more exoskeletons out there in practice.
Dr Tom Sugar, Arizona State University
"In the next five years we're going to see more and more exoskeletons out there in practice," says Sugar, associate professor at the Department of Engineering, Arizona State University.
In addition to personal systems being pioneered in Japan that aim to "give aging people a spring back in their step," Sugar says devices for the active individual or "weekend hiker" are on the horizon: "If you live near where I do and want to go out and hike the Grand Canyon, exoskeleton devices 10-15 years from now could assist you to do that."
Interactive: Explore the bionic body
But there are hurdles that need to be overcome. Finding batteries powerful enough to fuel an exoskeleton's motorized joints remains a key stumbling block, explains Sugar. But he says that the real acid test for exoskeletons of the future is whether the device can interpret the user's intent effectively into action.
"If you look at some of the devices out there, they're actually quite hard to walk in," says Sugar. "You've got to make sure they really enhance people's abilities."
Here are some of the most advanced exoskeletons aiming to supercharge our lives in the near future.
Lockheed Martin HULC
Defense technology developer Lockheed Martin leads the efforts to develop a exoskeleton fit for the battlefield with its Human Universal Load Carrier (HULC).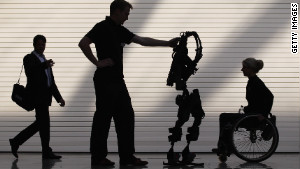 Exoskeleton helps paralyzed walk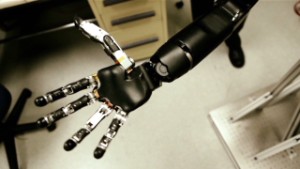 Thoughts move bionic arm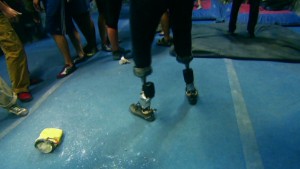 The world's most advanced bionic leg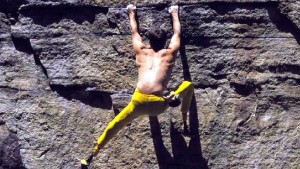 Amputee rock climber heals with bionics
The system aims to divert up to 200 lbs in weight through powered titanium legs while allowing the user to move freely.
Lockheed claims that a fully laden soldier will retain the ability to march at 3mph and even break into 10mph sprint "bursts" while wearing the battery-powered HULC.
The system is designed to reduce the stress on the leg and back muscles -- a common cause of injury among soldiers -- and comes with a Lift Assist Device attachment that allows a soldier to safely lift heavy loads with the strength of two or more men.
Read this: Are bionic superhumans on the horizon?
Cyberdyne HAL-5
HAL made news at the time of the Fukushima nuclear plant disaster in 2011, when Japanese firm Cyberdyne ventured its robot suits as the disaster-fighting protection of the future.
While a radiation-resistant model is yet to see action, HAL-5 Type-B has become the first personal exoskeleton robot to receive a global safety certificate.
Cyberdyne says that so far, 330 of the full-body exoskeletons have been leased to hospitals across Japan, where they assist patients with muscle weakness or disabilities due to stroke and spinal cord injuries.
The company boasts that it is the world's first "cyborg-type robot" as the system interprets faint electrical signals in the skin around damaged muscles and moves the motorized joints in response.
Muscle Suit by Kobalab
Scientists from Tokyo University are gambling that they can beat the competition to launch a superstrong exoskeleton by shunning complex computer systems.
Kobayashi Labs' Muscle Suit replaces electronic actuator motors with a system of inflatable pneumatic "artificial muscles" to help nurses or care workers carry elderly or ill patients.
Volunteers have been invited to try on the suit, which currently allows users to support 50kg with ease, carrying it with fixed arms, like a walking forklift truck.
Argo ReWalk
Argo's ReWalk has already propelled former chiropractor Claire Lomas into the record books. Five years after a horseriding accident left Lomas paralyzed from the chest down, she became the first person to complete a marathon in a bionic exoskeleton at the London Marathon in May 2012, while using the ReWalk.
Already on the market for $65,000, the ReWalk enables people with spinal cord injuries to walk again and can now claim 220 trained users around the world.
Competitor Ekso Bionics has seen similar success -- claiming to have powered one million steps with its 50lb wearable robot -- and will launch a personal version in 2014.
Read: Exoskeleton allows paraplegics to walk
Nasa X-1
What if an exoskeleton inhibited a person's movement as well and helped it? It doesn't seem like such a useful idea on Earth -- but up in the resistance-free environment of space, Nasa astronauts could benefit from a little hindrance.
The 25kg X-1 has been designed to allow astronauts to exercise without the Earth's gravitational pull and could be critical for future missions into deep space, NASA says.
The device could improve the health of crew aboard the International Space Station -- and potentially during future long-duration missions to far away asteroids or Mars.
The legs have the added benefit of assisting movement, with four motorized joints, if used here on Earth -- but there are currently no details on when the legs might see a wider release.