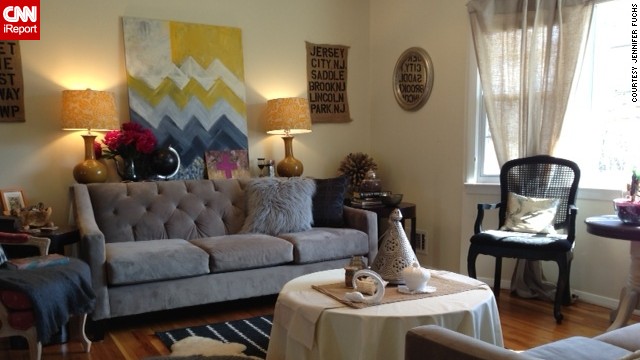 Pequannock, New Jersey resident
Jennifer Fuchs
likes to take decorating into her own hands. "Some of the things I created are the paintings, the burlap bus scroll art, the entry way porcupine-like mirror," she said. Handmade things make her eclectic space feel personal, she said.
Cathy Thrasher
's entryway is a gallery dedicated to the legacy of her family name. It includes a framed blowup of the envelope that delivered a love letter from her father-in-law to his future bride during WWII, personalized scripture and lots of military memorabilia. "Thrasher is a word of strength and as our last name we cover every aspect of our personalities," Cathy writes.
Larena Isla
, a painter in Mexico City, brought back memories of India, Nepal and Dubai in her dining room. She placed a bed on the floor in the room and surrounded it with her paintings, inspired by the time she spent in India.
Janel Nixon
is a self-proclaimed nerd who loves DIY design. She and her husband renovated their kitchen for less than $500. Her favorite update combines form and function: "We covered an old ugly almond-colored refrigerator with panels that we painted with chalkboard paint." Now they have a built-in message board.
Amy Kassam
said she wanted to marry different time periods that complement each other while creating visual dichotomy in her living room decor. She embraced the parquet floors and mirrored walls of her 1970s home and used a glossy, warm white paint along with revamped antiques to bring a modern feel to the room.
James Amerson
's Aunt Sissy and Uncle Jim built the home he lives in over 100 years ago, he said. He even remembers his Aunt Sissy standing in the kitchen, wearing a dress she made from a flour sack. Amerson and his partner Jeff spent years lovingly restoring the home as a testimony to his ancestors' hard work.
Catherine Villar
, in Montevideo, Uruguay, really loves wallpaper. "It is amazing how they can transform a space," she said of the decor choice. This wallpaper is a kind you can paint over, she said. She used it to make a rubbing of the stone wall outside her home, then hung the paper under a staircase.
When
Gabriel Dominise
and his wife moved to Essex, U.K., it was their plan to decorate their home with the best-designed furniture they could afford. His favorite corner in their house includes this ball chair and matching screw table by Eero Aarnio.
Uniquely you: Personally eclectic
Uniquely you: What's in a name?
Uniquely you: Dreams of India
Uniquely you: Budget kitchen
Uniquely you: Updated '70s living room
Uniquely you: Restored family home
Uniquely you: DIY wallpaper
Uniquely you: Investment pieces