Families remember Oklahoma tornado victims
updated 11:30 AM EDT, Wed May 22, 2013
(CNN) -- Janae Hornsby was "a ball of energy, a ball of love," said her father, Joshua, who found out Tuesday morning his daughter had been killed at Plaza Towers Elementary School.
He told CNN's 'AC360' "She was the best kid anybody could have," he said, his face lighting up as he spoke of his 9-year-old daughter.
Janae's name was the first of the 24 people killed by Monday's tornado to become public.
Her aunt, Angela Hornsby, said Janae was always trying to make people laugh. She could be sweet and could also be bossy.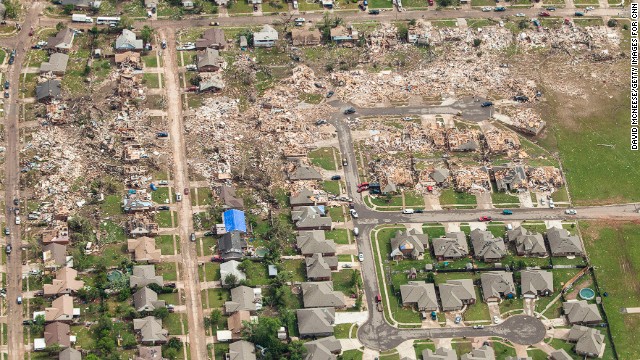 An aerial view of the destruction caused by the massive tornado that struck areas south of Oklahoma City on Monday, May 20, shows the magnitude of damage left in its path. The storm's winds topped 200 mph as it carved a 17-mile path of destruction through Oklahoma City suburbs. On Tuesday, May 21, CNN sent photographer David McNeese to capture the story from above:
The storm, which touched down near Newcastle, Oklahoma, spanned 1.3 miles. Some areas along the path were completely flattened.
Officials from the National Weather Service gave the tornado that hit Moore, Oklahoma, on May 20 a preliminary EF5 rating -- the highest score on the scale that measures tornado intensities.
The tornado tore through the Oklahoma City suburbs, hitting the town of Moore the hardest. It packed winds that topped 200 mph.
A search-and-rescue effort to find survivors shifted Tuesday to one of recovery, officials said.
The devastation in Moore was so complete that the mayor said city officials were racing to print new street signs to help guide rescuers and residents through a suddenly twisted and unfamiliar landscape.
A group of homes was reduced to rubble.
Debris from homes and structures was strewn for miles around.
In some areas, the homes of an entire street were destroyed.
Rescuers and first responders immediately began searching through the rubble of structures on May 20.
Large trees were uprooted and flattened.
Given its breadth and power, the tornado ranks among some of the strongest storms ever to strike the United States, CNN senior meteorologist Dave Hennen said.
Homes in some areas were relatively undamaged while others very nearby were destroyed.
Police, firefighters, volunteers and nearly 180 National Guard troops joined forces Tuesday in searching the rubble and securing areas hit by the storm.
In 1999 and then again in 2003, Moore took direct hits from tornadoes that took eerily similar paths to 2013's twister. The 1999 storm packed the strongest wind speeds in history, Lt. Gov. Todd Lamb said.
A section of a bridge outside of Oklahoma City was blown off its foundation.
The path of the tornado is clearly visible with dirt and debris painting a wide path across the Oklahoma landscape.
The scene -- block after block of flattened homes and businesses, the gutted remains of a hospital and hits on two elementary schools -- left even seasoned veterans of Oklahoma's infamous tornadoes reeling.
View more galleries: Deadly tornado hits Oklahoma City area and The devastating Oklahoma tornado of 1999.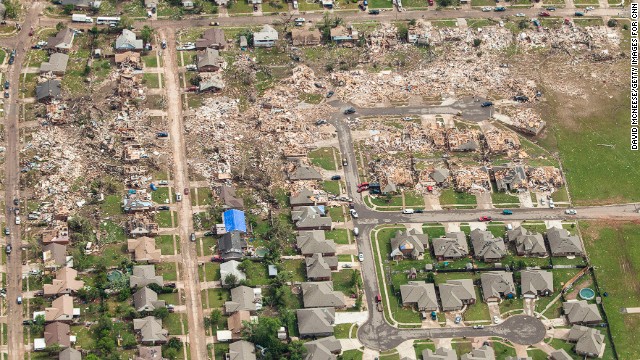 Photos: Destruction from above
"Just a sweet baby," Angela Hornsby said.
Joshua Hornsby said he went to a shelter for parents who were still searching for their children. He heard the terrible news in the morning, and it still had yet to sink in, he said Tuesday afternoon.
He said Janae's death won't ruin his life.
Instead he vowed he would "make his baby proud and keep pushing on like I know she would want me to do."
Watch Anderson Cooper 360° weeknights 8pm ET. For the latest from AC360° click here.