STORY HIGHLIGHTS
Mom waited for three hours for news that her boys were alive
Kids and parents in parking lot search for each other
National Guard rescuers look for their own loved ones, too
Are you experiencing severe weather in your area? Send photos and videos to CNN iReport. But please remember to stay safe. For local coverage of Monday's devastating storms in Oklahoma, go to these CNN affiliates: KFOR, KOCO, KOKH, KOKI
Moore, Oklahoma (CNN) -- Sun was hard to come by in Moore, Oklahoma, Tuesday. The sky still looked menacing, dark and foggy. Mist turned to rain. Lightning struck.
From the air, this suburb outside Oklahoma City looked like flattened cardboard. On the ground, homes were messes of splinters. Cars, thrown like toys, sat in ridiculous places. Hunks of steel hung in trees -- the trees that were left. Most were shaved down to gnarly apocalyptic wishbones.
When people were allowed back on their street -- if emergency crews gave them the green light -- that's when the real trauma set in for many.
It's bizarre and disorienting when every landmark and sign your eye knows is suddenly gone and there's miles of nothing in its place.
"It's funny when you can't tell your own stuff when you get back and look at it like this," Mack James said, standing in the rubble that used to be his house.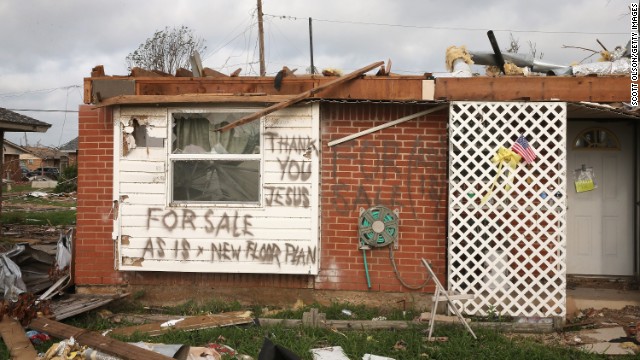 A message is left by a homeowner who lost his home in the May 20 tornado on Monday, May 27, in Moore, Oklahoma. View more photos of the aftermath in the region and another gallery of aerial shots of the damage.
Left to right, Jaqi Castro, Angelica Morris-Smith and Cetoria Petties walk through a tornado ravaged neighborhood handing out supplies to residents and fellow volunteers on May 27.
Residents gather in the First Baptist Church for the Oklahoma Strong memorial service on Sunday, May 26, to honor victims of the recent deadly tornado in Moore, Oklahoma.
Preschooler Keltin Marazzi, front center, stands on stage with other school children during the memorial service.
Oklahoma Gov. Mary Fallin addresses the audience on May 26.
Tornado victims Christa and Russell Smith hug their children, Evan and Justin Smith, as the service takes place.
Plaza Towers Elementary School teacher Jennifer Doan is comforted by her fiance, Nyle Rogers, on May 26.
President Barack Obama is greeted as he tours the tornado-ravaged area near Moore, Oklahoma, on Sunday, May 26.
Volunteers bow their heads in reverence on Saturday, May 25, in front of a memorial at the Plaza Towers Elementary School where seven children died during the devastating tornado, in Moore, Oklahoma, on May 20.
Mike Hitch prepares to pull a classic Corvette from under the debris of a home destroyed by Monday's tornado on May 25.
Mike Hitch loads a salvaged Corvette pulled from the rubble onto a tow truck in Moore on May 25.
Eunice Lassiter sits in the driveway of a friend's tornado-damaged home on May 25 in Moore.
A volunteer signs a cross on May 25 at a makeshift memorial outside of the destroyed Plaza Towers Elementary School where seven children were killed in Monday's tornado in Moore.
Volunteers unload donated items for tornado victims at the Yellow Rose Theater on May 25 in Moore.
Volunteer Brittany Pendergraft organizes donated tornado relief items inside the Yellow Rose Theater on May 25 in Moore.
Eddie Jones of the Christian Life Center in Rolla, Missouri, cooks for residents and volunteers helping with tornado relief on May 25 in Moore.
Carol Kawaykla holds a picture of her mother she found in the rubble of her tornado-devastated home in Moore, Oklahoma, on May 24.
The sun sets over debris from houses littering the ground in Moore, Oklahoma, on Thursday, May 23, three days after the town was damaged by a tornado.
Debris is scattered across a driveway on May 23. Severe thunderstorms barreled through this Oklahoma City suburb at dawn Thursday, complicating cleanup efforts.
Lightning strikes during a thunderstorm as people search for items that can be saved from their devastated home on May 23.
A devastated neighborhood is seen on May 23 in Moore.
A woman searches for belongings at a home on May 22 in Moore.
Michael Pritz swings a golf club while taking a break from helping his friend to salvage belongings on May 22.
Debris litters what remains of a classroom at Plaza Towers Elementary School on May 22. Seven children died at the school in Monday's tornado.
A makeshift shelter stands next to a home destroyed by the tornado on May 22.
Casey Angle walks on the bunk bed she shared with her sister Sydney, who was among the students killed at Plaza Towers Elementary School during the tornado.
Tara McDonald shows some items salvaged from her home on May 22.
A swing set sits warped at Plaza Towers Elementary School on May 22.
Plaza Towers Elementary School students Monica Boyd and Lavontey Rodriguez sit at the parking lot of their tornado devastated school.
Travis French and his wife, Amy, of Capitol Hill Baptist Church hand out fresh fruit, water and hygiene packs to Thomas and Kelcy Trowbridge.
Teachers from Fairview Elementary School help clean up former school counselor Kay Taylor's home in south Oklahoma City on May 22, two days after an extremely powerful tornado tore through Moore, Oklahoma.
Jake English, 12, cleans up retired school counselor Kay Taylor's home on May 22 in south Oklahoma City, just west of Moore. The storm was part of a tornado outbreak that began in the Midwest and Plains on Sunday, May 19.
A man talks on his cell phone in front of a destroyed house on May 22.
A man looks through a pile of clothing at a roadside relief camp on May 22 in Moore.
Volunteers form a chain to retrieve clothing and other household items on May 22.
Jon Booth moves a piece of debris from his mother's destroyed home across the street from Plaza Towers Elementary School on May 22.
Matt Johnson salvages items from his grandparents' home on Tuesday, May 21.
An aerial view of the destruction on May 21.
The storm, which touched down near Newcastle, Oklahoma, spanned 1.3 miles. Some areas along the path were completely flattened.
Two men fold an American flag found in the debris of a house on May 21 in Moore.
A young girl stands among the rubble outside Briarwood Elementary School on May 21.
A doll covered in dirt is among the rubble scattered throughout a neighborhood in Moore on May 21.
Bonnie Lolofie, left, and Ashley Do carry belongings from their apartment, which has no power, on May 21.
Residents salvage belongings from their demolished homes in Moore on May 21.
Kelli Kannady weeps after finding a box of photographs of her late husband in the rubble near where her home once stood in Moore on May 21.
Tufts of pink insulation hang from the rafters of a store in Moore on May 21 that was destroyed in the storm.
Natalie Johnson searches through her mother's destroyed car outside Briarwood Elementary School in Moore on May 21.
Rescuers dig out a house in Moore on May 21.
June Simson embraces her cat Sammi after she found him standing among the rubble of her destroyed home in Moore on May 21.
A man stands on the roof of a destroyed home in Moore on May 21.
A man helps move a resident's belongings from a destroyed home on May 21 in Moore.
Air Force Airman First Class Justin Acord sifts through the rubble of his father-in-law's home in Moore on May 21.
People recover belongings from the rubble of a home in Moore.
People sort through a leveled home in Moore on May 21.
Debris lies among headstones in the Moore Cemetery on May 21.
Workers clean up the Warren movie theater in Moore on May 21.
Oklahoma City Mayor Mick Cornett surveys damage in Moore on May 21.
Piles of debris lie around the north side of Plaza Towers Elementary School in Moore on May 21.
As dawn breaks, storm clouds roll in over a devastated neighborhood in Moore on May 21.
Members of the Oklahoma National Guard look for survivors in rubble in Moore on May 21.
A National Guardsman assists in the search for victims on May 21.
A rescue worker leads a horse from the wreckage of a day care center and barns on Monday, May 20, in Moore.
Men tie an American flag on debris in a neighborhood off Telephone Road in Moore on May 20.
Children wait for their parents to arrive at Briarwood Elementary School in south Oklahoma City on May 20.
Teachers carry children away from Briarwood Elementary School on May 20.
Teachers lead children away from Briarwood Elementary School on May 20. Read more about the photo.
A fire official drives through the rubble of Moore Medical Center on May 20.
Abby Madi, left, and Peterson Zatterlee comfort Zatterlee's dog, Rippy, on Monday, May 20, in Moore.
A woman is treated for her injuries on May 20 at a triage area set up for the wounded.
Two girls stand in rubble in Moore.
Rescue workers help free one of more than a dozen people who were trapped at a medical center in Moore on May 20.
Oklahoma City firefighters check on Gene Tripp on May 20 as he sits in his rocking chair where his home once stood.
A nurse helps an older man who suffered a head injury on May 20 in Moore.
Cars marked with an orange X, meaning they have been checked for occupants, are piled up in front of the entrance to the damaged Moore Medical Center on May 20.
Jim Routon hugs his neighbor, 7-year-old Hezekiah, after the tornado strikes on May 20. An earlier version of this caption incorrectly stated that Routon was Hezekiah's teacher. See an interview with the pair.
People look through the wreckage of their neighborhood after a tornado struck Moore, Oklahoma, on May 20.
Dana Ulepich searches inside a room left standing at the back of her destroyed house in Moore on May 20.
Residents look through the debris in Moore on May 20.
A man looks through the remains of a home after the massive tornado struck Moore on May 20.
A woman is transported on a stretcher after she was rescued from the damaged medical center in Moore on May 20.
A woman walks through debris in Moore on May 20.
A man is taken away from the IMAX Theater in Moore that was used as a triage center on May 20.
A girl wraps herself in a blanket near the Moore Hospital on May 20.
A nurse walks by the destruction at a Moore hospital on May 20.
Destroyed cars scatter the landscape in Moore, Oklahoma, where hundreds of homes and buildings were put to ruin on May 20.
A woman with an arm injury is helped on May 20 in Moore.
Extensive damage from the tornado destroyed cars and demolished structures in Moore on May 20.
Onlookers stop to view a portion of the destruction left behind on May 20 in Moore.
Overturned cars are among the rubble from the tornado that hit Moore on May 20.
A woman is comforted after the May 20 tornado in Moore.
A shredded tree stands amid debris in the aftermath of the storm in Moore on May 20.
A shopping center parking lot is covered with debris and damaged cars on May 20.
Law enforcement officers block a roadway in Moore where there was extensive damage from the tornado.
A massive tornado approaches Moore on May 20. The storm first touched down to the west of the city near Newcastle, Oklahoma. Visit CNN.com/impact for ways to help the victims.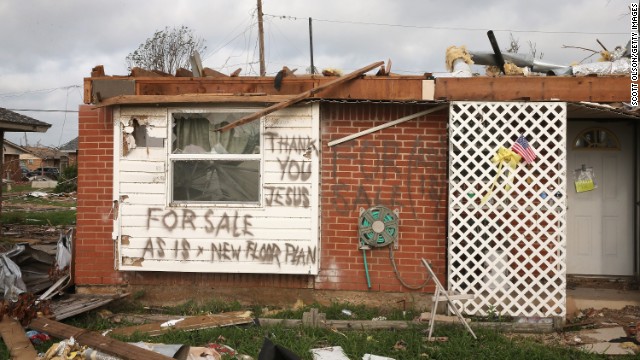 Photos: Deadly tornado hits Oklahoma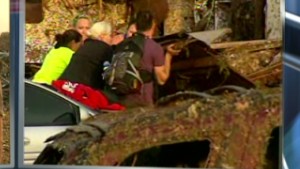 Man found neighbor trapped after tornado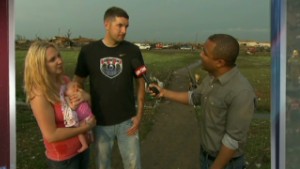 Tornado victim: We just finished nursery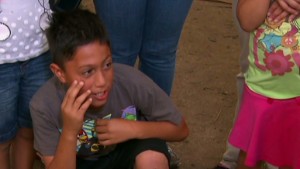 Kid on tornado: It was scary
Moore has no power. Water is out and volunteers are handing out bottles. The twister is gone but the danger is still real.
Gas lines are being checked. Crews are out searching for live wires.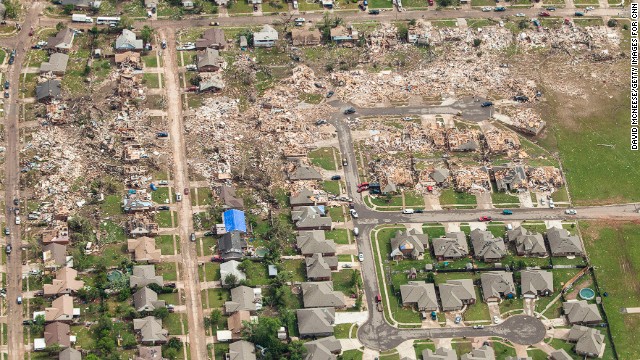 An aerial view of the destruction caused by the massive tornado that struck areas south of Oklahoma City on Monday, May 20, shows the magnitude of damage left in its path. The storm's winds topped 200 mph as it carved a 17-mile path of destruction through Oklahoma City suburbs. On Tuesday, May 21, CNN sent photographer David McNeese to capture the story from above:
The storm, which touched down near Newcastle, Oklahoma, spanned 1.3 miles. Some areas along the path were completely flattened.
Officials from the National Weather Service gave the tornado that hit Moore, Oklahoma, on May 20 a preliminary EF5 rating -- the highest score on the scale that measures tornado intensities.
The tornado tore through the Oklahoma City suburbs, hitting the town of Moore the hardest. It packed winds that topped 200 mph.
A search-and-rescue effort to find survivors shifted Tuesday to one of recovery, officials said.
The devastation in Moore was so complete that the mayor said city officials were racing to print new street signs to help guide rescuers and residents through a suddenly twisted and unfamiliar landscape.
A group of homes was reduced to rubble.
Debris from homes and structures was strewn for miles around.
In some areas, the homes of an entire street were destroyed.
Rescuers and first responders immediately began searching through the rubble of structures on May 20.
Large trees were uprooted and flattened.
Given its breadth and power, the tornado ranks among some of the strongest storms ever to strike the United States, CNN senior meteorologist Dave Hennen said.
Homes in some areas were relatively undamaged while others very nearby were destroyed.
Police, firefighters, volunteers and nearly 180 National Guard troops joined forces Tuesday in searching the rubble and securing areas hit by the storm.
In 1999 and then again in 2003, Moore took direct hits from tornadoes that took eerily similar paths to 2013's twister. The 1999 storm packed the strongest wind speeds in history, Lt. Gov. Todd Lamb said.
A section of a bridge outside of Oklahoma City was blown off its foundation.
The path of the tornado is clearly visible with dirt and debris painting a wide path across the Oklahoma landscape.
The scene -- block after block of flattened homes and businesses, the gutted remains of a hospital and hits on two elementary schools -- left even seasoned veterans of Oklahoma's infamous tornadoes reeling.
View more galleries: Deadly tornado hits Oklahoma City area and The devastating Oklahoma tornado of 1999.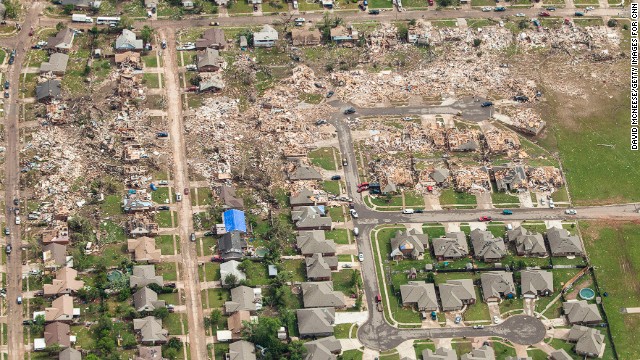 Photos: Destruction from above
"It was horrible," recalled one elderly woman, sitting in a chair near piles of debris. "The thunder and the sound was like a turning of the world. It was so bad but we were in the cellar right out there. You could hear the thing just blowin', hear the pounding.
"I can't even believe I'm still alive."
The realization of the loss of material things is just beginning. Photos are gone. Family heirlooms might not ever be found.
But there is worse. Rescue workers are still trying to find survivors, as reports keep coming in about those missing.
Wearing a thick red hoodie, Zack Woodcock looked intensely worried and lost in thought as he told a CNN reporter that a wrestler on his son's wrestling team was missing.
"It's hard," he muttered, looking like he hasn't been to sleep.
The death toll was 24, according to Oklahoma City Medical Examiner spokeswoman Amy Elliott. Nine of the dead are children, she said.
Frantic kids and parents
On Monday evening, kids screamed for their parents and parents hollered their children's names, walking and searching in panic in a parking lot near Briarwood Elementary.
"Caleb! Caleb!" one woman could be heard screaming, as another woman, her face bloody, walked zombie-like through the crowd, holding a young boy's hand.
"Step over the wire!" someone shouted. Adults and children zigzagged past each other. One man went to a little boy standing alone, whose face was just then cracking into a full-out cry. The man put his arm around the child and they both looked out into the chaotic parking lot, apparently searching for the boy's parents.
One mother who spotted her son sitting with his teacher on a curb gently grabbed the boy's hands and stood him up and then learned her whole body over him, hugging him. She cried and then laughed and cupped his face.
"He was so brave!" the teacher said.
The mother then embraced the teacher. "Thank you," she wept, "thank you."
Jim Routon, who showed up to help at the school, held his arm up and shouted, "5th graders!" But, of course, parents and kids continued to wander, desperate, scared. It was a valiant effort though -- trying to offer order where none could be found.
Three hours of emotional torture
Janna Ketchie was trapped at work, unable to get on the road because of downed power lines. She texted, desperate for news about her two boys at a day-care center.
It was next to Briarwood Elementary, which Ketchie knew was badly damaged.
"Those three hours where I didn't hear anything, they were the longest three hours of my life," she said. "Knowing I'd never see them again. No mother should ever have to go through that."
But she did see them again, thanks to a teacher who covered her 3-year-old and 6-week-old with a mattress and her body.
Grayson Ketchie suffered a head wound and an ear injury. His baby brother? Unscathed.
"It's a miracle, an absolute miracle," said Rick Roberts, one of the boys' grandfathers.
A day after the 200-mph twister knocked down his building, Grayson was in a playful mood, happily reunited with his family.
When asked what happened to the day-care facility, he said, "Broke!"
No one at the center was killed, officials said.
An elementary school mourns
While Briarwood families found their children, it was far worse for parents with kids at Plaza Towers Elementary School. The building was reduced to just a few walls.
Monday night a father sat on a stool, tears in his eyes, as a firefighter tried to comfort him.
He awaited news of his son, a third-grader. At least seven children were killed at the school, police said.
Students who managed to escape said they hugged and clung to walls as the tornado passed through, according to CNN affiliate KFOR.
One teacher told KFOR that she lay on top of six students in the bathroom. They survived.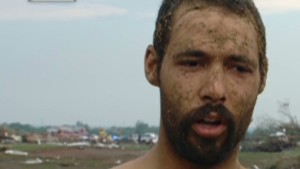 Witness: Looked like the movie 'Twister'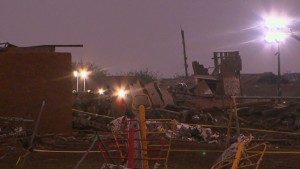 Deering: Devastation indescribable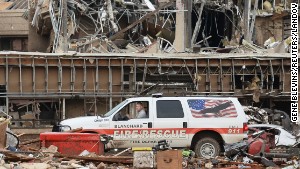 Storm chaser pulls 15 people from rubble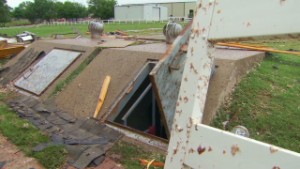 Tornado shelter saves lives in Oklahoma
Norma Bautista told CNN that when she arrived, she found her child and nieces and nephews and took them away.
"I am speechless as [to] how this happened, why it happened," she said. "How do we explain it to the kids?"
Her son, Julio, said teachers told students to crouch and cover their heads.
1999: They've been through this before
What's left behind
A tornado leaves intact the most absurd things sometimes. A cardboard box of tax returns sat on a pile of wood that was once someone's home.
One woman's bathroom was the only room untouched in her house, she said.
Though their home was obliterated, Kristina Daniel and her husband Donovan told a London Telegraph reporter that the only thing untouched in their home appeared to be an empty water bottle.
"You just wanna break down and cry," Steve Wilkerson told CNN, holding a laundry basket that contained the belongings he could find.
"But you know, that's how it goes," Wilkerson said, his voice shaking. "You gotta be strong and keep going."
He's lived in Oklahoma his whole life. He's seen tornadoes before, but nothing like this one.
"I still can't believe this is happening," he said. "You work 20 years, and then it's gone in 15 minutes."
Not far away, another woman was joyous when she got a text from her son, Cody, who started walking down a major street in Moore and saw his grandmother walking dazed along the road with her Yorkie.
"Grandma is fine," her son texted. "She is at my house. Mom, everything is gone. There is nothing left, anywhere. All of the pictures, all grandma's stuff, all my pictures, my letter jacket, my college degree from OU. There's nothing left."
In another part of Moore, Lando Hite was shirtless, his hair and body caked with mud, as he described what happened at a horse and entertainment farm.
"It was just like the movie 'Twister,'" he told CNN affiliate KFOR. "There were horses and stuff flying around everywhere."
The tornado slammed into the Orr Family Farm, which had about 80 horses. It damaged several barns; Hite was worried that most of the animals had been killed.
"I tried to let some of the horses out of their stalls so that they would have a chance," said Hite.
The building he took shelter in moved about 100 feet, he said, when the twister hit.
A woman told CNN that she saw a horse after the twister. The animal was bleeding, but alive.
It's personal for National Guard
Tuesday morning, Lt. Gov. Todd Lamb spoke to CNN affiliate KOKI from a Dick's Sporting Goods parking lot.
"I'm not a pessimist and I have a lot of faith and a lot of hope, but just with the enormity and severity of this storm..." he trailed off.
At least 85 patients were at a local trauma center. Of those, roughly 60 are children, Lamb said.
But he insisted that Oklahomans stay positive.
"Let's focus on the good news for a moment, the good news is that in the overnight hours, 101 survivors were found," he said. "I talked to a (National) Guardsman early this morning. He told me he found three bodies overnight, but his eyes got brighter as he said he found an elderly couple holding onto one another in their shelter scared to death. But they're alive and well today.
"So thank you to the men and women who are providing the search and rescue right now."
CNN spoke with several guard members overnight. They live in and around Moore when they aren't deployed. Like so many others, some of them were searching for their own family members, too.
"You don't ever think about it as much when you're at home," said Spc. Josh Gragert. "When you see the devastation and people who are affected by it ... it really hits hard."
Follow the severe weather tracker
CNN's Nick Valencia, Gary Tuchman and George Howell reported from Oklahoma. Ashley Fantz reported and wrote from Atlanta.