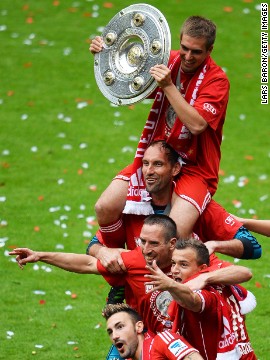 Bayern Munich won the German Bundesliga title by a margin of 25 points from second placed Borussia Dortmund, who have been champions in the two previous seasons. Bayern finished an incredible 36 points clear of fourth placed Schalke. Critics argue the dominance of both clubs could be bad for Germany's top tier, which they say is becoming too predictable.
As well as domestic dominance, both clubs are excelling in European competition. Germany's top two -- Bayern and Dortmund -- will contest the Champions League final at Wembley on May 25.
Just days before Dortmund's Champions League semifinal with Spanish giants Real Madrid it was confirmed one of their star players, Mario Gotze, would be joining Bayern next season for a deal reported to be worth $56 million. Signing one of their nearest rivals' best players should only strengthen Bayern's grip on domestic competition.
All-conquering Bayern, who will contest the German Cup final on June 1 as they seek an historic treble, are preparing to welcome Josep Guardiola as their new coach for next season. The former Barcelona manager won 14 trophies in a four-year spell at the Spanish giants, sparking a clamor for his signature after he spent a year out of the game.
German clubs are famed for being well run, creating a good atmosphere at games, with Dortmund's Westfalenstadion a case in point. Cheap tickets for standing areas play a large part in that, and Dortmund's players make a point of thanking their supporters after every game.
All but three top-flight clubs -- Bayer Leverkusen, Wolfsburg and Hoffenheim -- are owned by supporters under the 50+1 rule, that dictates clubs must be majority owned by fans to prevent them being taken over by private investors. The last vote on changing the "50+1" rule came back in 2009 and only Hannover 96 voted to scrap it. Here Hamburg fans hold up banners at a recent Bundesliga match against Hannover that reads: "Us for you, you for us."
There are exceptions lower down the leagues too. In 2009, soft drinks giant Red Bull bought the license of German fifth division club SSV Markranstädt to create Rasen Ballsport Leipzig. The aim was to make the top tier -- the Bundesliga -- within 10 years. Leipzig will contest a playoff to make the third division in June.
Red Bull was prevented from attaching its brand name to the club so settled for calling it Rasen Ballsport Leipzig, shortened to RB Leipzig so as to carry the energy drink firm's initials.
The club moved from its old home to the newly-built Red Bull Arena in 2010. It is the fifth soccer team in the company's portfolio.
Reports estimate that Red Bull is prepared to pump $128 million into the club. A new training center and youth academy, currently being built, will open in 2015 at a cost of $45 million.
Head and shoulders
Champions of Europe
Going, going Gotze
Pep talk
Yellow wall
Hamburg vote
One giant Leipzig
50+1 rule
Red Bull Arena
Bright future
STORY HIGHLIGHTS
Bayern Munich and Borussia Dortmund to contest Champions League final
German football's Bundesliga is often held up as ideal league model
Its "50+1" ownership rule viewed as key to stability for its clubs
But have Bayern and Dortmund created "duopoly" endangering that stability?
(CNN) -- Most fans would agree that a great football league needs some key ingredients: skilful players, excitement and drama on the pitch; and off the field, passionate supporters and owners who love and understand the game.
But these days soccer is also about big business, million-dollar deals and billionaire benefactors lining up to plow money into the game.
Those seeking a balance between these sometimes awkward bedfellows will often point to Germany and the Bundesliga. With two clubs in Saturday's Champions League final at London's Wembley Stadium, high attendances, keenly-priced season tickets, equitable club ownership and the national team on an upward trajectory, German football appears to be in rude health. But is it?
In the domestic Bundesliga, Bayern finished 25 points clear of Dortmund and 36 points ahead of fourth-placed Schalke 04. If Manchester United's path to the English Premier League title looked like a cakewalk, the German champions could have taken the entire dessert trolley along with them.
Arguably the competition is beginning to resemble anything but.
Writing in the German tabloid Bild last month, Bayern's former goalkeeper Oliver Kahn expressed fears that the domination of the Munich club and Dortmund -- Bundesliga champions in 2011 and 2012 -- is here to stay, and that the gulf at the top could widen even further in the future.
Even Dortmund's manager Jürgen Klopp has remarked that the league is in danger of becoming boring.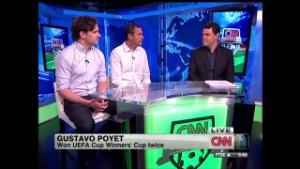 CNN Football Club: Bayern dominate Barca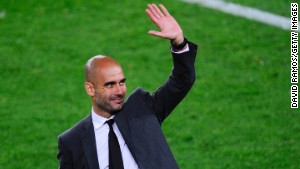 Do Bayern Munich need Pep Guardiola?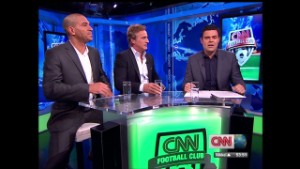 CNN FC: Do Bayern Munich need Guardiola?
Arguably Dortmund were unable to mount an effective challenge this season as they saved their best performances for the Champions League.
But the brilliance of both Bayern and Dortmund in their respective semifinal wins against Real Madrid and Barcelona suggests the Bundesliga needs to be wary of an emerging duopoly.
Read: Bayern give Heynckes winning Bundesliga farewell
It's not hard to see why Bayern and Dortmund have become so omnipotent both at home and abroad.
"Two great managers, two teams that almost mirror each other in the way they play, the way they attack, the way they defend without the ball," former Bayern midfielder Owen Hargreaves told CNN.
"Bayern have only conceded something like 15 goals, which is ridiculous in a full season," he added.
"At Dortmund, the average age is 23, and I think Jürgen Klopp has done such a remarkable job to take that group of players and virtually dominate some terrific European teams."
Yet among German fans there are concerns.
"Of course the current situation could become unhealthy," said Stuart Dykes, a Schalke season ticket-holder since 1988, and the supporter liaison officer project consultant at fan ownership campaigning body, Supporters Direct.
"Even Bayern, while obviously delighted to have won the title so comfortably, have talked about it not being in their interests to do it every year. Ultimately the overall product of German football would suffer."
Dortmund revival
Not content with running away with the Bundesliga this season, Bayern are already laying plans to dominate next season, notably with the appointment of former Barca coach Pep Guardiola -- who guided the Catalonia club to 14 trophies in four years -- to take over from Jupp Heynckes.
Dortmund's hopes of catching Bayern next season have been further jeopardized by the loss of playmaker Mario Gotze, who recently agreed to join the Munich club at the end of this season in a $56 million deal.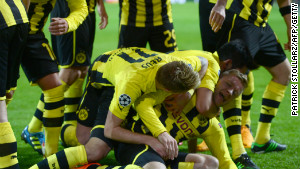 Are German teams the best in Europe?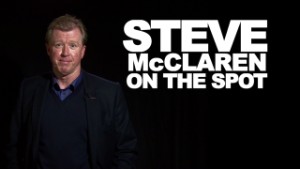 Alex Ferguson's recipe for success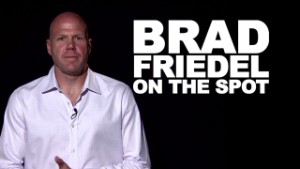 Friedel: 'Bale can be world's best'
Rumors of a Bayern bid for the Bundesliga's second-highest scorer Robert Lewandowski, whose four goals against Real Madrid in the semis propelled Dortmund to Wembley, suggest a strategy centered on dismantling their only rivals' chances before next season has even begun.
Read: English Premier League should follow Bundesliga example
The consolation for Dortmund fans is that at least the club has some money to spend to try to keep pace.
Eight years ago it was on the brink of financial ruin, missing rent payments on its stadium and facing crippling losses.
Extraordinarily, a loan from Bayern played a part in Dortmund's survival -- with $2.5 million handed over to help stave off bankruptcy.
Dortmund's path back to solvency and success has been paved by Klopp's highly astute signings, such as Poland striker Lewandowski, as well as his trust in talented graduates from the club's youth academy, like midfielder Nuri Sahin.
But it has been the club's willingness to part with its top players at the height of their value that has restored Dortmund's financial health.
Shinji Kagawa, signed for just $300,000 from the Japanese second division, was sold to Manchester United for $17 million, while Sahin joined Real Madrid for $12.8 million.
"Obviously (Dortmund and Bayern) have the power and the money to buy the best players as Bayern has done again; they've signed Götze for £37 million, and you know, the rich get richer, and that's just the way that football works," said Hargreaves.
"People can argue that's not fair, but they paid a lot of money to Dortmund -- and they can invest that money in younger players."
Read: Bayern complete rout of Barcelona
In England, the Premier League has taken a laissez-faire approach to regulating clubs' finances.
Alongside huge television deals -- the latest of which could see a record £5.5 billion ($8.3 billion) windfall in broadcasting income -- extraordinarily wealthy owners such as Chelsea's Roman Abramovich and Sheikh Mansour at Manchester City have been allowed to spend big for success.
But the model in Germany is very different.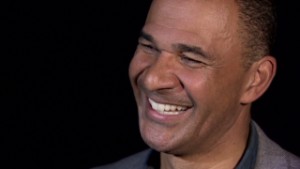 Gullit: Mourinho will return to Chelsea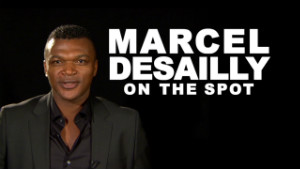 Marcel Desailly's Ghana regret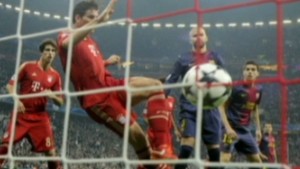 Bayern Munich puts a hurt on Barcelona
Under the league's "50+1" rule, Bundesliga clubs must be controlled by their members -- with at least 50% of shares, plus one, in their hands.
This means a club cannot be taken over by private investors. At the last vote on changing this rule, back in 2009, only Hannover 96 voted to scrap it.
The German system is geared towards preventing the influence of a rich benefactor from skewing the competition, but some argue that it will only serve to perpetuate the status quo.
Hannover has now won concessions in its attempt to change the "50+1" rule, and these will allow sponsors with a long-term relationship with a club -- more than 20 years -- to take a stake in it.
However club fans are already protesting about these changes, perhaps anxious at the advantage such a move might give their rivals.
"The next five years will be interesting," said Dykes. "The rules have had exceptions to allow for the different ownership structures of teams like Bayer Leverkusen and Vfl Wolfsburg, but Hannover has argued that this leaves them at a disadvantage, and you can see why."
Read: Football enters space age with 'Footbonaut'
But how is a booming Bundesliga affecting German football further down the feeding chain?
In the former East Germany, far from the country's football powerbase, one lowly team's fortunes are being transformed by Austrian soft drink company Red Bull's takeover.
In 2009, Rasen Ballsport Leipzig (better known as RB Leipzig) became the fourth club in Red Bull's football portfolio, alongside Red Bull Salzburg of Austria, Red Bull Brasil, and the New York Red Bulls of the American MLS.
Formerly known as SSV Markranstädt, league regulations prevent the club using the Red Bull brand in its name, so it settled on RB Leipzig instead; but there is no ambiguity over the power driving it forward, with a reported planned $128 million investment to take the club to the Bundesliga by 2017.
After promotion in its first season, followed by two years in German football's fourth tier, its plans look to be on track as the club prepares to contest the playoffs for another promotion in June.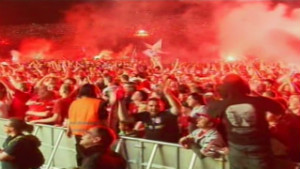 2012: Football gloom in Munich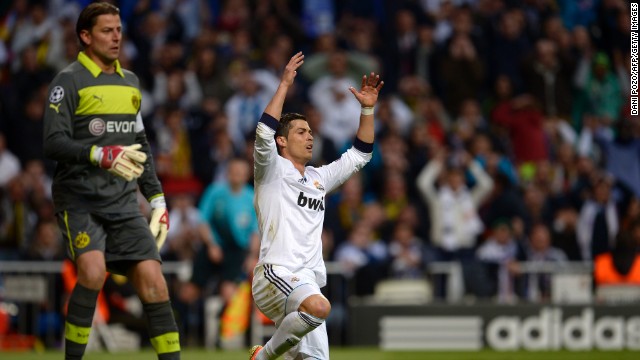 Cristiano Ronaldo had a wonderful chance to put Real in front early on but sent his volley straight at Dortmund keeper Roman Weidenfeller.
Mesut Ozil reacts after missing a glorious opportunity to give Real the lead after breaking clear of the Dortmund defense only to drill his effort wide of the post.
Substitute Karim Benzema finally made the breakthrough in the 82nd minute when he slotted home Ozil's pass from close-range to make it 1-0 on the night and 2-4 on aggregate.
Sergio Ramos set up a nervous finale when he rifled home with two minutes of normal time remaining. That strike left Real needing one more to pull off an unlikely comeback.
Real piled forward in search of a dramatic winner but not even the mercurial Ronaldo could find that elusive third goal.
Dortmund manager Jurgen Klopp celebrates with his players following the 2-0 defeat which allowed his side to qualify for the final 4-3 on aggregate. It is the first time since 1997 that Dortmund has reached the final when it defeated Juventus 3-1.
Dortmund will face either Barcelona or Bayern Munich at Wembley on May 25. Bayern, which has already won the Bundesliga title, will take a 4-0 lead into the second leg at the Camp No Wednesday.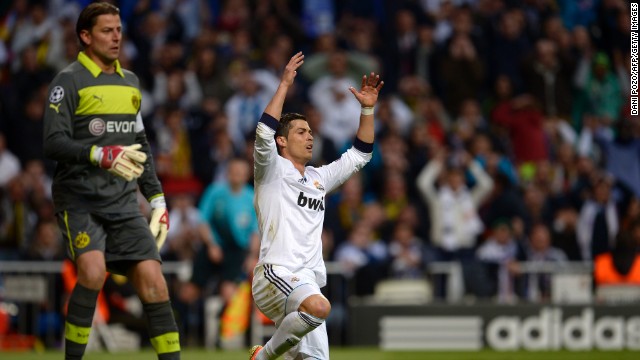 Close but not close enough for Real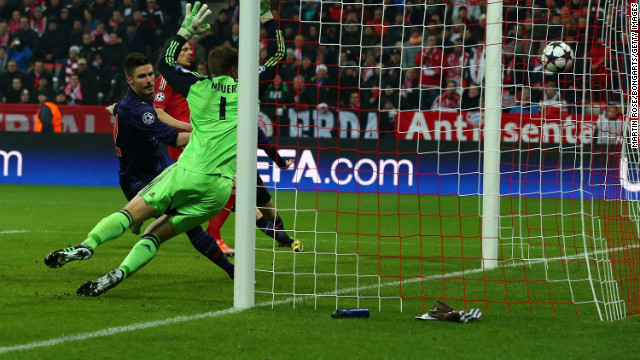 Olivier Giroud gave Arsenal the perfect start when he slammed home from close-range after Theo Walcott had got in behind the Bayern defense. Following a 3-1 defeat in the first leg, Arsenal needed a fast start and it got it.
Arjen Robben was a constant danger to the Arsenal defense and kept the visiting players busy as Bayern looked for an equalizer.
Bayern, which is 20 points clear at the top of the Bundesliga, had not suffered a defeat since October 28 in any competition. Its frustration was clear to see with striker Mario Mandzukic aggrieved with his side's showing.
With just four minutes of normal time remaining, Arsenal grabs its second goal to set up a thrilling finale thanks to Laurent Koscielny's header. The Frenchman headed home to leave Bayern clinging on.
Bayern Munich duo Philipp Lahm and Thomas Muller look relieved after the 2-0 home defeat, a result which takes the German side through on away goals following a 3-3 overall draw.
Malaga's Javier Saviola goes up against Porto's Alex Sandro with the Spanish club aiming to overturn a one-goal deficit from the first leg.
Just two minutes before the break, Malaga made the breakthrough when talented midfielder Isco collected Manuel Iturra's pass and fired an unstoppable effort into the top corner.
Substitute Roque Santa Cruz netted a 77th minute winner to make it 2-0 on the night and send Malaga through 2-1 on aggregate.
Malaga's players celebrate at the final whistle following the 2-0 win over Porto -- a result which secured a 2-1 aggregate victory overall and its place in the quarterfinals for the first time in its history.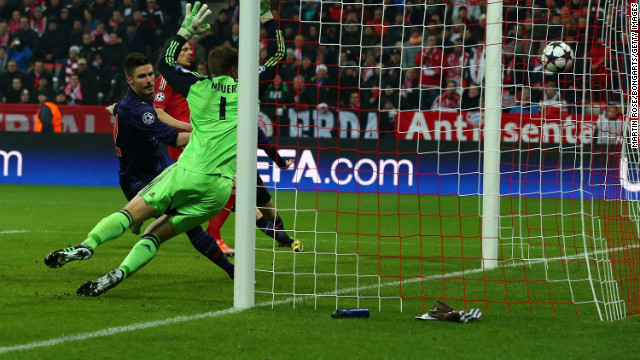 Bayern clings on
The club's stadium, the impressive 45,000 capacity Red Bull Arena, is certainly ready.
"We accept this rule," said RB Liepzig's managing director Ulrich Wolter, referring to the "50+1" rule.
"The intention of the rule is to secure the league's integrity against short-term investment, I think everyone understands that."
However, Wolter is frustrated at the resistance to RB Leipzig's owners.
"Red Bull is not a Russian oligarch, or an Arabian sheikh," he said. "We've shown elsewhere that we're about a strong, sustainable investment and commitment.
"Why is our way the wrong way? What is the difference between our approach and a club with 50 different sponsors delivering the same thing?"
Even so RB Leipzig's new investors have encountered resistance.
The pitch at its former stadium was attacked with weed killer not long after the takeover, and fans of other clubs can be less than welcoming.
"It's getting better," says Wolter. "We're proud of our family and spectators. We don't have 'ultras' and we don't need them. It's a friendly family atmosphere here, with men, women, children, pensioners, it's a different way."
Germany's often raucous fans are, however, part of the fabric of the Bundesliga experience.
The biggest obstacle to change in Germany may come from those very supporters, many of whom view the English Premier League with disdain, given that they see themselves at the center of a club's structure.
The Bundesliga boasts some of the world's finest stadia, and its commitment to safe standing areas has helped enable clubs to keep prices low, as well as creating the boisterously vibrant atmosphere that characterizes top-flight games.
But while the cheapest season tickets represent superb value, if fans turn up on match day looking for tickets then the story is rather different. "People are always talking about cheap tickets, but it can be misleading," says Dykes.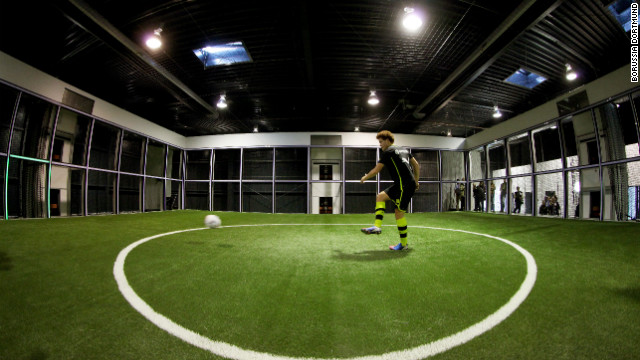 The "Footbonaut" -- is a robotic cage which footballers can use to improve passing, spatial awareness and control. The machine is being used by German champions Borussia Dortmund.
Once inside the "Footbonaut", a player is fed balls by eight different machines and then has deliver the ball to one of the 72 panels - - which is indciated by a flashing green light -- that make up the space-age contraption before they receive another ball. This picture shows Dortmund's German star Mario Gotze testing himself against the machine.
German coach Jurgen Klopp has overseen Dortmund's recent domination of German football. Dortmund have won the Bundesliga in each of the last two seasons, winning plaudits for the adventurous style of play. Klopp's team also currently sit top of a European Champions League group containing Real Madrid, Manchester City and Ajax.
Dortmund's rise to prominence has forced their attractive young squad into the limelight. None more so than Polish striker Robert Lewandowski, who was strongly linked with a move to Manchester United earlier this year.
One player who did swap Dortmund for Manchester was Shinji Kagawa. The Japanese playmaker had made a promising start to his Old Trafford career before being sidelined with a knee injury last month. Another player developed by Dortmund was Nuri Sahin, the Turkish midfielder who signed for Real Madrid in 2011 before joining Liverpool on a season-long loan deal in August.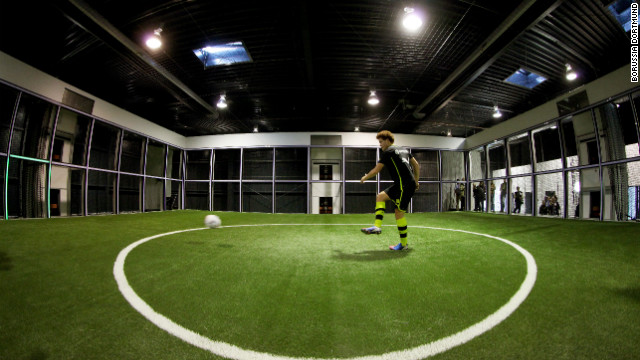 Dortmund's training pays dividends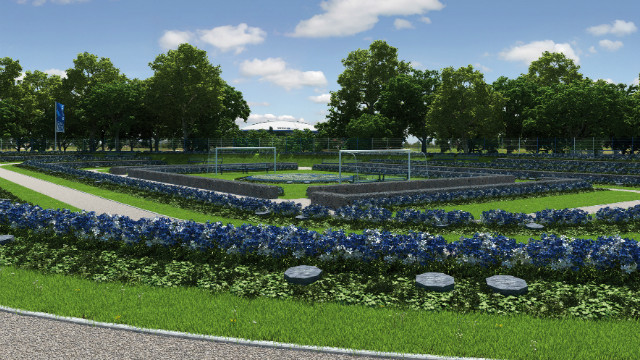 The Schalke Fan Feld, whose centerpiece will be a club logo made up of blue and white flowers lying between two goals, looks directly on to the Bundesliga club's home stadium - the white domed Veltins-Arena, which can be seen in the gap between the trees in this picture.
Schalke fans are known as some of the most passionate in German football.
The cemetery will only have space for 1,904 graves -- reflecting the year of Schalke's foundation -- and the club says there will not be another site when the entire allocation is taken up.
Schalke's on-field fortunes have improved in recent years to the point where they have brought in leading strikers Raul Gonzalez, who left the club earlier this year, and current Dutch striker Klaas-Jan Huntelaar.
The cemetery will be laid out in the shape of a stadium, with the miniature pitch located at the centre.
The "pitch" will feature the Schalke logo, made up of blue and white flowers, with a goal at each end and benches in the middle of those.
Schalke's Veltins-Arena was built in the run-up to the 2006 World Cup and can hold over 65,000 fans.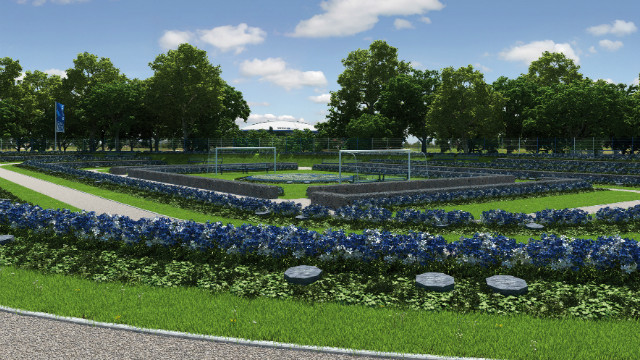 From the cradle to the grave
"Of course standing tickets are cheap, as you would expect; but once these go, and they're usually in demand, the ticket prices at the top end are broadly comparable to those in England."
In fact, at $88 the most expensive match-day ticket for Bayern is the same as that at Manchester City, for example -- and $9 more expensive than at Manchester United.
Read: Bayern coach celebrates 1,000 games
This year, partly in response to incidents of crowd trouble at games, there have even been whispers that the prized standing areas could be abolished.
"Standing is vital to low ticket prices, but also the atmosphere and the overall product of German football," said a skeptical Dykes.
"The league realizes that and I can't see the standing areas being given up. It would be difficult under German federal law to 'ban' them anyway, so I just can't see it happening."
The worry for other Bundesliga clubs must be that the success of Dortmund and Bayern could put them out of sight in the financial and playing stakes; last year Chelsea received an estimated $77 million from winning the Champions League, while beaten finalist Bayern pocketed $53.65 million.
Youth and prudence
However, the notion that a couple of teams might dominate their league is not confined to Germany.
"Spain's that way, the last three or four years the third or fourth place team, they still play Champions League and they're 30 points behind," said Hargreaves.
"A lot of people in Germany love Bayern and love Dortmund, in the same way as people (in England) love Manchester United or Chelsea," he added, "but there are a lot of people who root for the underdog as well. So I think, in a way, it's a fair balance."
Read: Why Guardiola will make Bayern better
And Dykes remains unconvinced that a tipping point has been reached.
"It's too early to be talking about a duopoly," he said. "Success comes and goes. If we're still talking about those two in a few years' time, or Bayern are still miles ahead, then it would be a worry.
"People look at that possibility and of course it could be bad, but why would it happen? Bayern have always spent big; Dortmund is an exceptional team, but where will they be in three years?
"Players lose form, get injured, things can change quite quickly. I'm not worried."
For Wolter, the key to success lies in a combination of youth and prudence.
"You look at a team like Freiburg, they have a good academy, a good coach; it's still possible (to be successful). The new television contract has also given clubs more money ... and these academies are profit centers," he says. "But it's not all about money. It's also about education, good background work."
Nevertheless, as Bayern and Dortmund take the field at Wembley, some may be wondering if, as well as a moment of national pride, this game might also mark a less welcome watershed in German football.