(CNN) -- Here's a look at what you need to know about tornadoes, which are funnel-shaped clouds that form under thunderclouds and contain rapidly rotating air.
Facts: Most tornadoes form from severe thunderstorms. Hurricanes can also produce tornadoes.
Tornado winds may exceed 300 miles (480 kilometers) per hour.
Tornadoes can lift cars, mobile homes, and animals into the air.
Tornadoes are sometimes called "twisters."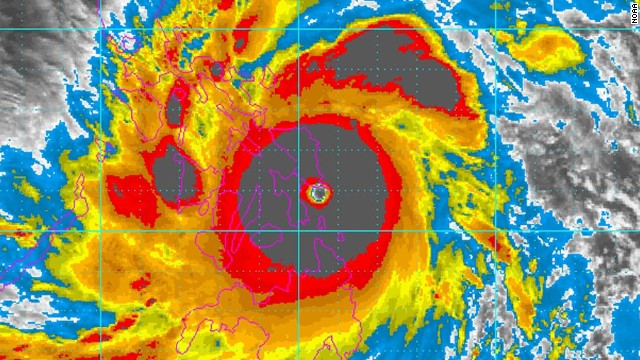 Super Typhoon Haiyan, one of the strongest storms ever recorded, made landfall in the Philippines on Friday, November 8. The storm had maximum sustained winds of 315 kph (195 mph) and gusts as strong as 380 kph (235 mph), officials said. That wind strength puts it well above the 252 kph (157 mph) threshold for a Category 5 hurricane, the highest category on the Saffir-Simpson hurricane wind scale.
Hurricane Sandy, a Category 2 storm, formed on October 22, 2012, and dissipated on October 29. The hurricane's path went through Haiti, Jamaica, Cuba and the coastlines of New Jersey and New York. It caused $50 billion in preliminary damages and at least 165 deaths.
Hurricane Isaac, a Category 1 storm, formed on August 21, 2012, and dissipated on September 1. Its path included Haiti, Cuba, southern Mississippi and southeastern Louisiana. It caused $2.35 billion in estimated damages and at least 41 deaths.
Hurricane Ernesto, a Category 1 storm, formed on August 2, 2012, and weakened on August 8. The hurricane made landfall in the Mexican state of Quintana Roo, on the Yucatan Peninsula. It caused $174 million in damages and seven deaths.
Hurricane Irene, a Category 1 storm, formed on August 20, 2011, and dissipated on August 29. The hurricane, which made landfall in eastern North Carolina, caused $7.3 billion in damages and at least 45 fatalities.
Super Typhoon Megi made landfall over the northern Philippines island of Luzon on October 18, 2010. It was one of the most intense tropical cyclones on record. It had maximum sustained winds of 167 mph. An estimated $400 million in damages was reported, along with 11 deaths.
Hurricane Ike, a Category 2 storm, formed on September 1, 2008, and dissipated on September 14. The hurricane's path included the Turks and Caicos Islands, Cuba, Texas, Louisiana and Arkansas. It caused $29.5 billion in damages and 155 deaths.
Hurricane Wilma, a Category 3 storm, formed on October 15, 2005, and dissipated on October 25. The storm, which made landfall near Marco Island, Florida, caused $21 billion in damages and at least 45 fatalities.
Hurricane Rita, a Category 3 storm, formed on September 20, 2005, and dissipated on September 24. It made its landfall in Louisiana, and it caused 54 fatalities and $12 billion in damages.
Hurricane Katrina, a Category 3 storm, formed on August 25, 2005 and dissipated on August 29. The hurricane hit Florida as a Category 1 and then Louisiana as a Category 3. Its path also included Alabama and Mississippi. It caused $108 billion in damages and more than 1,723 deaths.
Hurricane Dennis, a Category 4 storm, formed on June 29, 2005, and dissipated on July 13. The hurricane made landfall near Punta del Ingles in southeastern Cuba. It was responsible for at least 42 deaths as well as $2.23 billion in damages.
Hurricane Jeanne, a Category 3 storm, formed on September 13, 2004, and dissipated on September 28. It made landfall on the east coast of Florida and is responsible for an estimated $6.88 billion in damages and 3,000 deaths in Haiti.
Hurricane Ivan, a Category 5 storm, formed on September 2, 2004, and dissipated on September 24. Affected areas included Grenada, Jamaica, the Grand Cayman Islands, Cuba, the Dominican Republic, Venezuela, Tobago and Barbados. The hurricane caused more than $18.8 billion in damages and 25 deaths.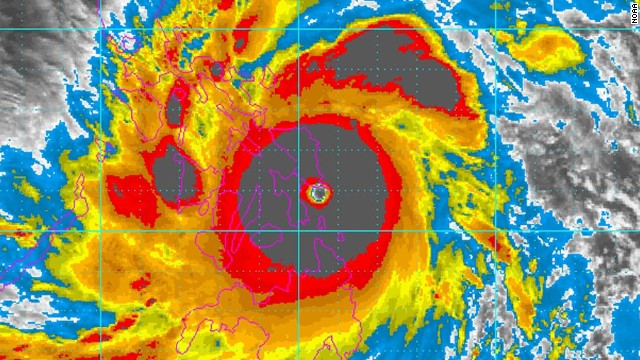 Major storms of the past 10 years
The damage path of a tornado is usually less than 1,600 feet wide.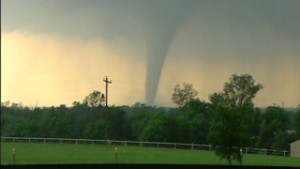 Are tornadoes getting stronger?
Most tornadoes move at less than 35 miles per hour.
Most tornadoes last only a few minutes.
The most destructive and deadly tornadoes occur from supercells, which are rotating thunderstorms with a well-defined radar circulation called a mesocyclone. Supercells can also produce damaging hail, severe non-tornadic winds, unusually frequent lightning, and flash floods.
A tornado over a body of water is called a "waterspout."
The United States has the highest number of tornado occurrences in the world with an average of 1,000 tornadoes reported each year.
According to the National Weather Service, in 2013 there were 55 tornado-related deaths in the United States.
Most of the tornadoes in the United States strike in Tornado Alley, which spans the Midwest and the South.
Tornadoes usually occur during the spring and early summer, most often in the late afternoon and early evening.
A tornado watch is issued by the National Weather Service when atmospheric conditions promote the forming of tornadoes.
A tornado warning is issued when Doppler radar detects a mesocyclone in a thunderstorm, or when a funnel cloud has been spotted.
A tornado emergency is enhanced wording in a tornado warning indicating a large tornado is moving into a heavily populated area. Significant widespread damage and numerous fatalities are likely. The term was coined by forecasters in May 1999 and is used sparingly.
Enhanced Fujita Scale: The Fujita scale is used to estimate the wind speed of a tornado by the damage the tornado causes.
EF0 is the weakest point on the Enhanced Fujita Scale and EF5 is the strongest.
An EF5 tornado can tear a house off its foundation.
Category EF1 Wind speed: between 86 and 110 miles per hour. Moderate damage. Peels surface off roofs; mobile homes pushed off foundations or overturned; moving autos blown off roads.
Category EF2 Wind speed: between 111 and 135 miles per hour. Considerable damage. Roofs torn off frame houses; mobile homes demolished; boxcars overturned; large trees snapped or uprooted; light-object missiles generated; cars lifted off ground.
Category EF3 Wind speed: between 136 and 165 miles per hour: Severe damage. Roofs and some walls torn off well-constructed houses; trains overturned; most trees in forest uprooted; heavy cars lifted off the ground and thrown.
Category EF4 Wind speed: between 166 and 200 miles per hours. Devastating damage. Well-constructed houses leveled; structures with weak foundations blown away some distance; cars thrown and large missiles generated.
Category EF5 Wind speed: 200 plus miles per hour. Incredible damage. Strong frame houses leveled off foundations and swept away; automobile-sized missiles fly through the air in excess of 100 meters (109 yards); trees debarked; incredible phenomena will occur.
Timeline: March 18, 1925 - One of the worst tornado disasters in the United States. 695 people in the tri-state area of Missouri-Illinois-Indiana are killed. It is the longest-lived and has the longest path of any recorded U.S. tornado.
1950 - The U.S. begins keeping official records about tornadoes.
April 3-10, 1974 - There are 148 tornadoes in 16 states.
May 12-18, 1995 - There are 173 tornadoes in 18 states.
May 5-10, 2003 - There are 395 tornadoes reported in 19 states.
February 2, 2007 - At least 20 people are killed in Lake and Volusia counties in Florida after at least three tornadoes touch down in the middle of the night.
March 1, 2007 - At least 20 people are killed, one in Missouri, 10 in Alabama, and nine in Georgia from a string of tornadoes. In Alabama, eight of the 10 killed are teenagers from Enterprise High School in Enterprise, Alabama.
February 5, 2008 - At least 56 people are killed, 32 in Tennessee, 13 in Arkansas, seven in Kentucky, and four in Alabama from a string of tornadoes.
March 14, 2008 - A tornado reaching EF-2 strength at times hits downtown Atlanta, Georgia, damaging the World Congress Center, CNN Center, the Georgia Dome, Cotton Mill Lofts, and many other buildings.
May 9-11, 2008 - A series of tornadoes kills 22 in three states including six in Ottawa County, Oklahoma; 13 in Newton County, Missouri; one in Jasper County, Missouri; one in an area of Purdy in Barry County, Missouri, and one in Laurens County, Georgia.
April 14-16, 2011 - At least 114 tornadoes touch down in Oklahoma, Kansas, Louisiana, Mississippi, Alabama, Missouri, Illinois, Georgia, South Carolina, North Carolina, Virginia, Maryland, Arkansas and Pennsylvania. Of the 46 fatalities reported, 23 occur in North Carolina.
April 25-28, 2011 - An outbreak of 201 confirmed tornadoes occurs from 8:00am ET April 25 to 8:00am ET April 28, 2011. There are approximately 321 fatalities in six states during the entire outbreak from April 25 to April 28. The majority of fatalities occur in Alabama, where as many as 243 people perish. Other states reporting fatalities are Mississippi, Tennessee, Georgia, Virginia and Arkansas. In terms of multi-day outbreaks, this outbreak holds the record for the largest number of tornadoes.
May 22, 2011 - An E5 tornado strikes Joplin, Missouri, killing at least 158 people. It is the deadliest single U.S. tornado since federal record-keeping began in 1950. The tri-state tornado of 1925 is still the deadliest tornado in U.S. history.
May 24, 2011 - Tornadoes strike Arkansas, Oklahoma and Kansas, killing at least 18 people.
August 3, 2011 - The Storm Prediction Center's final report for April 2011 shows 753 tornadoes touched down across the U.S., breaking the previous monthly record of 543 tornadoes in May 2003.
March 2-3, 2012 - At least 42 tornadoes sweep across 10 states, killing 39 people. Of the 39 fatalities reported, 21 occur in Kentucky, 13 in Indiana, three in Ohio, one in Alabama and one in Georgia.
May 20, 2013 - An EF5 tornado hits the Moore, Oklahoma area. The path of the tornado is 14 miles long. Twenty-four people are killed.
Top Ten Deadliest Single U.S. Tornadoes: March 18, 1925 - Tri-state area of Missouri, Illinois and Indiana - 695 fatalities.
May 6, 1840 - Natchez, Mississippi - 317 fatalities.
May 27, 1896 - St. Louis, Missouri - 255 fatalities.
April 5, 1936 - Tupelo, Mississippi - 216 fatalities.
April 6, 1936 - Gainesville, Georgia - 203 fatalities.
April 9, 1947 - Woodward, Oklahoma - 181 fatalities.
May 22, 2011 - Joplin, Missouri - 158 fatalities.
April 24, 1908 - Amite, Louisiana and Purvis, Mississippi - 143 fatalities.
June 12, 1899 - New Richmond, Wisconsin - 117 fatalities.
June 8, 1953 - Flint, Michigan - 116 fatalities.
Top Ten Costliest Tornadoes since 1950: (in 2013 dollars) May 22, 2011 - Joplin, Missouri - $2.8 billion (actual cost) - $2.9 billion (adjusted for inflation)
April 27, 2011 - Tuscaloosa, Alabama - $2.45 billion (actual cost) - $2.5 billion (adjusted for inflation)
June 8, 1966 - Topeka, Kansas - $250 million (actual cost) - $1.79 billion (adjusted for inflation)
May 11, 1970 - Lubbock, Texas - $250 million (actual cost) - $1.5 billion (adjusted for inflation)
May 3, 1999 - Oklahoma City, Oklahoma - $1 billion (actual cost) - $1.4 billion (adjusted for inflation)
April 27, 2011 - Hackleburg, Alabama - $1.2 billion (actual cost) - $1.33 billion (adjusted for inflation)
April 3, 1974 - Xenia, Ohio - $250 million (actual cost) - $1.18 billion (adjusted for inflation)
May 6, 1975 - Omaha, Nebraska - $250 million (actual cost) - $1.08 billion (adjusted for inflation)
April 10, 1979 - Wichita Falls, Texas - $277 million (actual cost) - $893 million (adjusted for inflation)
June 3, 1980 - Grand Island, Nebraska - $285 million (actual cost) - $807 million (adjusted for inflation)