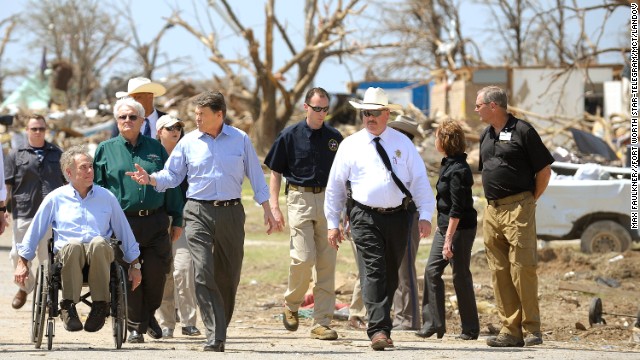 Texas Gov. Rick Perry, center, and Texas Attorney General Greg Abbott, left, survey the tornado damage in the Rancho Brazos Estates subdivision near Granbury, Texas, on Friday, May 17. At least six people were killed in a string of tornadoes that struck overnight Wednesday in North Texas.
A heavily damaged home can be seen in this aerial view on Thursday, May 16, in Cleburne, Texas.
Beth Poledna walks through her garage on May 16 in Cleburne, Texas, as she begins the cleanup after a tornado swept through the area.
An upturned vehicle lies next to an uprooted tree on Thursday, May 16, in Granbury, Texas.
Debris from damaged homes litters a neighborhood in Granbury on Thursday, May 16.
Rescue workers search through debris in Granbury, on May 16.
A rescue worker sifts through rubble on May 16 in Granbury, southwest of Fort Worth.
Rescue personnel pass remnants of destroyed houses in Granbury on May 16. There were reports of homes in Granbury being flattened with people inside.
Pete Alaniz eyes damage to the garage of his Cleburne, Texas, rental home on May 16.
At least 10 tornadoes touched down in northern Texas late Wednesday May 15, including this one in Millsap, west of Fort Worth.
The living room of a Cleburne home is left without a roof on May 16.
An antique car sits in a collapsed garage on May 16 in Granbury.
Eva Zapata, left, waits with a relative, Dario Segura, on May 15 for news of her children, who live in the Granbury neighborhood of Rancho Brazos. Six of the storm victims came from that subdivision, the Hood County sheriff said.
John Bouyer collects a refrigerator on May 16 that blew away from his sister-in-law's home in Granbury.
A trailer rests against a garage in Cleburne on May 16 after being blown into a house.
Tornadoes hit North Texas
Tornadoes hit North Texas
Tornadoes hit North Texas
Tornadoes hit North Texas
Tornadoes hit North Texas
Tornadoes hit North Texas
Tornadoes hit North Texas
Tornadoes hit North Texas
Tornadoes hit North Texas
Tornadoes hit North Texas
Tornadoes hit North Texas
Tornadoes hit North Texas
Tornadoes hit North Texas
Tornadoes hit North Texas
Tornadoes hit North Texas