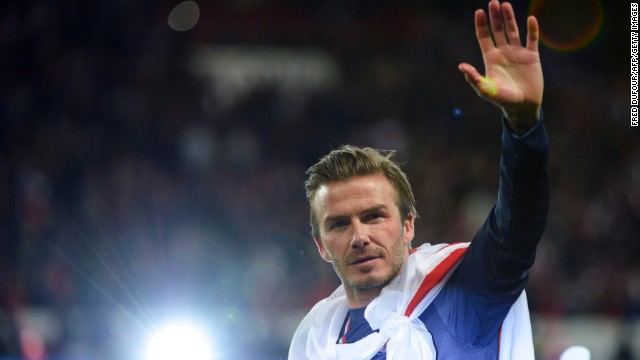 David Beckham waves after his team Paris St. Germain played Brest in
his final home match
in Paris on Saturday, May 18. Beckham
signed on with the team
just a few months ago, and now
he is retiring.
Click through for a look back at Beckham through the years.
Beckham poses with Paris Saint-Germain President Nasser Al-Khelaifi, left, and PSG sports director Leonardo during a press conference announcing his new gig in January 2013.
Beckham makes his England debut at a World Cup Europe Qualifying Round Group 2 match against Moldova in 1996.
Beckham celebrates his goal in the 1998 World Cup Finals versus Colombia in 1998.
Becks as a member of Manchester United cools down during the FA Charity Shield match against Arsenal at Wembley Stadium in London in 1998.
At the 1998 World Cup in France, in a second-round match against Argentina, Beckham was sent off for kicking out at Diego Simeone. England lost the match on penalties and was eliminated, with Beckham becoming a hate figure for some fans.
Beckham poses after a press conference in Awaji-shima Island, Japan, in 2002.
Beckham poses with Beyonce, left, and Jennifer Lopez during a presentation of the new Pepsi "Samourai" in Madrid in 2004.
Becks waves after a la Liga match between Real Madrid and Deportivo La Coruna in Madrid in 2007.
The midfielder celebrates with his sons in 2007 after Real Madrid won the Spanish League title by beating Mallorca.
Beckham makes an appearance to promote his fragrance "David Beckham Intimately Night" in Sydney in 2007.
Beckham reveals his new No. 32 Adidas jersey as part of an announcement of the start of his loan move to AC Milan from the Los Angeles Galaxy in 2008.
Beckham controls the ball during the 2010 FIFA World Cup qualifier of European Group 6.
Beckham unveils the new Emporio Armani underwear ad campaign for the fall/winter of 2009-2010.
Beckham, No. 23 of the Los Angeles Galaxy soccer team, walks toward the line judge to have a chat during Game 1 of the MLS Western Conference Semifinals against Chivas USA in 2009.
Becks arrives at Sydney International Airport in 2010.
David and Victoria Beckham arrive at the wedding of Prince William and Kate Middleton at Westminster Abbey in 2011.
The Beckhams attend the Vanity Fair Oscar Party in West Hollywood, California, in 2012.
Beckham celebrated his second MLS Cup success with the Los Angeles Galaxy in December 2012, when he decided to leave with a year left on his contract as he sought one final career challenge in Europe.
Beckham passes under Tower Bridge in a speedboat which carries the Olympic Torch and its torchbearer in 2012.
Beckham acts as England's captain during the 2004 European Nations Championship football match against Croatia in Lisbon, Portugal.
David Beckham through the years
David Beckham through the years
Making his debut
Getting pumped
All wet
Photos: David Beckham through the years
Repping his homeland
Hobnobing with celebs
Loving the fans
Family guy
The entreprenuer
The Los Angeles resident
Kicking it like ...
The pitchman
To the Galaxy and beyond
The thinker
A prince among royals
Golden award moments
Photos: David Beckham through the years
Powering through for Olympics
A name brand
STORY HIGHLIGHTS
David Beckham found it difficult without wife and children in Paris
Beckham described as a "devoted dad" by Paris Saint-Germain colleague
PSG assistant manager Paul Clement pays tribute to midfielder
Clement says he had a feeling Beckham would retire at end of season
Can you "bend it" like Beckham? Pay tribute to the footballer by recreating the move that made him famous.
(CNN) -- A pop star wife, an estimated annual salary of $46 million and the most iconic player of this generation -- but to those who know the "real" David Beckham, he is just a "normal guy" and a "devoted dad".
When Beckham announced his decision to retire from football Thursday, there was one man who had already anticipated such an event.
Paul Clement, the assistant manager of Paris Saint-Germain, became a close confidante of his compatriot Beckham following the midfielder's arrival in the French capital last January.
Nights in his exclusive suite at Le Bristol hotel were luxurious, but the distance between the 38-year-old and the rest of his family is believed to be one of the key factors in his decision to retire.
While his former Spice Girl wife, Victoria, remained at home with children Brooklyn, Romeo, Cruz and Harper, Beckham spent time talking through his troubles to a man with a sympathetic ear.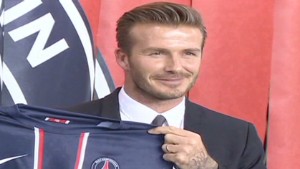 David Beckham calls it a career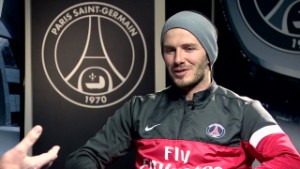 David Beckham's life in Paris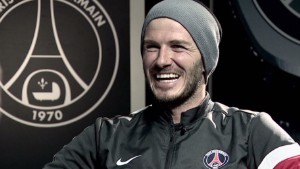 Beckham: Tom Cruise is hotter than I am
Read: Beckham reveals 'sacrifice' of PSG stay
"The impression from the very first time we met was that he was a devoted dad," Clement told CNN.
"He was very hands-on with the kids and, talking to people who knew him, I knew he wanted to be involved.
"I think that being away from his family, them being in London and him being in Paris, was difficult for him.
"We used to talk about our kids all the time and he asked me questions and we chatted about schooling and what they were up to.
"He missed them and I think that was a huge part of his decision to call it a day. I just had a feeling he might retire."
In an exclusive interview with CNN last month, Beckham spoke of the difficulty of being away from his family.
"That's the sacrifice I have to make as a father and as a husband: being away from my family," Beckham said.
"It is only for a short time, but it's difficult being away from the children every single day. But they understand it. They understand that Daddy works hard."
Read: Beckham becomes new face of Chinese soccer
It is an experience which has caused some anguish for the former England captain, who takes great pride in being both a father and a husband, but has had to balance that with a busy traveling schedule.
Not only has he played in Spain, the United States and Italy, he has also kept up his many business and charity commitments and recently agreed to become a football ambassador for China.
"The kids have moved across the world and I think he wanted them to have some stability," added Clement.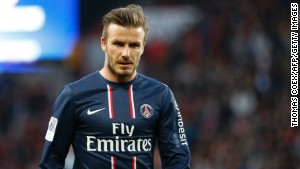 What does David Beckham give to PSG?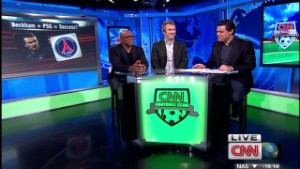 CNN FC: PSG's gamble on David Beckham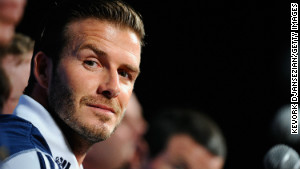 David Beckham's U.S. soccer legacy
"The oldest, Brooklyn, is 14 now and it's important for him to get his education and feel settled and I think David felt that was crucial.
"It was great to have him around and talk, but I've got my family here and that's been so good for me.
"David has four kids and he really missed them. They're a tight unit and he found it difficult."
Read: Beckham off as four see red in Evian
For Clement, Beckham's arrival came at time of personal tragedy.
His friend and colleague, PSG's former nutritionist Nick Broad, died in a highway accident last January. It was a period of great difficulty for Clement on a personal level and for all of those at the club.
But in Beckham, he found somebody to confide in and talk to -- a man completely different to that portrayed in fashion magazines and tabloid newspapers.
"He's just a normal guy," said Clement.
"He's quite shy in his own way, but he's good to be around and he likes to have a laugh and be with his friends.
"For me, it was great that he was there just after Nick died because that was an awful time.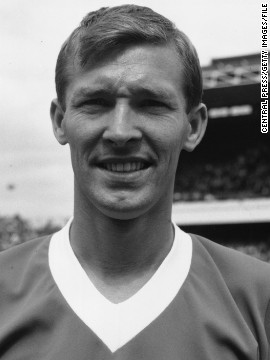 As a player, Alex Ferguson enjoyed a moderately successful career. A prolific striker, he scored 170 goals in 317 appearances including 25 goals in 41 appearances for Glasgow Rangers.
Ferguson was appointed manager of Aberdeen in 1978. In addition to three Scottish First Division titles, Ferguson guided the club to an impressive triumph over Real Madrid in the 1983 European Cup Winners' Cup.
Ferguson was assistant to Scotland coach Jock Stein during the qualifying campaign for the 1986 World Cup. Scotland secured a 1-1 draw against Wales in their final game to reach the tournament, but Stein collapsed and died following the final whistle in Cardiff.
A late winner from substitute Mark Robbins in an FA Cup replay against Nottingham Forest in January 1990 allegedly spared Ferguson the sack. United went on to beat Crystal Palace at the second attempt in the final, giving Ferguson his first trophy at Old Trafford.
The Scot originally planned to retire from management at the end of the 2001-02 season. But, after helping the team recover from a slip in form which saw them drop as low as ninth in the Premier League table, Ferguson reversed his decision in February 2002 and signed a new three-year contract.
A boot flew into the face of Manchester United's star midfielder David Beckham after Ferguson lost his temper following a 2-0 FA Cup defeat to Arsenal in February 2003. Beckham had to be held back following the incident and he joined Real Madrid ahead of the following season.
Ferguson's finest hour arrived in Barcelona in May 1999, when his United team came from 1-0 down in the 90th minute to beat Bayern Munich 2-1 in the European Champions League final. The win completed an historic treble of titles won during the 1998-99 season, which included the Premier League title and the FA Cup.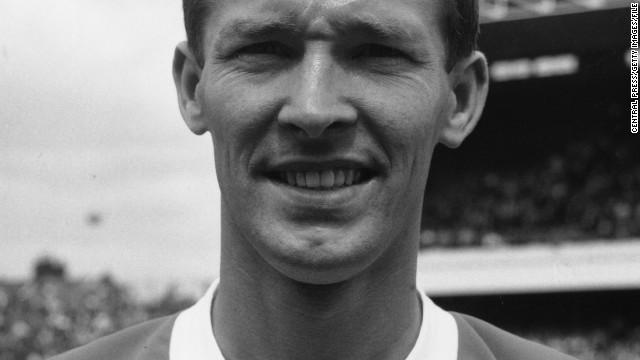 The seven moments which define Alex Ferguson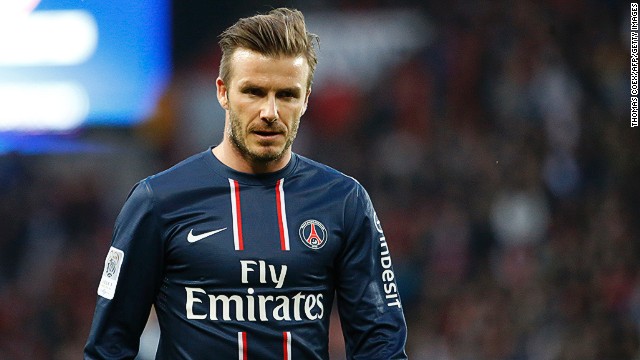 David Beckham has topped the list of the world's highest-paid footballers compiled by prestigious France Football magazine. The veteran midfielder, who signed a five-month contract with French club Paris Saint-Germain in January, is set to earn $46.5 million during the 2012-13 season. Beckham is donating his salary, which is said to account for 5% of his earnings, to a children's charity.
Lionel Messi has left every footballer on the planet trailing in his wake in recent years, but the Argentine is only second on this list with $45.2 million. The Barcelona star is reportedly set to earn $17 million from his salary and bonuses alone.
Just behind Messi is Cristiano Ronaldo on $39 million. The Real Madrid forward's salary and bonuses amount to slightly more than Messi at $17.5 million.
Ronaldo's compatriot Jose Mourinho, his coach at Real Madrid, tops the list as the sport's highest-earning team boss with $18 million.
Carlo Ancelotti has benefited from the Qatari takeover of Paris Saint-Germain. The Italian, who has guided PSG into the quarterfinals of the European Champions League, is the second highest-earning coach behind Mourinho on $15.5 million.
Ancelotti's compatriot Marcello Lippi has been richly rewarded for delivering the Chinese Super League title to Guangzhou Evergrande. The 2006 World Cup-winning coach has reportedly made $14 million from his first season.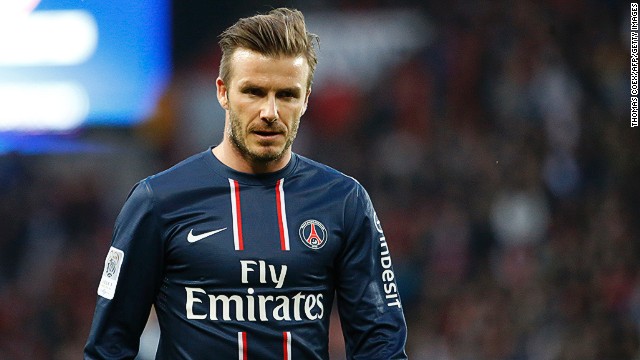 Beckham tops soccer's rich list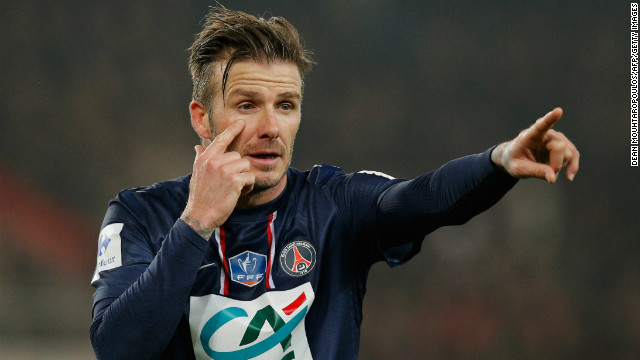 David Beckham made an immediate impact at Paris Saint-Germain, with victories in his first two appearances against French rivals Marseille.
He was unveiled at the Parc des Princes on the final day of the January 2013 transfer window, and announced that he will donate the pay he receives during his five-month contract to a children's charity in Paris.
Beckham celebrated his second MLS Cup success with Los Angeles Galaxy in December 2012, when he decided to leave with a year left on his contract as he sought one final career challenge in Europe.
David Beckham made his debut for English Premier League team Manchester United in 1993. By 1996, the midfielder was becoming renowned for his ability to score and create goals with his now legendary right foot. In a match against Wimbledon, Beckham stunned football fans by scoring from the halfway line.
Beckham swiftly progressed into the England team and was part of Glenn Hoddle's squad for the 1998 World Cup in France. In a second-round match against Argentina, Beckham was sent off for kicking out at Diego Simeone. England lost the match on penalties and were eliminated, with Beckham becoming a hate figure for some fans.
Beckham rebuilt his reputation and in 1999 was a key part of the Manchester United team which became the first English club to win the Premier League, FA Cup and European Champions League in the same season. The Old Trafford side, led by Alex Ferguson, secured the treble thanks to a stunning late comeback against Bayern Munich in the Champions League final.
Beckham's redemption was complete in 2000, when caretaker England manager Peter Taylor made him captain of the national team. He retained the role under Sven-Goran Eriksson, leading England at the 2002 and 2006 World Cups and the 2004 European Championships.
In 2003, after a turbulent final few months at United which involved Ferguson accidentally kicking a boot at Beckham, he joined Real Madrid's "Galacticos".
But Beckham's spell in Madrid didn't produce the trophy rush he had hoped for. His sole title came in 2007, under future England manager Fabio Capello, thanks to a win against Real Mallorca on the final day of the season.
Beckham made the switch to Los Angeles Galaxy in the U.S.'s Major League Soccer in 2007. His stated aim was to raise the profile of soccer in the country.
Four years after heading to the States, Beckham finally won the MLS Cup with Galaxy last season. Galaxy beat Houston Dynamo 1-0 in the final thanks to a goal from Landon Donovan.
Off the pitch, Beckham is famous for being one half of one of the world's most high-profile couples. He started dating Victoria Adams of British pop group Spice Girls in 1997. The pair married in 1999 and have four children, son Brooklyn, Romeo and Cruz and daughter Harper Seven.
Football fans wear masks depicting Beckham at the London 2012 Olympics. He was not picked for the GB team, but played a big role in his hometown being awarded the Games.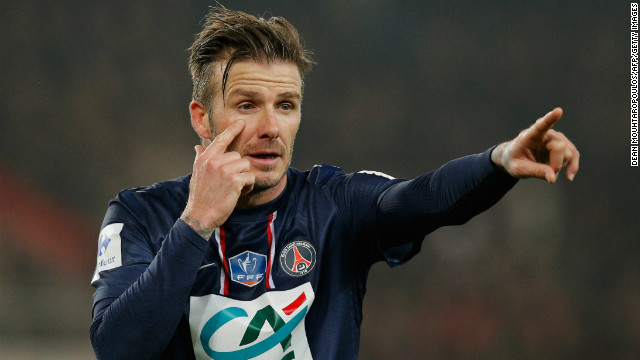 The career of David Beckham
"It was great to have him around. It was a bit weird at first, because I'd read so much about him through the press and had my own impression.
"But speaking to people who knew him, I knew he was an absolute gentleman. For somebody so famous, he's just a normal guy. He's very professional, does all the right things and is a great example to the younger players."
Despite his advancing years, Beckham appeared to be in peak condition, showing a level of fitness which would embarrass some of the younger players in the PSG squad.
But while he may have yet been able to continue playing, the off-field situation gave an inkling of what was to come, according to Clement.
Read: The secret behind 'Brand Beckham'
"I had a feeling it might happen and he's going out at the top, which is the way he would like it," he added.
"He could have continued on a football level because he's certainly fit enough. But he might have been a bit-part player next season or had to move to another club and I think he wanted to go out at the very top.
"He's really enjoyed being in Paris and competing at a high level after time in the U.S. He may have not thought it would have ever happened again, but he made the most of it."
While Beckham will curtail his time in Paris at the end of the season, Clement hopes to remain to continue his work alongside manager Carlo Ancelotti.
But although the midfielder will exit following the final game against Lorient on May 27, his time at the club will not be forgotten.
"It's nice to work with good players," said Clement. "But it's more important to work with good people."