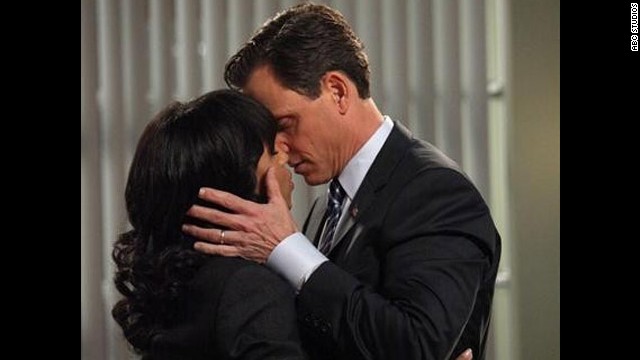 Thursday night marks the season finale of the hit ABC show "Scandal," which features Kerry Washington's Olivia Pope embroiled in a steamy affair with the married president of the United States, Fitzgerald Grant, portrayed by Tony Goldwyn. In honor of Pope, we present some of television's other notable mistresses.
Carrie Bradshaw (Sarah Jessica Parker) was the quintessential New York single gal. On "Sex and the City," she found herself in a messy sitch when Mr. Big's (Chris Noth) wife, Natasha, found out about their affair.
Meredith Grey (Ellen Pompeo) was not pleased when she discovered that her love Derek Shepherd (Patrick Dempsey) had a wife on "Grey's Anatomy."
Sylvia Rosen (Linda Cardellini) was just one of the many women Don Draper (Jon Hamm) strayed with on "Mad Men."
Amber Valletta's Lydia Davis is the mistress of Henry Czerny's Conrad Grayson on "Revenge."
The affair between Joan Harris (Christina Hendricks) and Roger Sterling (John Slattery) eventually results in the birth of a son on "Mad Men."
Claire Danes' Carrie Mathison on "Homeland" sets out to pursue Damian Lewis' Nicholas Brody as a suspect before their affair begins.
"Mad Men's" Don Draper (Jon Hamm) also had a torrid affair with Suzanne Farrell (Abigail Spencer).
"Melrose Place" fans can never forget the crazy that was Michael Mancini's mistress, Kimberly Shaw, portrayed by Marcia Cross.
TV mistresses
Carrie Bradshaw on 'Sex and the City'
Meredith Grey on 'Grey's Anatomy'
Sylvia Rosen on 'Mad Men'
Lydia Davis on 'Revenge'
Joan Harris on 'Mad Men'
Carrie Mathison on 'Homeland'
Suzanne Farrell on 'Mad Men'
Kimberly Shaw on 'Melrose Place'