Whose tech is better: 'Star Trek' or 'Star Wars'?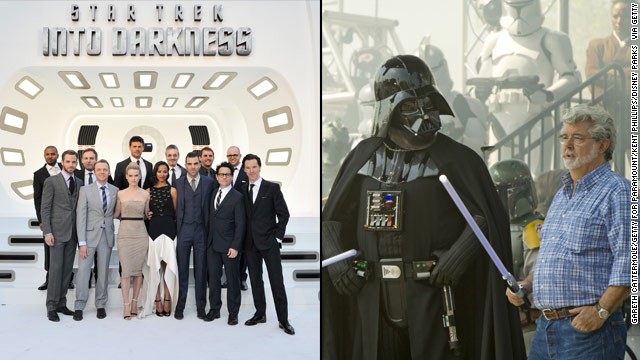 It's a debate as old as fictional futuristic starships themselves:
"Star Trek" versus "Star Wars."
With "Star Trek Into Darkness" opening in theaters May 16 and "Star Wars" creator George Lucas' birthday on May 14, we ask sci-fi-loving readers: Which franchise would win in an epic battle of futuristic technology? Click through and make your pick:
Both universes have their own technological advances, but we'll talk about five areas in particular where they overlap significantly. Please note that we are looking at the entirety of the franchises, rather than specific films or incarnations. Descriptions are greatly simplified to save space. If you think of something that was overlooked, let us know in the comments. Photo: Sci-fi fans attend a show in March 2002 in Pasadena, California.
"Trek" characters use various kinds of phasers, cannons, pistols, disruptors and lasers. The classic sword-like light saber dominates "Star Wars," but characters also use blaster-type weapons. Photos: A phaser from the Enterprise NX-01 in "Star Trek: Enterprise" (left) and a light saber in Australia in June 2009.
Travel is faster than light in both universes. "Star Trek": There's the famous Enterprise-series of starships and even more advanced ships such as the Borg Cubes. Weapons include phasers and photon torpedoes. "Star Wars" ships include Han Solo's Millennium Falcon, the Imperial Star Destroyer and the huge and infamous Death Star. Weapons include laser cannons, turbolasers and proton torpedoes. Photos: Enterprise-D model (left) and "Star Wars" opening battle.
Flesh, machine and wearable tech converge here. "Star Trek" has the Borg, a race of cybernetic organisms linked to a collective awareness. They have a Borg Cube. In "Star Wars," Darth Vader wears a suit that provides life support. Luke Skywalker gets a bionic arm. The Death Star is moon-sized. Photos: Borg member (left) and Darth Vader partying with stormtroopers.
There will be robots. The sentient android known as Data has superhuman capabilities, but still longs to be human in "Star Trek: The Next Generation." A golden protocol droid named C3PO is fluent in many languages and aims to help humans in "Star Wars." His buddy is droid R2-D2. Photos: A fan's photo of Data (left) and C3PO posing with R2-D2.
Computers are weaved into life. The "Star Trek" series feature talking computers, food replicators and a transporter to get around. "Star Wars" has hologram communication, advanced binoculars and hovercraft. Photos: Reproduction of the original-series Enterprise bridge (left) and a close-up view of a Lego Star Wars Death Star in London.
Star Tech: Who would win in a fight?
Star Tech: Before you begin
Star Tech: Weapons
Star Tech: Ships
Star Tech: Biotech
Star Tech: Robotics
Star Tech: Gadgetry and daily life
STORY HIGHLIGHTS
"Star Trek Into Darkness" opens Thursday, and George Lucas' birthday was Tuesday
Eternal debate between "Star Trek" and "Star Wars" fans often involves future technologies
Which side speaks most to you? Click through the gallery and comment below
(CNN) -- Photon torpedoes and proton torpedoes. Warp speed and hyperspace.
Shhh! Don't tell anyone, but the "Star Trek" and "Star Wars" universes have quite a bit in common.
Still, there are also enough differences that the eternal franchise versus franchise debate still tends to unfold with all the fireworks of a big-budget action sequence.
With "Star Trek Into Darkness" coming out in a couple of days and George Lucas' birthday on Tuesday, May 14, we saw an opportunity to dive back into this neverending back-and-forth for clues about what lies in store for the tech world. And, in turn, we hope to look at what that says about us as humans.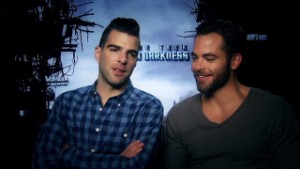 New 'Star Trek' mission: Your questions!
We're asking you, the reader, to go through the gallery above and think about the technology in the "Star Trek" and "Star Wars" universes. How are they different, and how are they the same? Which vision do you think would be most advantageous for the future of humanity and other alien races we may or may not befriend?
Read more about the 'Star Trek' vs. 'Star Wars' debate
To organize the discussion a bit, we broke up the analysis into five categories with overlap between the worlds: weapons, ships, biotech, robotics and everyday tools.
Perhaps it's no wonder the debate continues. Science fiction offers competing visions of what we as people might become. Nothing less than our future is at stake.
Take a look at each section and see what you think, and then let us know your perspective in the comments area below.