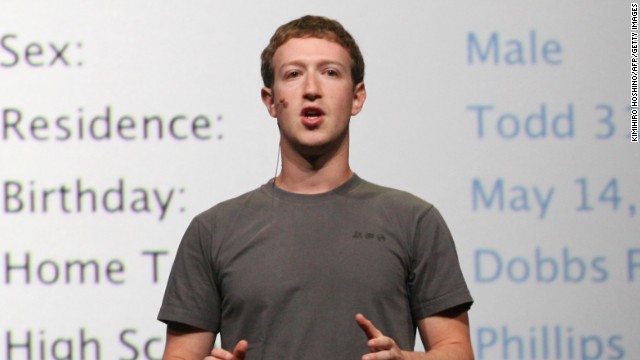 Facebook CEO Mark Zuckerberg turns 29 on Tuesday. What do you buy a billionaire for his birthday? May we suggest some new clothes? As this gallery demonstrates, the young tech titan is famously known for his limited (some might say monotonous) wardrobe.
As a baby, little Mark had to wear whatever his parents dressed him in -- thus this powder blue outfit. He's been striking a blow for personal fashion freedom ever since.
Zuckerberg is best-known for his iconic hoodie, which even has its own mock Twitter accounts. But that may not be the most favored item in his closet.
Zuckerberg has become partial to this gray Facebook T-shirt, adorned with three small icons that grace every user's Facebook page.
Mark has worn the shirt for numerous Facebook events and announcements, like this one.
And this one.
And this one.
And this one.
He wore it in this promotional video ahead of the company's IPO in May 2012.
He wore it here.
And here. Let's hope he owns more than one.
Even Zuckerberg looks a little bored with his T-shirt in this photo.
Zuckerberg did clean up his act when President Barack Obama visited Facebook headquarters in April 2011. His suit and tie were so rare, Obama even made a joke about it.
But when Facebook went public on May 18, 2012, Zuckerberg was back to his hoodie-wearing ways.
No doubt to her great relief, Zuckerberg dressed up for his wedding to longtime girlfriend Priscilla Chan on May 19, 2012. No word on whether he rented the suit.
Zuckerberg faces many questions as he ponders his fashion future. Can a tech CEO still wear T-shirts and hoodies to business events at 40? 50? Probably. But let's hope Priscilla took him shopping for his birthday.
Someone buy this man some clothes
Mark Zuckerberg, fashion icon
Mark Zuckerberg, fashion icon
Mark Zuckerberg, fashion icon
Mark Zuckerberg, fashion icon
Mark Zuckerberg, fashion icon
Mark Zuckerberg, fashion icon
Mark Zuckerberg, fashion icon
Mark Zuckerberg, fashion icon
Mark Zuckerberg, fashion icon
Mark Zuckerberg, fashion icon
Mark Zuckerberg, fashion icon
Mark Zuckerberg, fashion icon
Mark Zuckerberg, fashion icon
Mark Zuckerberg, fashion icon
Mark Zuckerberg, fashion icon