STORY HIGHLIGHTS
A blood test can detect if a woman is "highly susceptible" to breast or ovarian cancer
Jolie reveals she carries a gene that increases her risk for cancer
Her mother died of ovarian cancer in 2007
Jolie is a U.N. special envoy and won an Oscar for "Girl, Interrupted"
Send us your thoughts and experiences.
(CNN) -- Actress Angelina Jolie announced in a New York Times op-ed article on Tuesday that she underwent a preventive double mastectomy after learning that she carries a mutation of the BRCA1 gene, which sharply increases her risk of developing breast cancer and ovarian cancer.
"My doctors estimated that I had an 87 percent risk of breast cancer and a 50 percent risk of ovarian cancer, although the risk is different in the case of each woman," Jolie wrote. "Once I knew that this was my reality, I decided to be proactive and to minimize the risk as much I could. I made a decision to have a preventive double mastectomy."
Five reasons we love Angelina Jolie
Jolie's mother, actress and producer Marcheline Bertrand, died of ovarian cancer in 2007 at the age of 56. Jolie is 37 years old.
In the Times op-ed, titled "My Medical Choice," Jolie said she finished three months of medical procedures at the Pink Lotus Breast Center in California on April 27 that included the mastectomies and reconstruction.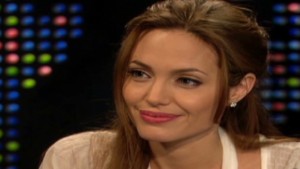 CNN archives: Jolie on her mom's cancer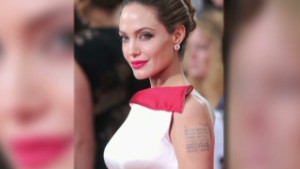 Writer: Public focus on Jolie's breasts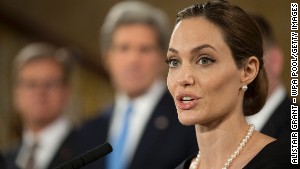 Jolie: 'I've decided to be proactive'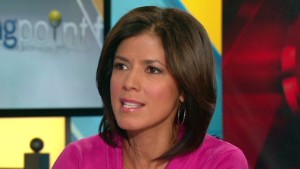 CNN anchor: I have breast cancer
Opinion: Jolie's choice carries risks with benefits
A mastectomy is an operation that removes all or part of the breast.
She wrote that her experience involved a three-step process. On February 2, the actress had a procedure that increases the chance that the nipple can be saved. Two weeks later, she had major surgery where the breast tissue was removed and temporary fillers were put in place. Nine weeks later, she described undergoing "reconstruction of the breasts with an implant."
"There have been many advances in this procedure in the last few years," she said, "and the results can be beautiful."
Why double mastectomies are up
"I wanted to write this to tell other women that the decision to have a mastectomy was not easy. But it is one I am very happy that I made," Jolie wrote. "My chances of developing breast cancer have dropped from 87 percent to under 5 percent."
BRCA stands for breast cancer susceptibility genes, a class of genes known as tumor suppressors, according to the National Cancer Institute.
Hollywood applauds Jolie for going public with surgery
Mutations of the BRCA1 and BRCA2 genes have been linked to hereditary breast and ovarian cancer. A blood test can determine if a woman is "highly susceptible" to the cancers.
Fellow actress Christina Applegate had a similar procedure in 2008. She also had a mutation of the BRCA1 gene.
My preventive mastectomy: Staying alive for my kids
Jolie may be best known for title role in the "Lara Croft" series of films, but she also won an Academy Award for best supporting actress in "Girl, Interrupted." She also received a Golden Globe Award and SAG Award for the same role.
Opinion: Jolie's brave message
Jolie serves as a special envoy for the United Nations High Commissioner for Refugees and has visited refugee camps around the world.
The actress has been in a relationship with actor Brad Pitt since the mid-2000s, and they are engaged. The couple has three biological and three adopted children.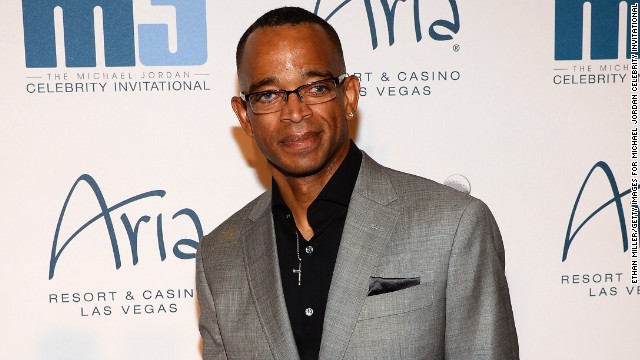 The "Monday Night Countdown" crew sent love and well wishes on December 8 to ESPN sportscaster Stuart Scott, who has been battling cancer for the third time. The group joined hands during the broadcast while Suzy Kolber offered some tearful words: "We want you to know we're sending you some extra strength and to keep fighting that fight."
Longtime Green Day guitarist Jason White has been diagnosed with a treatable form of tonsil cancer, the band recently announced on its website. "Thankfully they caught it early and he should make a full and speedy recovery," the statement said.
When "The Simpsons" co-creator Sam Simon learned that he had terminal colon cancer in 2013, he knew right away what he would do with the rest of his life: give away his fortune in support of good causes. In November, Simon said he's still fighting his health battle and is actively giving back through the Sam Simon Foundation.
Hugh Jackman underwent procedures in November 2013 and May and October 2014 to have basal cell carcinoma removed. His rep told People in October that the actor is "OK now."
Fans of singer Morrissey knew that the star had been ill after he canceled some U.S. tour stops in June, but it appears he has been battling cancer. "They have scraped cancerous tissues four times already, but whatever," Morrissey said told Spanish-language outlet El Mundo. "I am aware that in some of my recent photos I look somewhat unhealthy, but that's what illness can do. I'm not going to worry about that."
When former "Good Morning America" host Joan Lunden learned that she was facing an "aggressive" form of breast cancer, she was determined to face her health battle head-on. Knowing she would need chemotherapy, Lunden decided to remove her familiar blond hair before her locks could be affected by the treatment. "You know it's going to happen one of these days and you are wondering how or when," Lunden explained to People magazine, which she posed for without her wig in September. "So I just owned it."
Hugh Jackman took to Instagram on May 8 to share a photo of his nose, which was bandaged because of treatment he had on basal cell carcinoma.
Former "Dancing With the Stars" co-host Samantha Harris has breast cancer and will undergo a double mastectomy, according to People. Harris says she detected a lump during a self-exam and then followed up with a specialist after receiving a clean mammogram, the magazine reported.
Actress Brittany Daniel of "Sweet Valley High" and "The Game" has been quietly dealing with stage IV non-Hodgkin's lymphoma. Daniel recalls in an issue of People magazine that her 2011 diagnosis "happened so suddenly," but she's been able to face it with the support of her family.
Famed journalist Tom Brokaw revealed in February that he's been diagnosed with multiple myeloma, a cancer which affects blood cells in the bone marrow.
Getting a mammogram live on "Good Morning America" for cancer awareness month revealed to ABC's Amy Robach that she had breast cancer in November.
Radio personality Robin Quivers quietly battled cancer for months, but she had happy news to share with "Howard Stern" listeners in September 2013. On the show, Quivers revealed that her doctors now believe she's cancer-free after receiving treatment, including chemotherapy.
Singer Melissa Etheridge became an advocate for the use of medical marijuana after her 2004 breast cancer diagnosis.
Sharon Jones held off plans to tour and release a new album with the Dap-Kings after being diagnosed with stage 1 bile duct cancer in 2013.
Michael Douglas offered some interesting insight as to how he may have developed the throat cancer that he was diagnosed with in August 2010. Douglas later told the "Today" show that his tumor was gone.
Buffalo Bills Hall of Fame quarterback Jim Kelly has been diagnosed with cancer of the upper jaw bone. "Doctors have told me that the prognosis for my recovery is very good," Kelly said in a statement from his former club. Indeed, in August, Kelly was told that he was cancer-free.
Actress Christina Applegate had a bilateral mastectomy in 2008. Doctors had diagnosed her with cancer in her left breast and offered her the options of either radiation treatment and testing for the rest of her life or removal of both breasts.
In 2006, singer Sheryl Crow underwent minimally invasive surgery for breast cancer. In 2012, she revealed she had a noncancerous brain tumor.
KISS band member Peter Criss sat down with CNN's Elizabeth Cohen in 2009, a year after his battle with breast cancer. The musician said he wanted to increase awareness of the fact that men can also get the disease.
Cynthia Nixon not only joined the cast of Showtime's "The Big C," about a woman battling the disease, and portrayed a woman with cancer in the Broadway play "Wit" -- Nixon was diagnosed with breast cancer in 2006.
Zoraida Sambolin was diagnosed with breast cancer in April 2013, and she chose to have a double mastectomy. Sambolin said that Angelina Jolie's New York Times opinion piece about undergoing the procedure gave her courage to share her story.
"Good Morning America" co-host Robin Roberts had been cancer-free for five years in 2012 after beating breast cancer when she revealed she had been diagnosed with myelodysplastic syndrome, also called MDS.
"Three's Company" star Suzanne Somers spoke with CNN's Piers Morgan in 2012 about her stem cell surgery and her bout with breast cancer. She was diagnosed in 2001, which is when she began researching alternative methods to reconstructive surgery.
Olivia Newton-John was diagnosed in 1992, and the singer has become an advocate for breast self-examination.
E! co-host Giuliana Rancic underwent a double mastectomy in 2011 after a breast cancer diagnosis.
Actress Kathy Bates didn't share news of her battle until 2012, eight years after she was diagnosed with ovarian cancer.
Australian singer Kylie Minogue was only 36 when she was diagnosed with breast cancer in 2005.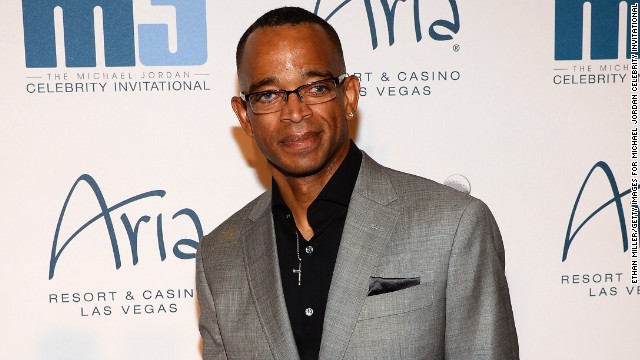 Photos: Celebrities battle cancer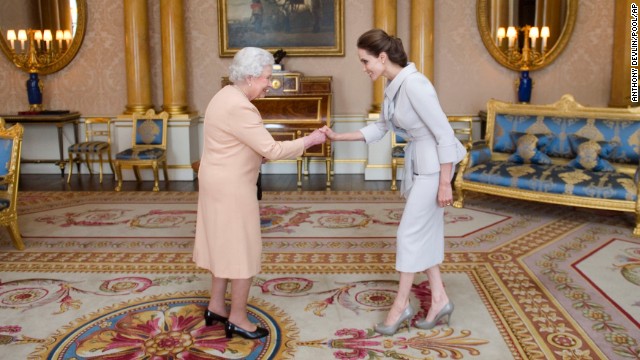 On Friday, October 10, Britain's Queen Elizabeth II made Angelina Jolie an honorary dame for her work to root out sexual violence in war zones. While Jolie is now known for her humanitarian works and action movies, she has been in the spotlight since she was a child. Here's a look at her life.
Jolie hugs her father, actor Jon Voight, in Los Angeles in 1980. Her brother, James, is at left.
Jolie, then 15, poses for a photo in January 1991.
Jolie and Voight are seen in an undated photo.
Jolie attends an event in New York City, circa 1998.
Jolie appears at the Golden Globe Awards in January 2000. She won best supporting actress for her role in the film "Girl, Interrupted."
Jolie and her husband at the time, Billy Bob Thornton, appear at the premiere of her film "Gone in 60 Seconds" in June 2000. They divorced in 2003.
Jolie and her mother, actress Marcheline Bertrand, are photographed at the premiere of Jolie's film "Original Sin" in July 2001. Bertrand died of ovarian cancer in January 2007.
Jolie distributes balls to children at the Tham Hin refugee camp, on the Thailand-Myanmar border, in May 2002. She was a goodwill ambassador for the United Nations High Commissioner for Refugees before she became a special envoy for the agency in 2012.
Jolie carries her son Maddox at the world premiere of "Shark Tale" in September 2004.
Jolie appears on "The Tonight Show with Jay Leno" in March 2004.
Jolie attends the German premiere of "Alexander" in December 2004.
As part of her role as goodwill ambassador, Jolie speaks with Pakistani Prime Minister Shaukat Aziz in Islamabad, Pakistan, in May 2005.
Producer Arnon Milchan centers Jolie and Pitt at the premiere of "Mr. & Mrs. Smith" in June 2005.
Jolie and Pitt appear at the Cannes Film Festival in May 2008.
Jolie greets fans at the Russian premiere of her film "Salt" in July 2010.
Jolie walks with four of her children -- from left, Maddox, Zahara, Pax and Shiloh -- at Japan's Narita International Airport in July 2010.
Jolie appears at the Golden Globe Awards in January 2011.
Jolie and Pitt appear at the Screen Actors Guild Awards in January 2012.
Jolie meets Syrian refugees in Lebanon's Bekaa Valley in September 2012.
Jolie appears at an April 2013 news conference in London about sexual violence against women in conflict.
In May 2013, Jolie announced in a New York Times op-ed that she underwent a preventive double mastectomy after learning that she carries a mutation of the BRCA1 gene, which sharply increases her risk of developing breast and ovarian cancer. Here, in June 2013, she makes her first red carpet appearance since the surgery, attending the London premiere of Pitt's movie "World War Z."
Jolie accepts the Jean Hersholt Humanitarian Award in November, during the Academy of Motion Picture Arts and Sciences' Governors Awards ceremony.
In the 2014 film "Maleficent," Jolie plays an evil sorceress who tells her side of the story. The movie opened at No. 1 and earned $69.4 million in its first weekend in U.S. theaters.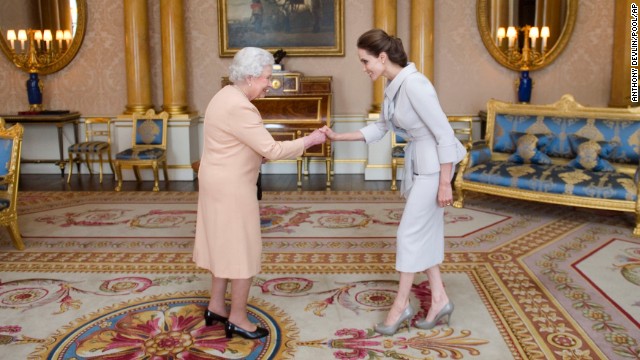 Photos: Life of Angelina Jolie
In telling her story, Jolie acknowledged that surgery might not be the right choice for every woman.
Tough choices in cancer gene fight
"For any woman reading this, I hope it helps you to know you have options," Jolie wrote. "I want to encourage every woman, especially if you have a family history of breast or ovarian cancer, to seek out the information and medical experts who can help you through this aspect of your life, and to make your own informed choices."
But for Jolie, the decision ultimately came down to her kids.
"I can tell my children that they don't need to fear they will lose me to breast cancer," she said.
iReporters: BRCA gene not a death sentence