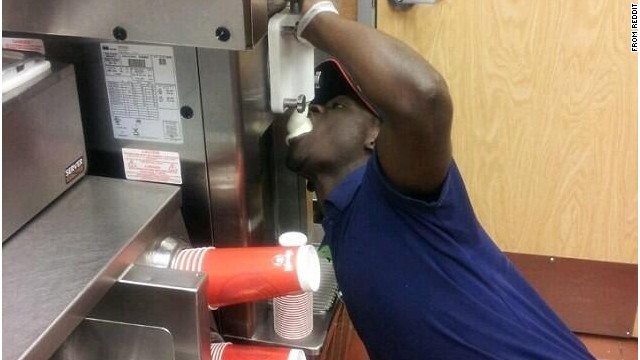 In June 2013, a photo of a Wendy's employee eating directly from a Frosty machine went viral. Spokesman Bob Bertini said the employee "left the company after the photo became news" and "appropriate action was taken."
Also in June, 2013, a Taco Bell employee was photographed licking a stack of shells that the company claimed were used for a training exercise. The photo went viral, the man in the picture was let go and the employee who posted it on social media "no longer works there."
said Anderson Cooper
of Melodi Dushane's 2012 fast food freak-out. The Ohio woman was so enraged that her menu selection was unavailable, she reached through the drive-thru window to punch two employees and throw a bottle.
"The heart wants what the heart wants - and sometimes the heart wants McNuggets, even when they're only serving breakfast,"
short one taco
, he ended up creating his own drive-thru by
smashing his truck into a Taco Bel
l.
The previous September, in Missouri, convicted felon Jeremy Combs pointed a 12-gauge shotgun at the Taco Bell employee who had neglected to provide hot sauce.
In May 2012, Michael Smith of Huber, Ohio, was so miffed that his order was
handed over $2,000
to a customer at the drive-through in Dayton, Ohio. The manager usually swings through to grab the paper bag and take it to the bank, and the hand-off went haywire.
A Taco Bell cashier made headlines in 2010 when she mistakenly
called 911 to complain
. He was charged with misuse of the 911 system - but not for drunk driving.
In 2011, Florida's Terry Kimball believed that he was acting responsibly. He knew that he was too drunk to drive, so he walked up to a Taco Bell drive-thru. The restaurant has a strict "no car, no food" policy, so Kimball
grab it from the ice cream end
, and post videos of their hijinks online. (Cool story, bro.)
"Coning" was all the rage for a while in 2012. Drive-thru patrons would order a soft-serve cone,
"Fast Food Folk Song
" to get their Taco Bell order (and nearly 8 million YouTube views). Giorgio Fareira
freestyled his $34 order
at a Sonic drive-in, racking up over a million hits on YouTube -- and great publicity for his band, The Interstate Life.
On the lighter side, musicians sing for their supper. Comedy duo Rhett and Link strummed a
Fast food with a side of shenanigans
Fast food with a side of shenanigans
Fast food with a side of shenanigans
Fast food with a side of shenanigans
Fast food with a side of shenanigans
Fast food with a side of shenanigans
Fast food with a side of shenanigans
Fast food with a side of shenanigans