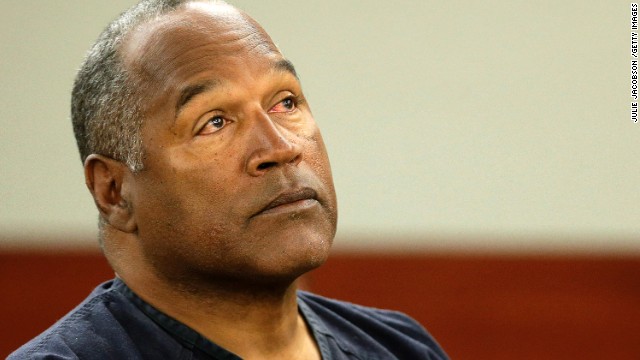 Disgraced football star O.J. Simpson returns to a Las Vegas court Monday, May 13, to try to get his robbery, assault and kidnapping convictions thrown out after spending more than four years in prison.
He argues bad legal advice led to his arrest and conviction in a confrontation
with sports memorabilia dealers. His 2008 conviction came 13 years after his acquittal on murder charges in the deaths of ex-wife Nicole Brown Simpson and Ronald Goldman.
As a University of Southern California running back, Simpson accepts the Heisman Trophy in December 1968.
Simpson, pictured in 1974, was a running back for the Buffalo Bills from 1969 to 1977.
Simpson with his wife, Marguerite Whitley, and daughter Arnelle and son Jason, circa 1974. The couple were married from 1967 to 1979. They had another daughter, Aaren, who died as a toddler in a drowning accident.
Simpson in action during a Buffalo Bills game against the New York Jets.
SImpson married Nicole Brown Simpson in 1985. Here the couple appear at a Los Angeles nightclub around 1976.
Former Buffalo Bills coach Lou Saban appears with Simpson during his induction into the Pro Football Hall of Fame in August 1985.
Simpson branched out into acting. He appears with Bill Murray, left, Laraine Newman and Garrett Morris in a "Saturday Night Live" skit in 1978.
As a running back for the San Francisco 49ers, Simpson carries the ball against the Oakland Raiders during a preseason game circa 1978.
Simpson becomes a commentator on ABC's "Monday Night Football" in the mid-'80s. He appears with Joe Namath, left, and Frank Gifford.
Simpson and children attend Nicole Brown Simpson's funeral in June 1994.
Ronald Goldman was slain with Simpson's ex-wife Nicole Brown Simpson on June 12, 1994.
In footage seen on TV screens around the world, police chase a white Ford Bronco with a fugitive Simpson on the Los Angeles freeways on June 17, 1994. The Bronco eventually returned to Simpson's home in the Brentwood section of Los Angeles, and he surrendered to police on murder charges in the deaths of his ex-wife and Ronald Goldman.
Simpson's mug shot after his arrest on murder charges.
Fans leave signs of support outside Simpson's house in June 1994.
Lead defense attorney Johnnie Cochran Jr. and prosecutor Marcia Clark face off during a hearing in the murder trial that riveted a nation.
"If it doesn't fit, you must acquit"
was defense attorney Cochran's mantra during the trial. Here, Simpson tries on a leather glove tied to the crime scene at his murder trial on June 15, 1995.
Simpson cheers with his attorneys F. Lee Bailey, left, and Johnnie Cochan Jr. on October 3, 1995, after being found not guilty of killing Nicole Brown Simpson and Ronald Goldman. Though cleared of criminal charges, a civil jury later slapped the former football star with a $33 million wrongful-death judgment, and attorneys for the Goldman family have doggedly pursued his assets.
Simpson continued to encounter legal problems, including a "road rage" trial in the Miami area in October 2001. He was found not guilty on charges stemming from a traffic altercation with another motorist.
Simpson appears in court with attorneys Gabriel Grasso, left, and Yale Galanter before sentencing in the sports memorabilia case in December 2008 in Las Vegas. Simpson contended he was retrieving personal items that had been stolen from him and were being sold as memorabilia. He is now accusing Galanter of having a conflict of interest and failing to mount an effective defense.
The Palace Station hotel room, the scene of Simpson's reported confrontation with sports memorabilia dealers, is displayed on a monitor during Simpson's trial in September 2008.
Simpson embraces his sister, Carmelita Durio, while his friend Tom Scotto looks on in court after a guilty verdict was reached in October 2008. Simpson was convicted of leading a group of associates into a room at the Palace Station hotel and casino and using threats, guns and force to take back items from two dealers.
The rise and fall of O.J. Simpson
The rise and fall of O.J. Simpson
The rise and fall of O.J. Simpson
The rise and fall of O.J. Simpson
The rise and fall of O.J. Simpson
The rise and fall of O.J. Simpson
The rise and fall of O.J. Simpson
The rise and fall of O.J. Simpson
The rise and fall of O.J. Simpson
The rise and fall of O.J. Simpson
The rise and fall of O.J. Simpson
The rise and fall of O.J. Simpson
The rise and fall of O.J. Simpson
The rise and fall of O.J. Simpson
The rise and fall of O.J. Simpson
The rise and fall of O.J. Simpson
The rise and fall of O.J. Simpson
The rise and fall of O.J. Simpson
The rise and fall of O.J. Simpson
The rise and fall of O.J. Simpson
The rise and fall of O.J. Simpson