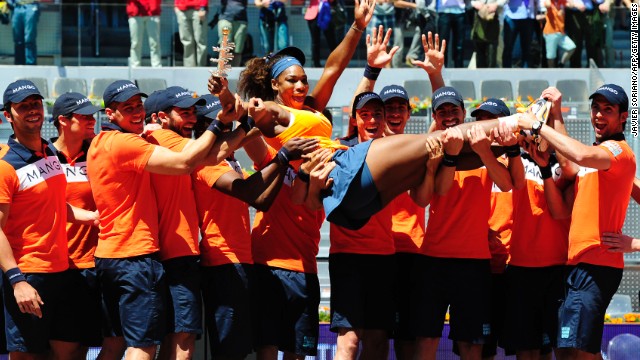 Top-ranked Serena Williams celebrates after defending her title in Madrid, beating world No. 2 Maria Sharapova in the final.
Williams has now beaten the Russian in their last 12 meetings, winning this match 6-1 6-4.
Sharapova had the chance to return to the top of the rankings but could not match Williams' power despite leading 3-1 in the second set.
In the men's tournament in Madrid, Rafael Nadal delighted his home fans by winning the Spanish tournament for the third time, beating Swiss 15th seed Stanislas Wawrinka in the final.
Serena Williams retains Madrid title
Serena Williams retains Madrid title
Serena Williams retains Madrid title
Serena Williams retains Madrid title
STORY HIGHLIGHTS
World No. 1 Serena Williams beats Maria Sharapova in final to retain Madrid title
American notches up 50th win of her career, becoming the 10th woman to do so
Williams is hoping to win the French Open for the first time since 2002
Rafael Nadal wins the Madrid men's title for the third time
(CNN) -- Serena Williams is looking forward to the "ultimate challenge" of trying to win the French Open after again proving her dominance over biggest rival Maria Sharapova and defending her Madrid title on Sunday.
The American triumphed 6-1 6-4 to retain her No. 1 ranking and claim the 50th WTA Tour crown of her career, becoming only the 10th player to do so.
The 31-year-old is the only player to have won on three different colors of clay -- and she is confident that the Madrid surface's reversion to red after the blue of 2012 will help her bid to end an 11-year wait for her second grand slam success at Roland Garros.
"This court is definitely different from last year," Williams said. "It definitely plays more like Roland Garros, so I think that's a plus. It's a little slower than it was last year and plays more like a true clay court. So I think it's great preparation. It's a good start in the right direction."
Read: Sharapova in love and in the final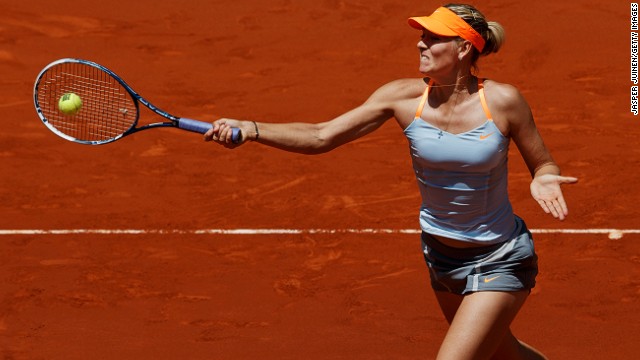 World No. 2 Maria Sharapova won through to the final of the Madrid Masters after beating Serbia's Ana Ivanovic 6-4 6-3 in the semis.
Ivanovic, a former world No. 1 now ranked 16th, was unable to repeat the form of her quarterfinal victory over German sixth seed Angelique Kerber.
Defending champion Serena Williams will seek to retain her No. 1 ranking by beating Sharapova for the 12th consecutive time in the final.
The American became the first women's player to reach 30 wins this season as she defeated Italian seventh seed Sara Errani 7-5 6-2 to set up a chance of her 50th career title.
Rafael Nadal reached the men's final in Madrid for the fourth time, beating fellow Spaniard Pablo Andujar -- who made it to the semis after being given a wild-card entry into the tournament.
Nadal will next face Swiss 15th seed Stanislas Wawrinka, who upset world No. 6 Tomas Berdych of the Czech Republic in three sets in the second semifinal at the Caja Magica.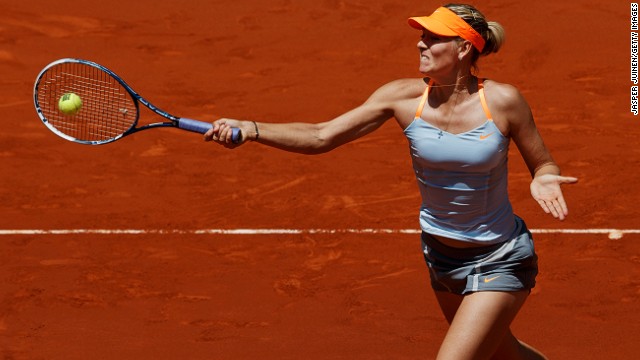 Sharapova faces Serena in Madrid final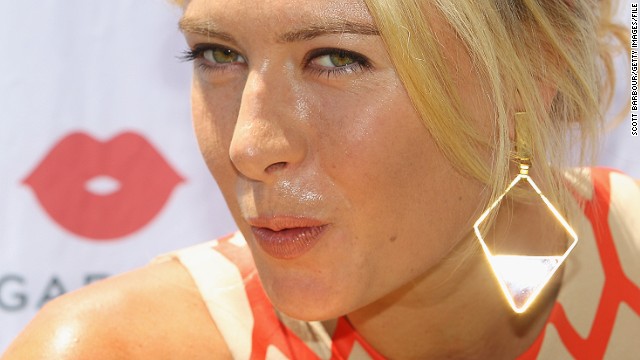 Maria Sharapova has capitalized on her on-court success by becoming one of tennis' most successful brands.
Her partnership with longtime agent Max Eisenbud has made her the highest-paid female athlete on the planet. They met 15 years ago when Sharapova was training at the IMG Academy in Florida. "There was so much going on and so many kids, so many parents to take care of, so it was actually fun to see him juggle all those different things and maintain a very clear vision of what he wanted to do," Sharapova recalls.
Pictured here during a shoot for CNN's tennis show Open Court, they are already plotting her future after tennis -- but she plans to play for several more years yet.
Sharapova with two of the most important men in her life -- hugging her father Yuri after winning her first grand slam title at Wimbledon as a 17-year-old in 2004, while Eisenbud looks on.
That success allowed Eisenbud to court major sponsors, and helped Sharapova launch her own perfume among other non-tennis sidelines.
Sharapova has long been associated with Nike, and signed a reported eight-year deal with the sportswear giant in 2010 that could be worth up to $70 million.
Part of that sum includes royalties from her fashion collection with Nike subsidiary Cole Haan. Sharapova is pictured here at a promotional event in Tokyo in 2009.
Sharapova's "Sugarpova" candy collection is her first independent venture. "Everyone loves a treat and everyone loves candy. When I was young and I would finish a practice, what would I ask for? I would ask for little lollipops," she told Open Court.
Her portfolio of endorsements keeps growing -- in April 2013 she was named as a brand ambassador for German car manufacturer Porsche. She has now won the tournament it sponsors two years in a row.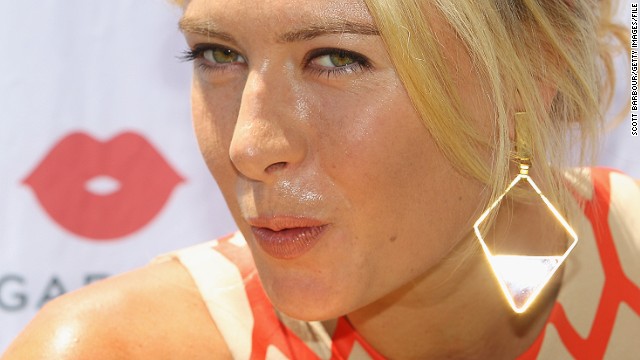 Brand Max: Maria Sharapova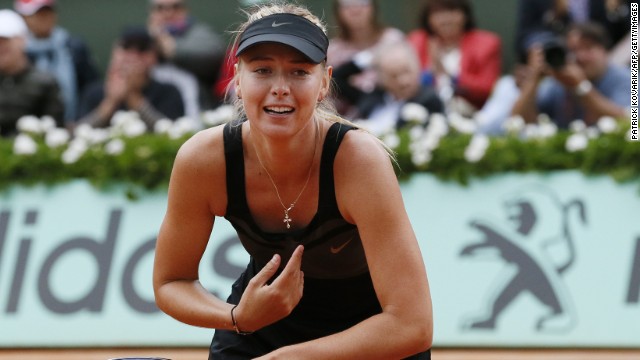 Maria Sharapova won the French Open last year to become the 10th woman to claim all four grand slams. But she plans on playing for several years before pursuing her business interests.
At Roland Garros, Sharapova won her first major after undergoing shoulder surgery in 2008. Some thought she would never triumph at a grand slam following the injury.
After a win in Montreal in July 2008, an MRI revealed that Sharapova had two tears in the tendon of her serving shoulder.
Sharapova attempted a comeback in 2009 when she played doubles in Indian Wells. But she still wasn't ready to return.
Once self described as a "cow on ice" on clay, Sharapova began her clay-court campaign last year by beating Victoria Azarenka in the Stuttgart final.
Sharapova defeated Li Na in last year's final of the Italian Open, the perfect buildup to the French Open. Sharapova and Li are the two highest-paid female athletes in the world and share the same agent.
Sharapova launched her own premium candy line, Sugarpova, with individual bags selling for $5.99. She has plans to expand to more markets, including Asia.
Max Eisenbud, Sharapova's agent, first met the player when she was 12 at the renowned IMG Academy in Bradenton, Florida. Sharapova still lives nearby.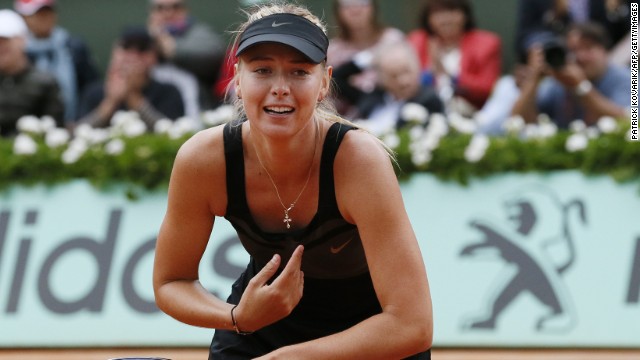 Tennis still Sharapova's top priority
Last year Williams fell at the first hurdle in Paris -- a tournament she won back in 2002 -- before going on to triumph at Wimbledon, the Olympics, the U.S. Open and the season-ending WTA Championships.
"It is the ultimate challenge," Williams said. "Whether I reach it, I don't know. I'm not going to put that pressure on myself.
"I wanted to do it last year and I didn't get it. So this year I'm just looking forward to Rome, and then after that Roland Garros."
Williams has now beaten second-ranked Sharapova in their past 12 meetings, and was in control for most of the match despite trailing 3-1 in the second set.
"I don't know if her start was shaky, but I felt I played well in the first few games -- playing such a great athlete and great tennis player like Maria, you have to come out and play well. I had no choice," she said.
"She definitely started playing better in that second set -- I think she came out with a different game plan. I missed a very crucial point in that first game, but after that I just had to refocus."
Read: The man behind Maria's millions
Williams is now three wins behind Monica Seles on the WTA list, but a long way behind Martina Navratilova's record 167.
"I don't know how many more I can win. Like I say every day, 'Who knows if I'll ever win another title?' I just want to live in the moment," said Williams, who returned to action in 2011 after a long injury break that caused life-threatening blood clots on her lungs.
"I feel like every moment I play -- I don't know if it's because of what I went through -- I feel like I'm so fortunate to be out there and healthy and to have an opportunity to play a sport and be really good at it.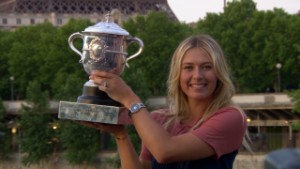 The story behind Sharapova's success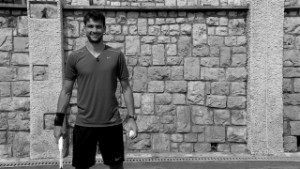 Can 'Baby Federer' become a champion?
"Hopefully I can just keep it going."
Sharapova arrived in Rome having retained her Stuttgart title, but the Russian was once again unable to stand up to Williams' power.
"Obviously it's tough losing in the final today, but I think my preparation so far has been decent, winning a title in Stuttgart and getting to the final in this tournament for the first time," the 26-year-old said.
"One more tune-up to go before Roland Garros, and everything seems to be going well."
Rafael Nadal is in fine shape to defend his French Open title after winning a record-extending 23rd Masters level tournament in Madrid on Sunday.
The Spaniard crushed Swiss 15th seed Stanislas Wawrinka 6-2 6-4 in the final to claim his fifth crown since returning from longterm knee problems in February.
The 26-year-old joined Thomas Muster in equal second on the Open Era clay titles list with his 40th success on the surface. They are six behind Guillermo Vilas.
Wawrinka can take some consolation in that he will return to the top-10 rankings for the first time since 2008.
It was Nadal's third title in Madrid, where he has been runner-up twice.