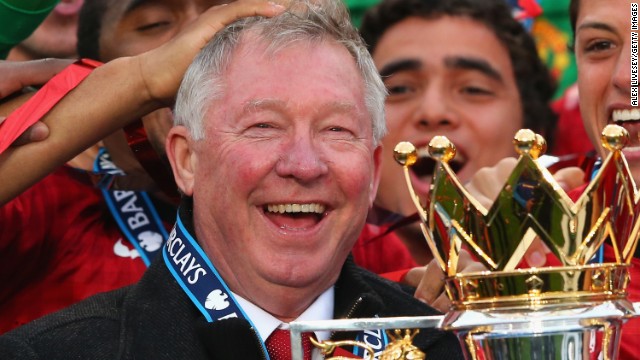 Alex Ferguson with the English Premier League trophy after Manchester United's 2-1 win over Swansea.
It marked the 71-year-old's final home match in charge, having announced last week that he will retire at the end of this season.
United fans braved the rain to pay their respects, with tickets reportedly being sold on the black market for more than 10 times their face value.
Ferguson's final and 1,500th match as United manager will be away to West Brom.
Ferguson walked onto the pitch at Old Trafford through a guard of honor formed by the United and Swansea City players.
United's late winner was scored by veteran Rio Ferdinand, who Ferguson signed as the most expensive defender in British football history in 2002.
Ferguson did not select Wayne Rooney in his match-day squad, and later revealed that the England striker has asked to leave United.
United fans farewell Alex Ferguson
United fans farewell Alex Ferguson
United fans farewell Alex Ferguson
United fans farewell Alex Ferguson
United fans farewell Alex Ferguson
United fans farewell Alex Ferguson
United fans farewell Alex Ferguson
STORY HIGHLIGHTS
Alex Ferguson farewells Manchester United fans with 2-1 home victory on Sunday
Scot is retiring after more than 26 years in charge at the English soccer club
His 1,500th and final match will be at West Bromwich Albion next weekend
Ferguson confirms that striker Wayne Rooney has asked to leave United
(CNN) -- It was a fitting end to a remarkable era -- Alex Ferguson celebrated his final home game as manager of Manchester United with a dramatic late victory against Swansea on Sunday.
While the result made no difference to either side's season, the jubilation that followed a rare winner from veteran defender Rio Ferdinand brought echoes from some of the 71-year-old's long list of triumphs in more than quarter of a century at the helm.
"My retirement doesn't mean the end of my life at the club. I will be able to enjoy watching them rather than suffering with them," Ferguson told the crowd in pouring rain at Old Trafford, which included his 11 grandchildren in the stands.
"But if you think about it, those last-minute goals, comebacks, even the defeats, are all part of this great football club of ours. It's been an unbelievable experience so thank you for that.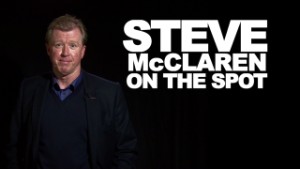 McClaren: Ferguson's recipe for success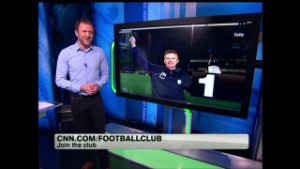 CNN FC: Moyes replaces Ferguson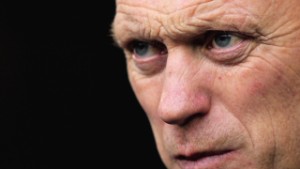 McClaren: Moyes was the right choice
"I'd also like to remind you that when we had bad times here the club stood by me, the players stood by me, and your job now is to stand by our new manager. That is important."
Read: Underdog's shock FA Cup success
Ferguson's replacement will be David Moyes, who is leaving United's English Premier League rivals Everton after more than a decade as manager.
He will begin preparations for United's title defense when he formally takes over in July, with Ferguson's legacy being 13 league championships, two European Cups, five FA Cups, four League Cups, one European Cup Winners' Cup and one FIFA Club World Cup.
This season United regained the EPL crown from bitter rivals Manchester City, securing it with four games to play.
"It has been the most fantastic experience of my life. Thank you," said Ferguson, the most successful manager in English football.
"I have been very fortunate, I've been able to manage some of the greatest players in the country let alone Manchester United.
"All these players here today, they have represented our club the proper way and have won a championship in fantastic fashion. Well done to the players."
Read: End of an era as Fergie retires
United took the lead six minutes before halftime through striker Javier Hernandez, but Swansea stunned the home fans when Michu volleyed in at the near post just four minutes after the interval for his 18th league goal this season.
If the Spaniard's effort was a typically predatory strike, Ferdinand's stunning 87th-minute volley came out of the blue -- the former England center-back's first goal in more than five years.
It also capped a home farewell for 38-year-old midfielder Paul Scholes, who announced on Saturday that he is retiring for the second time and will return to the club's coaching ranks.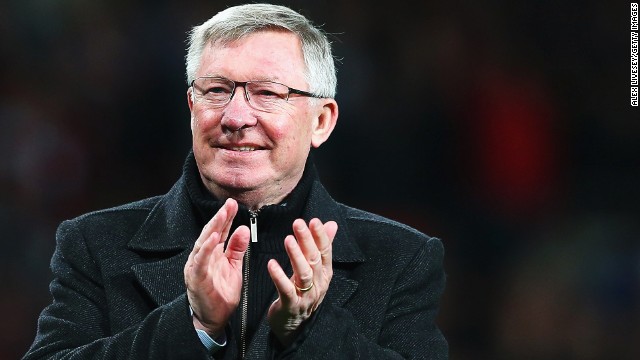 Alex Ferguson has announced he is retiring at the end of this season, having won his 13th English Premier League title in more than 26 years as manager of Manchester United.
The 71-year-old is the most successful and longest-serving manager in United's history, having also won two European Champions League crowns, five FA Cups and four League Cups.
Ferguson survived a difficult first four years at Manchester United before winning a title -- the 1990 FA Cup. Here he celebrates with Bryan Robson, who became the first United captain to lift the trophy three times after beating Crystal Palace 1-0 in the final replay.
Ferguson lifted the European Cup Winners' Cup for the second time in his career in 1991, when United beat Barcelona 2-1 in the final. He had previously won the now defunct tournament with Scottish club Aberdeen.
In 1993, United won the English title for the first time in 26 years, and Ferguson took the club on a tour of South Africa, where he met Nelson Mandela before the ANC leader became the country's first post-apartheid president.
Ferguson celebrates with his assistant Brian Kidd after United won the Premiership again in 1994, then went on to secure a domestic double by beating Chelsea in the FA Cup final. United repeated the feat in 1996.
Ferguson with his grandson Jake before the 1999 FA Cup final victory against Newcastle that sealed United's third double in six years.
Just four days later, United completed a treble with an incredible last-gasp win over Bayern Munich in the Champions League final. Ferguson and keeper Peter Schmeichel hold the trophy in Barcelona.
Ferguson tried to retire more than a decade ago, announcing at the start of the 2001-02 season that it would be his last. However, he changed his mind the following February but United failed to reach the Champions League final -- which was to be played in his native Glasgow.
Another European title followed in 2008, but Barcelona handed United disappointment in the 2009 and 2011 finals. However, Ferguson and his players still earned a parade the latter season after winning a record 19th English league title -- the Scot's 12th.
The next season, United commemorated Ferguson's 25 years as manager on November 5, 2011.
As a player, Ferguson was a prolific goalscorer for Scottish clubs St. Johnstone and Dunfermline, but his big move to Glasgow Rangers in 1967 proved disappointing and he left two years later. He ended his playing days at Ayr in 1974 without winning a major honor.
Ferguson made his name as a manager at Aberdeen. His fourth Scottish Cup win in 1986 was his last success with the Dons, having won three Scottish league titles and the 1983 European Cup Winners' Cup -- beating mighty Real Madrid in the final.
Ferguson, who briefly managed Scotland at the 1986 World Cup, overhauled the squad at Old Trafford and introduced some of the finest players to grace the EPL in the past two decades.
Arguably the most important signing was that of French forward Eric Cantona, a $1.9 million bargain from Leeds who led United's surge to dominance in the 1990s.
The 1993 addition of young midfielder Roy Keane in a then British record transfer fee of £3.75 million from Nottingham Forest provided United with a ferocious future captain.
Ferguson also introduced young talent such as David Beckham, Ryan Giggs, Paul Scholes and the Neville brothers Gary and Phil -- who all went on to become integral members of his team.
Ferguson played a key role in resurrecting the career of Beckham, who had been vilified by England fans after being sent off during the 1998 World Cup defeat by Argentina.
Ferguson famously beat United's rivals Manchester City to sign Giggs as a teenager, and the Welsh winger has repaid his faith by staying with the club until the present day.
Ferguson's signing of Cristiano Ronaldo in 2003 paid off as the Portugal forward fired United to Champions League glory in 2008 and was named world player of the year -- the first from the EPL to do so -- before joining Real Madrid in a record $130 million deal.
Ferguson is well known for his fiery temper and his motivational skills.
In 2003, he infamously kicked a boot into the face of Beckham in the dressing room after a match, but refused to apologize. "If I'd tried it 100 times or million times, it wouldn't happen again," he said. "If it did, I would carry on playing."
United striker Wayne Rooney said Ferguson's team talk ahead of the 2008 Champions League final against Chelsea in Moscow "made the hairs on the back of your neck stand up." United denied the London side a first European title after a penalty shootout.
United reached the final again the following season, but lost to Barcelona. Here Ferguson speaks with Britain's Prince William at the Stadio Olimpico in Rome, Italy.
Ferguson's last match on the European stage was a defeat by Ronaldo's Real Madrid in the Champions League Round of 16 second-leg match at Old Trafford on March 5, 2013.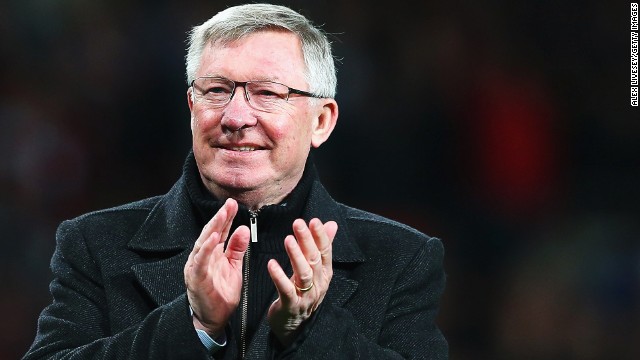 In pictures: The reign of Alex Ferguson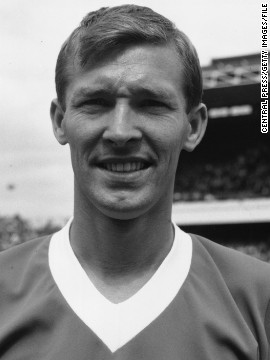 As a player, Alex Ferguson enjoyed a moderately successful career. A prolific striker, he scored 170 goals in 317 appearances including 25 goals in 41 appearances for Glasgow Rangers.
Ferguson was appointed manager of Aberdeen in 1978. In addition to three Scottish First Division titles, Ferguson guided the club to an impressive triumph over Real Madrid in the 1983 European Cup Winners' Cup.
Ferguson was assistant to Scotland coach Jock Stein during the qualifying campaign for the 1986 World Cup. Scotland secured a 1-1 draw against Wales in their final game to reach the tournament, but Stein collapsed and died following the final whistle in Cardiff.
A late winner from substitute Mark Robbins in an FA Cup replay against Nottingham Forest in January 1990 allegedly spared Ferguson the sack. United went on to beat Crystal Palace at the second attempt in the final, giving Ferguson his first trophy at Old Trafford.
The Scot originally planned to retire from management at the end of the 2001-02 season. But, after helping the team recover from a slip in form which saw them drop as low as ninth in the Premier League table, Ferguson reversed his decision in February 2002 and signed a new three-year contract.
A boot flew into the face of Manchester United's star midfielder David Beckham after Ferguson lost his temper following a 2-0 FA Cup defeat to Arsenal in February 2003. Beckham had to be held back following the incident and he joined Real Madrid ahead of the following season.
Ferguson's finest hour arrived in Barcelona in May 1999, when his United team came from 1-0 down in the 90th minute to beat Bayern Munich 2-1 in the European Champions League final. The win completed an historic treble of titles won during the 1998-99 season, which included the Premier League title and the FA Cup.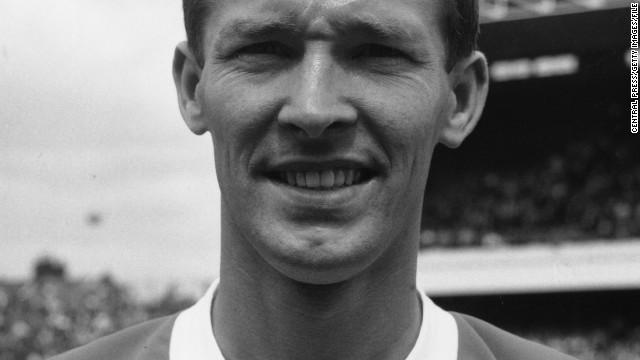 The seven moments which define Alex Ferguson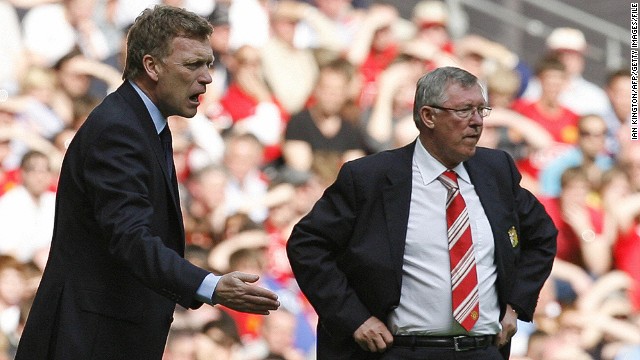 Everton manager David Moyes (left) and Manchester United's soon-to-retire boss Alex Ferguson (right) are pictured during the FA Cup semifinal match between their two teams at Wembley Stadium in April 2009. United announced Wednesday that Ferguson, 71, will be retiring at the end of the season after more than a quarter of a century at the helm.
Jose Mourinho, who is now Real Madrid coach, and Moyes look on during the FA Cup fourth round match between Everton and Chelsea at Goodison Park in January 2006 in Liverpool. Both men were potential candidates to replace Ferguson, before Moyes agreed a six-year deal with United.
Moyes is pictured prior to kick off during the English Premier League match between Everton and Fulham at Goodison Park last month. Moyes is leaving Everton at the end of the season after he told the Merseyside club's chairman Bill Kenwright of his desire to join United and succeed Ferguson.
Moyes urges on his team during the English Premier League match between Arsenal and Everton at the Emirates Stadium in north London last month. The Scot is considered to have done a superb job at Goodison Park given the relatively small financial resources he had at his disposal.
Moyes attends the 24th Hillsborough Anniversary Memorial Service at Anfield last month in Liverpool. Thousands of fans, friends and relatives took part in the service to mark the death of 96 football fans in an FA Cup semifinal match in April 1989.
Other notable attendants of the Hillsborough memorial service were: (from back row, left to right) Everton chairman Bill Kenwright, Moyes, Liverpool manager Brendan Rogers, Liverpool players Steven Gerrard, Jamie Carragher, Jordan Henderson, Liverpool managing director Ian Ayre, Linda Pizzuti and her husband -- Liverpool's principal owner John W Henry -- and club chairman Tom Werner.
Moyes was made an Honorary Fellow for Outstanding Contributions to football and sportsmanship, by Liverpool John Moores' University during its annual graduation ceremony at the city's Anglican Cathedral in July 2011.
Harry Redknapp -- then Tottenham manager, but now Queens Park Rangers boss -- and Moyes are pictured together after the Sir Bobby Robson Memorial Service at Durham Cathedral in September 2009. Former England manager Robson died aged 76 following a long battle with cancer.
The family of murdered 11-year old boy Rhys Jones stand next to Moyes during a minute's appreciation before the start of the Premier League match between Everton and Blackburn Rovers at Goodison Park in August 2007. Rhys died after being shot in the neck as he played football with friends outside the Fir Tree pub in Croxteth, Liverpool in August.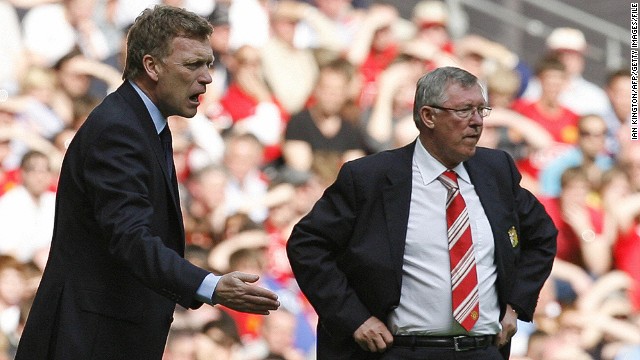 David Moyes: Alex Ferguson's successor
"Paul is one of the greatest players this club has ever had and ever will have," said Ferguson, who brought Scholes into the first team from the youth ranks along with a "golden generation" that included David Beckham, Ryan Giggs and Gary Neville.
"I wish you a great retirement and I know you will still be around annoying me!" added the Scot, who will remain at Old Trafford as a director on the board and as a club ambassador.
Read: Moyes named as Ferguson's successor
One player who didn't feature in the match was England striker Wayne Rooney, who watched from the stands before joining the celebrations on the pitch.
Ferguson later confirmed that Rooney has asked to leave the club, so he thought it was best to give the 27-year-old time to reflect on his decision.
"I think he wants to think it through in his mind -- I think that's a good idea. We're not going to let him go," Ferguson said.
"I think maybe he is a bit frustrated. He has been taken off once or twice in the past couple of weeks."
Ferguson also revealed that he had made his decision to retire last December because he wanted to spend more time with his wife Cathy, who had recently lost her sister.
The win put United 13 points clear of City ahead of Ferguson's 1,500th and final United game away to West Brom next Sunday.
City's season suffered another setback on Saturday with a 1-0 defeat to lowly Wigan in the FA Cup final, which has sparked speculation that manager Roberto Mancini will be sacked.
While City sealed the second of England's Champions League places last weekend, the other two are still up for grabs.
Tottenham moved above London rivals Arsenal into fourth place with a 2-1 win at Stoke on Sunday, as Emmanuel Adebayor scored the decisive goal with seven minutes to play.
Stoke led early through Steven Nzonzi but Clint Dempsey -- who set up Adebayor's winner -- equalized before the home side had Charlie Adam sent off just after halftime.
Arsenal can regain fourth place with victory over Wigan on Tuesday in a match that the third-bottom team needs to win to have any chance of avoiding relegation.
Moyes will leave Everton in sixth place following a 2-0 win over West Ham, with both goals coming from Belgian striker Kevin Mirallas.
Liverpool stayed seventh with a 3-1 win at Fulham as a hat-trick from striker Dean Sturridge meant the London side may need a point in the final round to avoid relegation.
Newcastle and Norwich both won on Sunday to ensure another season in the top flight, respectively beating bottom club Queens Park Rangers 2-1 and eighth-placed West Brom 4-0.
Sunderland could have condemned Wigan to the drop just a day after the club's biggest success at Wembley, but drew 1-1 with Southampton to stay in the relegation mix.