STORY HIGHLIGHTS
The sheriff of Caroline County, Virginia, reviews the burial of Tamerlan Tsarnaev
"All paperwork is in order at this point," he says, suggesting burial is legal, can't be undone
County officials weren't consulted in advance, then expressed surprise and dismay
Sheriff: County is "now connected to this tragedy in the most unsavory way "
(CNN) -- The sheriff of a small Virginia county, where residents and officials alike had expressed dismay over the burial of a Boston bombing suspect within their midst, said Saturday that it appears "all paperwork is in order at this point," suggesting the interment was legal and nothing can be done about it.
The previous day, when news came out that Tamerlan Tsarnaev had been buried in Caroline County, local officials said they would review the matter to make sure all protocols were followed.
And if they weren't, county board of supervisors chairman Floyd Thomas said Friday, "We would look into undoing what happened."
Caroline County Sheriff Tony Lippa said, in a statement Saturday, that he and David Storke -- the mayor of Bowling Green, Virginia, who also owns a funeral home -- spent Friday night reviewing the case. That includes looking at Tsarnaev's death certificate, burial permit official disposition, a removal or transportation permit from Massachusetts and deeds recorded at the Caroline County Circuit Court.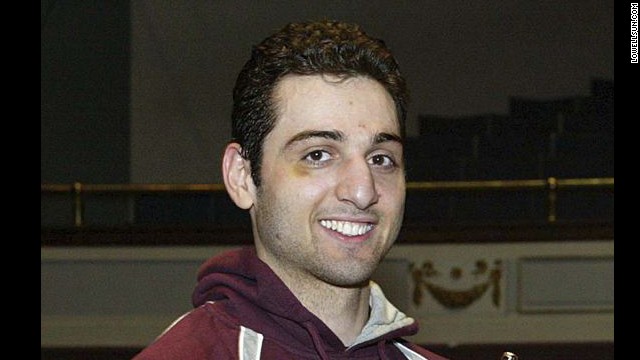 Police say the dead suspect, Tamerlan Tsarnaev, is the man the FBI identified as Suspect 1. He was killed during the shootout with police in Watertown, Massachusetts, on April 19, 2013. He is pictured here at the 2010 New England Golden Gloves.
Dzhokhar Tsarnaev, identified as Suspect 2, was captured in a Boston suburb on April 19, 2013, after a manhunt that shut down the city. In July, he pleaded not guilty to killing four people and wounding more than 200.
From left, Azamat Tazhayakov and Dias Kadyrbayev went with Boston bombing suspect Dzhokhar Tsarnaev to Times Square in this photo taken from the social media site VK.com. A federal grand jury charged Tazhayakov and Kadyrbayev with obstructing justice and conspiracy to obstruct justice on Thursday, August 8. Both had been arrested and charged in May 2013, but only with the conspiracy count.
Robel Phillipos, a U.S. citizen, was also arrested on May 1, 2013. He was charged with lying to federal agents about the bombing, according to court papers.
Phillipos, Tazhayakov and Kadyrbayev are accused of removing items from Tsarnaev's dorm room after the bombings on April 15, 2013. The items they took included a backpack containing fireworks that had been "opened and emptied of powder," according to the affidavit.
Kadybayev, left, poses with Dzhokhar Tsamaev in a picture taken from the social media site VK.com.
The FBI released photos and video on April 18, 2013, of two men identified as Suspect 1 and Suspect 2 in the deadly bombings at the Boston Marathon. They were later identified as Dzhokhar Tsarnaev, 19, and his brother Tamerlan Tsarnaev, 26.
Boston Police released surveillance images of Dzhokhar Tsarnaev at a convenience store on April 19, 2013.
The FBI tweeted this photo on April 19, 2013, and urged Watertown residents to stay indoors as they searched for the second suspect.
The FBI released photos and video on April 18, 2013, of two men it called suspects in the deadly bombings and pleaded for public help in identifying them. The men were photographed walking together near the finish line.
A man identified as Suspect 2 appeared in this photograph by bystander David Green, who took the photo after completing the Boston Marathon. Green submitted the photo to the FBI, he told Piers Morgan in an interview.
The man identified as Suspect 2 appears in a tighter crop of David Green's photo.
Authorities later identified Suspect 1 as Tamerlan Tsarnaev.
Suspect 2 was identified as Dzhokhar Tsarnaev.
Suspect 1 walks through the crowd.
Suspect 1 walks through the crowd.
Suspect 1 walks through the crowd.
Both suspects are seen walking through the crowd.
Suspect 2 walks through the crowd.
Suspect 2 walks through the crowd.
A photo released by the FBI highlights Suspect 2.
A photo released by the FBI highlights Suspect 2.
Suspect 2 walks through the crowd. See all photography related to the Boston bombings.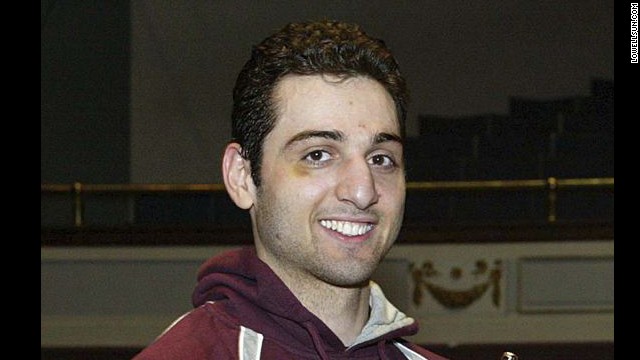 Photos: Suspects tied to Boston bombings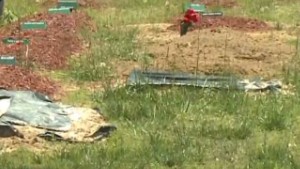 County official: Burial was news to us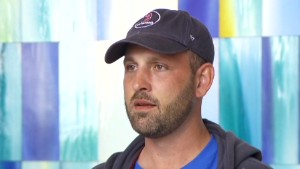 Boston bomb survivor heads home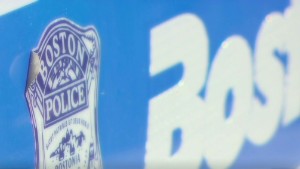 Were there warnings before Boston?
Those checks did not turn up anything to indicate the burial was done improperly. In Caroline County, local officials do not need to be consulted or have to approve the burial of a person on county land in advance.
Source: Russia withheld details about Tsarnaev
"Like the rest of America, the citizens of this county were outraged by the Boston Marathon bombings. We too mourned the loss of life, prayed for the survivors and offered our support," Lippa said.
"Unfortunately, we now find ourselves forever connected to this tragedy in the most unsavory way, as the final resting place of one of the alleged terrorists."
As Thomas pointed out, Tamerlan Tsarnaev had "no ties to Caroline County."
His body ended up there nearly a month after he died following a shootout with police just outside Boston, which took place days after the bombing. Most recently, his body was in a funeral home in Worcester, Massachusetts, where protesters appeared frequently outside amid calls for him to be sent back to where his parents live in southern Russia.
That was until a Virginia woman named Martha Mullen came into the picture, reaching out to representatives of her church plus local Muslim, Jewish and Hindu representatives in an effort to find a final resting place for Tsarnaev, according to the Islamic Society of Greater Richmond.
Mullen also talked with her local pastor about the moral implications of her spearheading the effort.
What did suspected bomber's widow know?
"Jesus tells us, 'Love your enemies,'" she said, according to the Islamic Society. "Not to hate them, even after they are dead."
On Thursday morning, Tsarnaev was buried in an unmarked grave in Al-Barzakh Muslim Cemetery in Doswell, Virginia. Tsarnaev's uncle Ruslan Tsarni was a point man in the effort, and he expressed "outrage" that Tsarnaev's own parents "have not been here for their children."
The burial caught people off guard in Caroline County, which has about 30,000 residents. In addition to voicing confusion and disgust, officials expressed concerns that the grave site might become a target for protesters or vandals.
A sheriff's deputy was posted there after the news broke Friday. There were no incidents reported that night and into Saturday, according to the county sheriff's office, which added that the cemetery will get "no more and no less" protection than any other cemetery.
CNN's Lawrence Crook III, Jason Hanna, Justin Lear and Ashley Fantz contributed to this report.