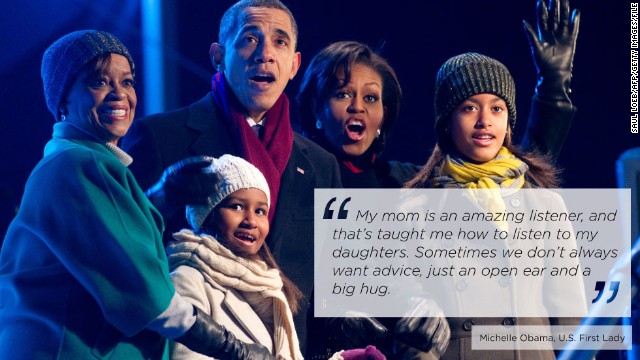 By
Lauren Said-Moorhouse
&
Tara Kelly
, for CNN. In honor of Mother's Day, CNN asked some of the world's remarkable leading ladies: "What is the greatest lesson your mother taught you?" Michelle Obama has made her family a priority despite her demanding role as First Lady of the United States.To aid her and her husband in raising their children Malia and Sasha, the First Lady's mother, Marian Robinson moved into the White House. Robinson is often seen at public family events such as turning on the lights of the National Christmas Tree during a ceremony on the Ellipse near the White House in Washington, DC, December 9, 2010 (pictured).
Melinda Gates
is a distinguished American businesswoman who is well-known for her philanthropic efforts as the co-chair of the
Bill and Melinda Gates Foundation
. She is pictured here with her mother and grandmother in 1978.
Carolina Herrera
has become a household name through her luxury fashion house, which she started three decades ago. A former guest on Leading Women, she revealed
how she turned being chic into a business
with admirers including Jackie Onassis, Renee Zellweger and Tina Fey.
Venezuelan-American designer
As one of the leading women of tech,
Elif Shafak is a renowned award-winning writer from Turkey. She has been described as "one of the most distinctive voices in contemporary Turkish and world literature" and has received the honorary distinction of Chevalier of the Order of Arts and Letters.
Christiane Amanpour
is CNN's chief international correspondent and anchor of nightly foreign affairs show,
Amanpour
. She has reported from every major world news event and hotspot, including Iraq, Afghanistan, North Korea as well as having interviewed most of the world's leaders, including Moammar Gadhafi, Hosni Mubarak, Tony Blair, Jacques Chirac and Hamid Karzai.
Arianna Huffington
is best known for the internet-based news website,
The Huffington Post
. However, not content with roles as president, chair and editor-in-chief of the Huffington Post Media Group, the
Greek-American has also had success
as an author and columnist.
A woman of many talents,
Sudanese-born supermodel Alek Wek
has taken runways by storm since emerging on the world's fashion scene in 1994. Since 2002, she has been an ambassador for the United Nations High Commission for Refugees. She told CNN: "My mother had nine children, and raised us through two civil wars and raised us through exile, she has always had great strength and has always been so resilient, and her resilience when I look back is humbling. She always made us feel safe, she always just got on with things and protected us."
Kristie Lu Stout
, one of the hosts of CNN's Leading Women, is an award-winning anchor/correspondent based in Hong Kong. She is also the host of the nightly news program News Stream and CNN's monthly feature On China.
15 years old
, Vanessa Mae is an internationally-renowned musician who is currently training to compete in the 2014 Winter Olympics in Sochi. While she does not have a close relationship with her mother, Vanessa remains extremely close with her grandmother Kim Chua (pictured together in Zermatt, Switzerland).
Breaking on to the world stage at
Dr Maggie Aderin-Pocock (pictured right) is a well-known space scientist from England. The photograph she has provided to Leading Women was taken at Buckingham Palace when she was awarded a Member of the British Empire by the queen in 2009. She says: "As an adult it was wonderful to have my mom beside me as I was given a medal from the Queen of England for services to Science and Education."
Caroline Mutoko
is an
influential radio presenter
on Nairobi's Kiss 100 FM radio station, part of the Radio Africa brand. She is pictured with her young daughter Nduku.
Felicia Taylor
is an anchor and correspondent for CNN International. She is also one of the hosts of Leading Women.
Yoko Ono is a Japanese musician and artist who was married to John Lennon. She has spent many years as an active campaigner for peace and women's rights.
Forbes
ranked her 12th in their Power Women list.
Indian-American business executive Indra Nooyi is the present chairperson and CEO of PepsiCo. Last year,
Michelle Obama
Melinda Gates
Carolina Herrera
Sheryl Sandberg
Elif Shafak
Christiane Amanpour
Arianna Huffingon
Alek Wek
Kristie Lu Stout
Vanessa-Mae
Maggie Aderin-Pocock
Caroline Mutoko
Felicia Taylor
Yoko Ono
Indra Nooyi