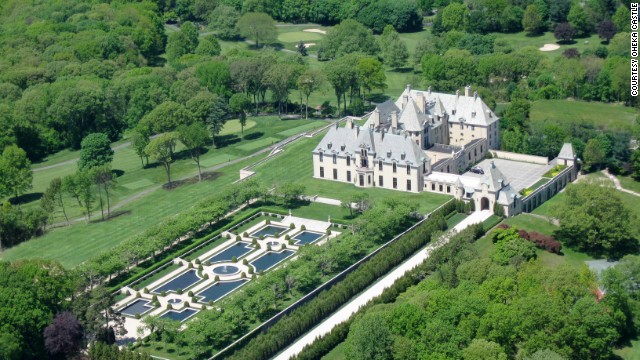 Take a heady trip back to Jazz Age opulence on Long Island's Gold Coast, a wealthy retreat near New York City where F. Scott Fitzgerald set "The Great Gatsby."
Oheka Castle
, completed in 1919, was owned by financier and philanthropist Otto Hermann Kahn. The cost of construction at the time? $11 million ($110 million in today's dollars). Not bad for a summer home.
"Gatsby"-themed package
available, and
public tours are offered by appointment.
In the 1920s, Kahn and his family hosted lavish parties for the rich, famous and well-connected in the 127-room chateau. At one time the family employed 126 full-time servants.
Today, Oheka Castle houses a hotel, where rates range from $395 to $1,095. There's a
Now it's a park
where Coindre Hall, built in the style of a French chateau, serves as an elegant event venue.
Overlooking Huntington Harbor, this estate was built for pharmaceutical giant George McKesson Brown in 1912.
Glen Cove Mansion Hotel and Conference Center
, where rates start at $159 through Labor Day.
Originally known as The Manor, the 1910 Glen Cove Mansion was the centerpiece of a 55-acre estate of John Teele Pratt and Ruth Baker Pratt. John was an attorney and an executive with Standard Oil Co., and Ruth, a Republican, was the first congresswoman from New York. The home has been converted into
Spanish Revival mansion Eagle's Nest
was built in stages between 1910 and 1936. Architectural firm Warren & Wetmore designed the mansion. The firm also designed New York's Grand Central Terminal for the New York Central Railroad, one of the Vanderbilt family's businesses.
William K. Vanderbilt II's 24-room
can tour the 43-acre complex
, which includes the mansion and grounds, a marine and natural history museum and a planetarium.
The mansion's rooms are filled with antique furnishings, artwork, family photos and portraits. Visitors
The mansion's Spanish style is unusual among the grand estates of Long Island.
Charles II-style mansion Westbury House was completed in 1906. It was the home of John S. Phipps and Margarita Grace Phipps and their children. It's furnished with fine antiques from the family.
Guided tours are offered
, and the estate hosts special events, including concerts and school programs.
The house sits amid 200 acres of formal gardens, woodlands, lakes and ponds.
Falaise
was based on a Norman manor house. The home is furnished with antiques and fine art and is accessible through guided tours. Falaise is in
Sands Point Preserve
, a Nassau County park that also houses
Hempstead House
, a historic mansion built by Howard Gould and later owned by Daniel and Florence Guggenheim.
Built in 1923 for Harry F. Guggenheim and his wife, Caroline Morton, the design for
Coe Hall
, a 65-room Elizabethan-style mansion, was built from 1918-1921 by Walker & Gilette for William Robertson Coe. Coe was a marine insurance executive and his wife, Mai Coe, was the daughter of Henry Huttleston Rogers, one of the founders of Standard Oil. The house, furnished with antiques and artwork, is open for self-guided tours.
The estate is part of Planting Fields Arboretum State Historic Park, which hosts special exhibitions in a smaller home on the grounds. The arboretum covers 409 acres of lawn, woodlands and formal gardens, including this Italian garden restored in 2010.
Gilded Age glamour
Oheka Castle
Coindre Hall
Glen Cove Mansion
Frick Estate
Eagle's Nest
Eagle's Nest
Eagle's Nest
Westbury House
Old Westbury Gardens
Falaise
Coe Hall
Coe Hall