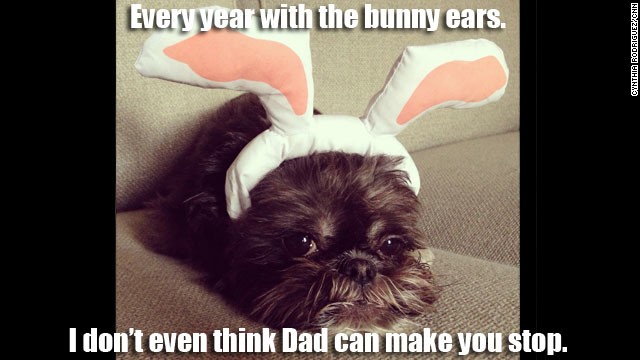 Stewie the shih tzu-Brussels griffon mix belongs to Cynthia Rodriguez, CNN.com editor for Latino audiences. He's 6 years old and not fond of headbands.
Rodriguez also has a 15-year-old Central American ornate wood turtle named Boogie.
CNN.com's senior tech director Ian Moraes, loves his beagle mix, Angel, because, "she is a sweet, loyal, playful friend and best dog that we have ever had," he said.
CNN.com senior associate producer Jacque Wilson lives with Artemis, named after the Greek goddess of the hunt. "Unfortunately, she does a lot more sleeping than hunting," she said.
Wilson also lives with Calypso, named for the character in "The Odyssey." "She's just as good at holding people hostage," Wilson said.
CNN.com producer Ann Hoevel's Pembroke Welsh corgi, Belvedere, thinks he's too good for kibble, she said. "He thinks he can convince me to feed him my food if he ignores his kibble long enough," she said.
CNN research analyst Kara Bryant rescued her chihuahua-pug mix (or chug), Bridget, during one of the company's Turner Volunteer Days.
This is Charlie, CNN.com writer Ashley Fantz's 2-year-old French bulldog-Boston terrier mix, also called a Frenchton. "He's named after Charlie Sheen," she said, because she got him when Sheen was having his meltdown, "but also goes by Charlie Tuna or Mr. Poops."
CNN.com writer Ann O'Neill's cat, Mickey, has always shown spunk, she said. When she adopted him, "he rode home on my head," she said. "In a BMW convertible. With the top down."
Daniel Jeremiah France is the Chihuahua dog-son of Lisa France, the senior producer for entertainment for CNN.com. "I love that he is so smart that he keeps himself on a schedule," she said. "He even tucks himself in the bed at night!"
CNN.com Schools of Thought editor Jamie Gumbrecht shares a home with "two-and-a-half pitties." Karl and Emma were litter mates rescued as puppies. Their "little brother," Eugene, was rescued years later, and although he looks like a pit bull, he never topped 30 pounds.
Felix, an American short hair cat, lives with Nnedike Ugoji, a member of the CNN digital marketing team. "He has such a great personality," she said, "and always looks like he's up to something."
This is Gus Williams, German shepherd and family pet of Kimberly Jones from the CNN digital marketing team. "He's both outdoorsy and pampered," she said of the dog, who goes on special hikes with other German shepherds and tags along on weekend spa getaways with his owners.
Lupee, a cairn terrier who belongs to CNN.com senior product strategy analyst Matt Henesy, has a confusing approach to the game of fetch, he said.
Maddux, the Cavalier King Charles spaniel, is owned by CNN.com video associate producer Karol Brinkley. "He loves to cuddle and be around people," she said. "There's no better place for him than in someone's lap."
This Great Dane-mixed-with-other-stuff is Mikey, the constant companion of CNN.com video producer Jarrett Bellini. "Mikey loves to go for car rides," he said. "He loves them so much, in fact, that he barfs pretty much every time."
follow his exploits and contact us
," he said. "Ultimately we found the owners, and they let us keep him!"
Mister Friendly sort of adopted CNN.com DXG user experience lead Robert Hamberger. "When he showed up in our house and decided to stay, we formulated a complicated plan to give him a name tag with a URL, so the owners could
CNN anchor Brooke Baldwin never owned a dog before she adopted her pug, Pugsley, who she also calls "killer." Not only does he think he's a person, she said, but his "two favorite words are 'ice cream!'"
CNN.com's Todd Leopold shares his home with Queenie, a cat with a decidedly feminine outlook on life.
FOR MORE PETS, CLICK THE RIGHT ARROW BELOW! CNN.com Health producer Ashley Hayes says her cat is youthful for her 16 years. "She's very busy and doesn't have much spare time," she said, "but when she does, she is an expert at seeking out patches of sunlight."
Ron, the black Labrador and Penny, the springer spaniel, belong to CNN National Desk assignment editor Stephanie Gallman. "They are wild and quirky, but loveable pups who love living at the beach, going swimming, chasing tennis balls and going on car rides," she said.
CNN.com custom content producer Katie McLaughlin is the proud pet owner of S'More the cat. "S'more was rescued from a fire as a newborn," she said. "She is adorable but always ready to attack."
CNN.com user experience architect Sophia Voychehovski's cats Zeek, the stripey cat, and Szary, the gray cat, clearly love to help her with her work.
Zoila is CNN.com mobile senior associate producer Callie Carmichael's self-conscious beagle.
Senior research librarian for CNN Amy Roberts is the proud owner of Kermit.
The pets of CNN: Stewie
The pets of CNN: Boogie
The pets of CNN: Angel
The pets of CNN: Artemis
The pets of CNN: Calypso
The pets of CNN: Belvedere
The pets of CNN: Bridget
The pets of CNN: Charlie
The pets of CNN: Mickey
The pets of CNN: Daniel
The pets of CNN: Emma, Karl and Eugene
The pets of CNN: Felix
The pets of CNN: Gus
The pets of CNN: Lupee
The pets of CNN: Maddux
The pets of CNN: Mikey
The pets of CNN: Mister Friendly
The pets of CNN: Pugsley
The pets of CNN: Queenie
The pets of CNN: Roo
The pets of CNN: Ron and Penny
The pets of CNN: S'More
The pets of CNN: Zeek and Szary
The pets of CNN: Zoila
The pets of CNN: Kermit