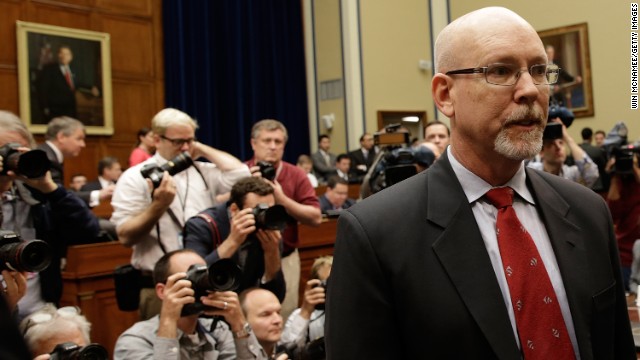 Gregory Hicks, the former deputy chief of mission in Libya, arrives for a House committee hearing on Capitol Hill on Wednesday, May 8. State Department employees testified about the terror attack on the U.S. Consulate in Benghazi, Libya, on September 11, 2012. U.S. Ambassador J. Christopher Stevens and three other Americans were killed.
View photos of the attack.
From left, Acting Deputy Assistant Secretary of State for Counterterrorism Mark Thompson; Hicks; and Eric Nordstrom, a diplomatic security officer and former regional security officer in Libya, are sworn in before the hearing. The three are testifying at the hearing investigating into whether the State Department misled the public about the assault.
Nordstrom testifies on May 8. He said in written testimony it was "inexplicable" that a followup internal State Department review ignored "the role senior department leadership played before, during, and after" the attack.
Dorothy Narvaez-Woods, center, listens as Hicks testifies. She is the widow of Navy SEAL Tyrone Woods, who was killed in the attack.
Rep. Elijah Cummings of Maryland, the ranking Democrat on the committee, left, speaks as Chairman Darrell Issa, R-California, listens. Committee Democrats accused Republicans of engaging in a "smear" campaign.
Nordstrom listens to Hicks testify. Hicks has been praised by Republicans as a "whistleblower." He has expressed concern that more could have been done by the military to protect those being attacked last year at the U.S. Consulate in Benghazi.
Thompson testifies on May 8. He is the State Department's acting deputy assistant secretary for counterterrorism.
Ray Smith, left, and Pat Smith listen as Thompson testifies. Their son Sean was one of the four Americans killed in the terror attack.
Benghazi attack hearing
Benghazi attack hearing
Benghazi attack hearing
Benghazi attack hearing
Benghazi attack hearing
Benghazi attack hearing
Benghazi attack hearing
Benghazi attack hearing
STORY HIGHLIGHTS
After Wednesday's Benghazi hearing, many on the right are shifting their aim at Hillary Clinton
The incident in Benghazi is a stain on Clinton's record as America's top diplomat
Before she stepped down, Clinton testified for hours on the Benghazi attack
Washington (CNN) -- President Barack Obama's been in the bull's eye of Republicans and conservatives since 2008, but after Wednesday's hearing on last September's terror attack in Benghazi, Libya, many on the right are shifting their aim at former Secretary of State Hillary Clinton.
Soon after the hearing by the GOP-led House Oversight Committee looking into the events surrounding the death of the U.S. ambassador to Libya and three other Americans, a recently formed pro-Republican opposition research group blasted out an e-mail with the headline "Benghazi Hearing Raises Serious Questions About Clinton."
America Rising PAC then followed up Thursday with a Web video which it says outlines "the serious questions raised about Hillary Clinton's leadership yesterday in a House Oversight Committee hearing."
The Republican National Committee and American Crossroads, the Karl Rove-backed pro-GOP super PAC, also issued e-mails critical of Clinton, America's top diplomat at the time of the attack last September 11. The group put out a web video Friday morning that asks if Clinton "was part of a coverup." And Sen. Marco Rubio of Florida, a possible 2016 GOP White House contender, criticized Clinton in an interview on Thursday on Fox News Channel.
Mother of Benghazi victim: I blame Hillary
Many Republicans see the deadly attack on the diplomatic compound in Benghazi and the initial reaction by the State Department and the White House as a huge scandal, one that they feel Democrats tried to cover up with the president's re-election, at the time, less than two months away.
The GOP accuses the administration of not bolstering security prior to the attack, of botching the response to it, and of misleading the public in its slow-to-evolve explanation of events.
They point to five TV appearances the Sunday following the attack by Susan Rice, the U.S. ambassador to the United Nations, who called the armed assault a "spontaneous protest" rather than an act of terrorism.
Many Democrats disagree and call the GOP drumbeat a "witch hunt."
While the president is definitely still in conservative's line of fire over Benghazi, 2016 politics are also at play in this story.
Obama can't run for a third term and Clinton, who's weighing a White House run, would be the instant front-runner for the Democratic nomination if she launches a bid for president.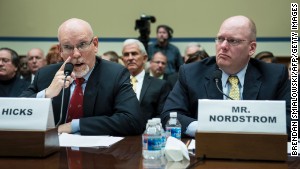 Diplomat disagrees with Clinton on Libya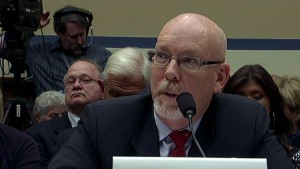 Hicks on Libya: Saddest call of my life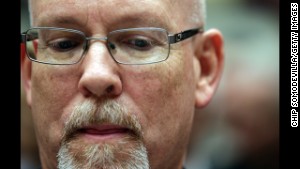 Stevens' last call: 'We're under attack'
Clinton stepped down as secretary of state with sky-high poll numbers, but the incident in Benghazi is a stain on her record at the State Department.
The question is whether it could come back to haunt her if she does seek the presidency.
Boehner calls for White House to release Benghazi emails
An independent review of the Benghazi incident, led by Adm. Mike Mullen, a former chairman of the Joint Chiefs of Staff, and former ambassador Thomas R. Pickering, discovered no wrongdoing by Clinton.
But critics noted at the time that neither Mullen nor Pickering interviewed Clinton.
Before she stepped down as planned in late January, Clinton testified for hours on Capitol Hill on the Benghazi attack. She was forceful in her defense and the conventional wisdom at the time was that she was not politically wounded.
But the story was given new legs thanks to the House hearing, which showcased the testimony of State Department whistleblowers who had not previously testified, including the riveting details from an official who was on the ground in Tripoli at the time of the attack in Benghazi.
Even before Wednesday's hearing, there was plenty of hype.
Doomed Libya ambassador: 'We're under attack'
"I think the dam is about to break on Benghazi," Sen. Lindsey Graham wrote on his Facebook page.
"We're going to find a system failure before, during, and after the attacks. We're going to find political manipulation seven weeks before an election. We're going to find people asleep at the switch when it comes to the State Department, including Hillary Clinton," added the South Carolina Republican, who's been a longtime critic of the administration's role in Benghazi.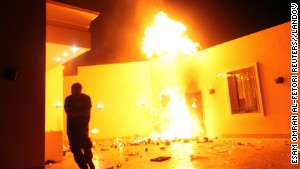 State Department missed Benghazi danger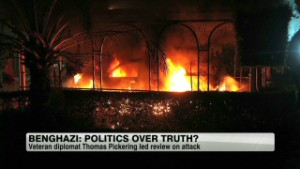 Benghazi: Politics over truth?
But Clinton's specific role did not dominate the hearing, with only one GOP congressman on the panel trying to drill down for specifics.
The question now is whether any smoking gun emerged from Wednesday's hearing regarding what Clinton knew and when she knew it. Republicans and Democrats obviously disagree on this question
"I rather doubt the current right-wing demagoguery is going to hurt Hillary if she chooses to run," said Democratic strategist and CNN contributor Paul Begala, who was a top political adviser in Bill Clinton's White House.
What the Obama administration has said about the Libya attack
Republican strategist and CNN contributor Alex Castellanos disagreed.
"It is increasingly looking like the only president named Clinton may be Bill," said Castellanos, who is spearheading a new super PAC called NewRepublican.org to refocus the party's messaging and policy goals..
One thing's for sure: Wednesday's hearing won't be the end of this story. Thursday morning House Speaker John Boehner called on the president to release emails that he says show how the White House wanted to change the Benghazi attack "talking points."
Stay tuned.