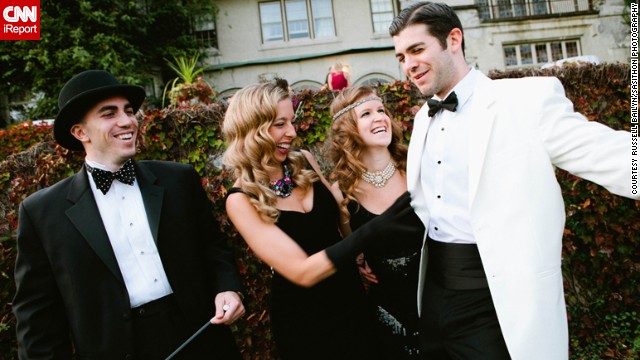 Ever wanted to throw a party like Gatsby? Check out this gallery to learn how. As the much-anticipated adaptation of F. Scott Fitzgerald's classic novel hits theaters, we asked CNN readers to share their best
1920s-inspired parties
and hosting tips.
Period-appropriate drinks are a must at a 1920s party. Los Angeles event planner Amy Campbell recommends a gin fizz or a penicillin. She also suggests
hinting at the Prohibition era
by covering liquor bottles at the bar with brown paper bags.
"When doing a theme party, it's easy to get tempted by every food idea," said Campbell. "Focus on what will taste good and be filling alongside all of those cocktails." Her 1920s progressive dinner included Caesar salad, shrimp cocktails and grilled rib-eyes.
J.Crew personal stylist Caitlin Riley
put together a 1920s look
with a faux bob hairstyle, deep red lipstick, art deco accessories and a yellow feather clutch. Riley blogs about fashion with her twin sister, Valerie Efta.
create a mural backdrop
for photos, inspired by Georges Melies' "A Trip to the Moon."
If guests are in costume, the host should plan to document it. For her birthday party, Krysti Kalkman enlisted friends to help
her husband's birthday party
. Other cost-cutting measures included enlisting friends to stand in as bartenders.
Ashleigh Bennet created a papier mâché phonograph along with other homemade decorations to create a 1920s vibe for
birthday party
. His top tip for hosting a successful bash? "Giant bottles of champagne and lobster are a good start."
On the other hand, wealth manager Russell Bailyn, right, spared no expense for his "Great Gatsby"-themed 30th
Krysti Kalkman, left, invited about 40 people to her 1920s-inspired birthday party. "The guest list is very important," she said. "I invited anyone who I thought would have a blast and who is intriguing."
Layla Grayce
co-owner Tiffany Harris and her husband Tom hosted a 1920s-themed
party for their year-old twins
in 2012. The family took the dress code seriously, with custom-made outfits that complemented the party theme and color scheme.
When planning decade-themed parties, Campbell starts by researching popular food and drinks of that era. "A candy bar featuring all of the candies invented in the 1920s was perfect," for her progressive dinner, she said. Music and movies from the 1920s are other fun and easy ways to set the mood.
"I find what makes the best parties are the people who attend," said John Bennet, center. "All the decor and great food in the world won't do you much good if you have a bunch of stuffy wallflowers hanging around."
How to throw a Roaring '20s party
Bring on the sloe gin fizz.
Keep food simple.
Costumes are mandatory.
There's no such thing as too many photos.
You don't have to break the bank.
But you can if you want to.
It's all about the guest list.
1920s parties can be all-ages.
Do your research.
Say no to 'stuffy wallflowers'.