(CNN) -- Lorain Avenue is where the nightmare began for three women who police say were held captive in a Cleveland home for roughly a decade.
Amanda Berry, Georgina DeJesus and Michelle Knight each vanished from the inner-city thoroughfare.
Their families reported them missing, but neighbors living near their captors were unaware of their plight, and authorities never found them. Then, on Monday, Berry broke free, when a neighbor heeded her cries and kicked open the front door to the house that had been a jail to the abducted women.
From their disappearance to their liberation, the suspects' arrest and the investigation, this is the course of events we are aware of so far in order of their occurrence: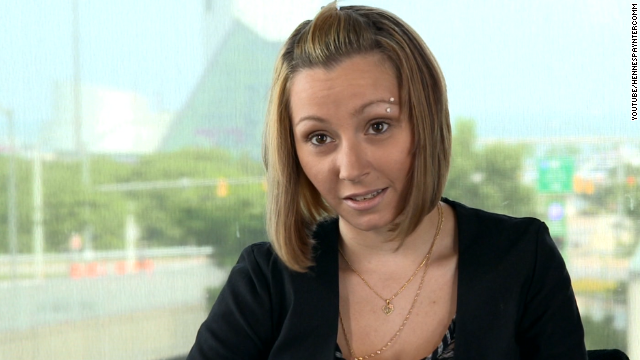 Amanda Berry speaks in a video released on YouTube on Monday, July 8, thanking people for support and privacy. Berry, Gina DeJesus and Michelle Knight escaped from a Cleveland home on May 6, 2013, after being held captive for nearly a decade.
Amanda Berry vanished a few blocks from her Cleveland home on April 21, 2003. She was 16.
Gina DeJesus speaks in the YouTube video.
Georgina "Gina" DeJesus was last seen in Cleveland on April 2, 2004, on her way home from school. She was 14 when she went missing.
Michelle Knight speaks in the YouTube video.
Knight was last seen on August 22, 2002, when she was 21.
In a handwritten note, Knight thanked Cleveland police for their efforts, saying she was overwhelmed with the support she had received from "complete strangers." The note was posted Wednesday, July 31, on the police's Second District Community Relations Committee Facebook page.
Residents gather outside a community meeting at Immanuel Lutheran Church on Thursday, May 9, to talk about the kidnapping case in Cleveland. Balloons were released as part of the ceremony.
FBI agents and other law enforcement officers stand outside suspect Ariel Castro's home in Cleveland on May 9. Castro, a former school bus driver, has been accused of holding three women captive for a decade in his house. He has also been charged with rape.
Castro hangs his head low while talking with his public defender, Kathleen DeMetz, during his arraignment on May 9.
Ada Colon prays during a vigil held in honor of the kidnapping victims in Cleveland on Wednesday, May 8.
Relatives of kidnapping victim Georgina "Gina" DeJesus hug after she returned to her parents' home in Cleveland on May 8.
Friends and neighbors cheer as a car carrying Amanda Berry arrives at her sister's house in Cleveland on May 8.
Gina DeJesus gives a thumbs up as she arrives at her family's house in Cleveland on May 8.
Ariel Castro was charged on May 8 with kidnapping the three women.
The family house of Gina DeJesus has been decorated by well-wishers on Tuesday, May 7.
Friends and relatives gather in front of the family house of DeJesus on May 7.
Well-wishers visit the home of the sister of Amanda Berry on Monday, May 6.
Investigators remove evidence from the house on Seymour Avenue in Cleveland where the three women were held.
An FBI forensics team meets outside the house where three women were held as they investigate the property.
An FBI forensics team member removes evidence from the house.
A relative of DeJesus brings balloons to the home of Amanda Berry's sister in Cleveland on May 7.
Children hold a sign and balloons in the yard of Gina DeJesus' family home in Cleveland on May 7.
Bystanders and media gather on May 7 along Seymour Avenue in Cleveland near the house where the three women were held captive.
A bystander shows the front page of The Plain Dealer newspaper to a friend outside of the house on Seymour Avenue on May 7.
Cleveland Deputy Chief of Police Ed Tomba, center, speaks at a news conference to address details of the developments.
The house where the three women were held captive in Cleveland was the home of Ariel Castro, who was arrested and is being held pending charges in the case.
FBI agents remove evidence from the house May 7.
A police officer stands in front of the broken front door of the house on May 7, where the kidnapped women escaped.
Neighbor Charles Ramsey talks to media as people congratulate him on helping the kidnapped women escape on Monday, May 6. He helped knock down the door after he heard screaming inside.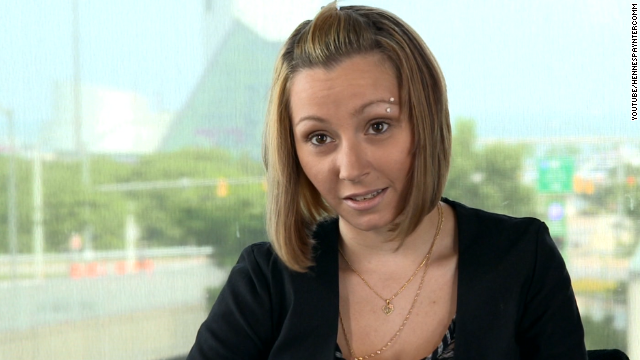 Photos: Kidnapped teens rescued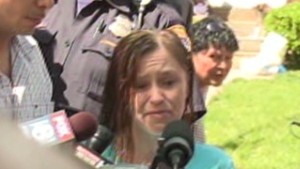 Amanda Berry's sister asks for privacy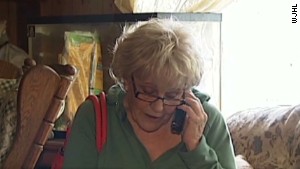 Grandmother to Berry: I never forgot you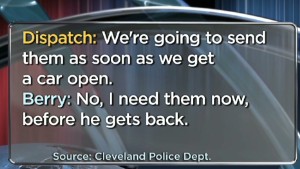 Police address Amanda Berry's 911 call
• August 22, 2002 -- Michelle Knight is last seen. The next day, she is reported missing. She is 21 at the time, Cleveland police say.
• April 21, 2003 -- Amanda Berry is last seen after finishing her shift at a Burger King restaurant on the eve of her 17th birthday. Later that month a man calls her family from Berry's cell phone, saying he has taken her and that she will be home in a few days.
• January 2004 -- Investigators visit the home of now-kidnapping suspect Ariel Castro at the request of child services to investigate a complaint that he had left a child alone on a bus during the time he worked as a bus driver. They knock, but no one answers.
Castro is suspended for 60 days for that infraction. He also had suspensions for making a U-turn in heavy traffic with a bus full of students and for using a bus to go grocery shopping.
Police also stop at Castro's home once, when he called them about a fight in the street nearby.
• April 2, 2004 -- Georgina DeJesus stops at a pay phone with a friend around 3 p.m. to ask the friend's mother whether the two can sleep over at DeJesus' house. The answer is no. It is the last time she is seen for more than nine years.
• April 2004 -- "America's Most Wanted" features Berry's and DeJesus' stories, pointing out that they were taken from nearly the same spot on Lorain Avenue.
• Late 2004 -- Berry's mother, Louwana Miller, makes an appearance on Montel Williams' show, where a television psychic predicts she will not see her daughter again alive. Miller dies in 2006 of heart failure. Relatives say the grief over losing her daughter damaged her health. In the years after Miller's death, there are two leads purporting Berry's demise; both are false.
• September 2006 -- Police dig up the garage floor of a Cleveland residence after receiving a false tip that Gina DeJesus was buried there.
• July 2007 -- A third girl, Ashley Summers, who has not been found, disappears from the same area. She is 14 at the time. Investigators and the family hope the liberation of Berry, DeJesus and Knight will offer insight into her case.
• 2009 -- Members of Berry's and DeJesus' families appear on Oprah Winfrey's show.
• July 2010 -- Nina Samoylicz, who lives nearby, says she called police after seeing a naked woman in the backyard at 2207 Seymour Ave. But Samoylicz's sister said Tuesday there was no call to police -- instead they called their mother. She didn't contact authorities because she didn't know what to do, the mother said. Samoylicz says at the time she also saw tarps covering the backyard.
• November 2011 -- Neighbor Israel Lugo calls police when he hears yelling in the Castro home, but officers leave when no one answers the door, he says.
• November 2011 -- A neighbor reportedly calls the police after seeing a woman through an attic window at the Castro home. Cleveland police say they have no record of the call. They say neighbors offered no tips during the extent of the women's captivity.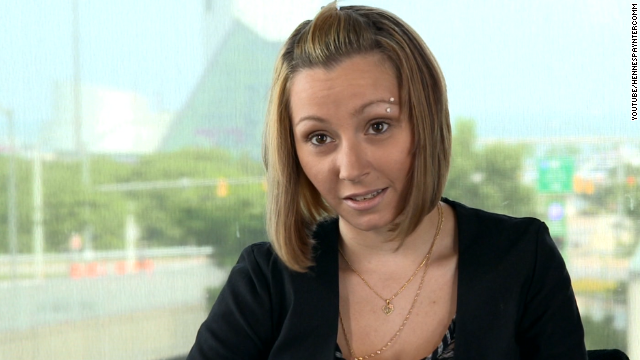 Amanda Berry vanished a few blocks from her Cleveland home on April 21, 2003. She was 16. On Monday, May 6, she was found with two other missing women blocks from where she disappeared. Click through to see more miraculous stories of lost children who were found months or even years later.
Georgina "Gina" DeJesus was found on May 6 with Amanda Berry and Michelle Knight in Cleveland. DeJesus was last seen in the Ohio city on April 2, 2004, on her way home from school. She was 14 when she went missing.
Michelle Knight was the third of the three women who escaped from a captor's house in Cleveland on May 6. She was last seen on August 22, 2002, when she was 21.
On June 5, 2002, when Elizabeth Smart was 14, she was abducted from her bed, raped and held captive for nine months by Brian David Mitchell. On May 25, 2011, Mitchell was sentenced to life in prison.
Natascha Kampusch, an Austrian woman, was held prisoner in a basement for eight years from the time she was 10. Her abductor, Wolfgang Priklopil, beat her up to 200 times a week, manacled her to him as they slept and forced her to walk around half-naked as a domestic slave after kidnapping her in 1998. Kampusch escaped in August 2006. Priklopil committed suicide shortly thereafter.
Eleven-year-old Jaycee Lee Dugard was abducted in 1991 from outside her home in South Lake Tahoe, California. She was held by Phillip and Nancy Garrido in a hidden compound of sheds along with the two daughters to whom she subsequently gave birth. Dugard and her daughters were found in 2009.
Shawn Damian Hornbeck spent more than four years with Michael Devlin, passing as his captor's son in the St. Louis suburb of Kirkwood, Missouri. Shawn was 15 when he was found in 2007 and reunited with his family.
Elisabeth Fritzl was imprisoned and raped by her father, Josef Fritzl, for 24 years. Fritzl lured his daughter into the basement in 1984 when she was 18 years old. She had seven of his children. She was released at age 42 after her ill 19-year-old daughter was taken to the hospital and police called the family in for abuse suspicions. In 2009 Josef Fritzl was sentenced to life in prison.
Carlina White was abducted in 1987 from a Harlem hospital room. She learned her real identity 23 years later after finding her case online. She contacted the police after finding a baby picture that looked like her baby pictures on a missing children website. She was reconnected with her birth mother in 2011. White said she'd never felt like she belonged to the family who raised her.
Steve Carter also discovered he was a missing person after an online search. He had been adopted at age 4 from an orphanage in Honolulu. At 35 years old, he heard about White's case and clicked on Missingkids.com and found an age progression photo of himself as an infant. It came to light that biological father, Mark Barnes, reported him missing more than three decades ago after his mother, Charlotte Moriarty, took him for a walk and didn't return.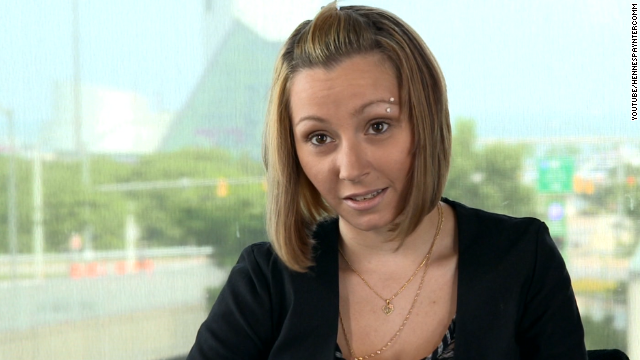 Missing children who were found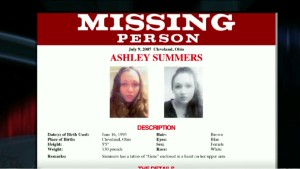 Emotional rollercoaster for Summers family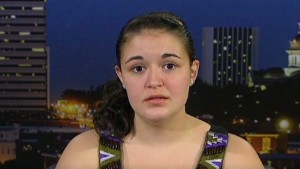 How survivor manipulated captor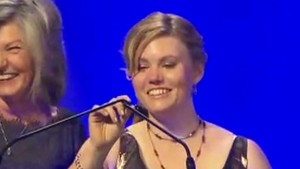 Dugard's message: Ask yourself to care
• 2011 -- Tito DeJesus, who says he is not related to Georgina, enters the home to help deliver a washer and dryer he has sold to Ariel Castro, with whom he plays in a band. He does not detect anything out of the ordinary and later describes the home as "a normal environment."
• Sunday, May 5, 2013 -- The day before Berry escapes and all are freed, neighbor Lugo encounters Castro at the park walking with a little girl. Castro tells him it is his girlfriend's daughter.
• Monday, May 6, 2013 -- Berry screams for help through a crack in the front door at 2207 Seymour. Angel Cordero and neighbor Charles Ramsey say they came to her aid and kicked open the door. Ramsey and Berry call 911.
-- "I've been kidnapped, and I've been missing for 10 years," the 27-year-old Berry says on the call. "And I'm here. I'm free now." Berry has a 6-year-old girl with her. It's her daughter, she tells a relative.
-- Police arrive to find DeJesus and Knight at the home as well.
-- Three brothers are detained in the women's disappearance -- 52-year-old Ariel Castro, 54-year-old Pedro Castro and 50-year-old Onil Castro.
• Tuesday, May 7, 2013 -- At least two of the women and the child are released from the hospital and have more contact with family members they haven't seen for nearly a decade.
-- Castro's neighbors speak of their astonishment that they had not noticed what was allegedly going on at the address.
-- A cadaver dog searches the home. FBI agents in protective suits enter the house, and investigators remove items, including an amplifier, a storm door and black plastic bags full of objects.
-- Investigators begin questioning the Castro brothers, an FBI special agent said.
• Wednesday, May 8, 2013 -- Ariel Castro faces charges on four counts of kidnapping and three counts of rape, Victor Perez, chief assistant prosecutor for the city of Cleveland, says late in the afternoon. He will be arraigned Thursday morning, according to the prosecutor. Castro's two brothers will not be charged in the case.
-- "The house was in quite a bit of disarray," says Edward Tomba, deputy police chief.
-- The three women "relied on each other for survival," a law enforcement source with firsthand knowledge of the investigation told CNN. They interacted during their captivity, though they were typically kept in separate rooms, according to the source.
-- Castro has waived his rights and is cooperating with investigators, Tomba said. Investigators don't consider him a suspect in any other disappearances.
• Thursday, May 9, 2013
-- Ariel Castro was arraigned on four counts of kidnapping and three counts of rape, accused of holding the women captive in his Cleveland home. Cleveland Municipal Court Judge Lauren Moore ordered Castro held on $8 million bond -- $2 million for each of the three women and the child born to Amanda Berry before they were freed Monday evening.
-- Lead prosecutor in Cuyahoga County, Ohio, Timothy McGinty, will press for more charges -- "for each and every act of sexual violence ... each day of kidnapping, every felonious assault (and) all his attempted murders."
-- McGinty also wants a grand jury to indict the 52-year-old Castro for "aggravated murder" for the termination of his captives' pregnancies.
CNN's Randi Kaye contributed to this report