STORY HIGHLIGHTS
Women were aware of each other while held captive
Amid cheers, Amanda Berry and Georgina DeJesus go home
Michelle Knight remains hospitalized in Cleveland
All three were allegedly held captive until Monday inside a Cleveland home
(CNN) -- Amanda Berry's father, overjoyed that his daughter was freed after years in captivity, had a simple message.
"Keep hope. Keep hope," Johnny Berry told Knoxville, Tennessee, CNN affiliate WATE. "Don't give up until you know, because I never gave up, because I know the kid's heart."
When Amanda Berry screamed for help Monday evening through a crack in the front door of the Cleveland house where she was being held, she set in motion an end to roughly a decade of captivity for herself and two other women, Georgina "Gina" DeJesus and Michelle Knight. Berry's 6-year-old daughter also was freed.
Knight remained in the hospital in good condition Wednesday.
The three women "relied on each other for survival," a law enforcement source with firsthand knowledge of the investigation told CNN. They interacted during their captivity, though they were typically kept in separate rooms, according to the source.
While Berry made a break, the two other women chose not to. They had "succumbed" to "their reality," the source said, describing them as brainwashed and fearful.
Timeline: From missing to liberated
Here's more information about Berry, DeJesus and Knight and their disappearances:
Amanda Berry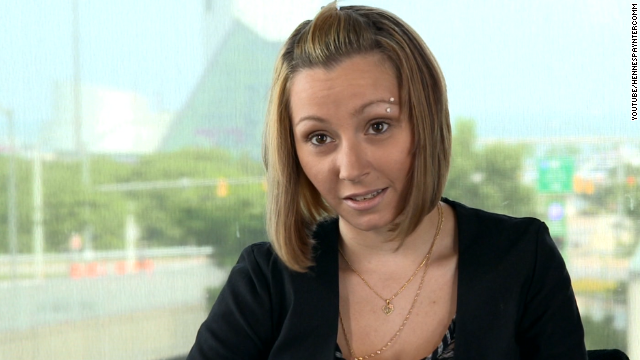 Amanda Berry speaks in a video released on YouTube on Monday, July 8, thanking people for support and privacy. Berry, Gina DeJesus and Michelle Knight escaped from a Cleveland home on May 6, 2013, after being held captive for nearly a decade.
Amanda Berry vanished a few blocks from her Cleveland home on April 21, 2003. She was 16.
Gina DeJesus speaks in the YouTube video.
Georgina "Gina" DeJesus was last seen in Cleveland on April 2, 2004, on her way home from school. She was 14 when she went missing.
Michelle Knight speaks in the YouTube video.
Knight was last seen on August 22, 2002, when she was 21.
In a handwritten note, Knight thanked Cleveland police for their efforts, saying she was overwhelmed with the support she had received from "complete strangers." The note was posted Wednesday, July 31, on the police's Second District Community Relations Committee Facebook page.
Residents gather outside a community meeting at Immanuel Lutheran Church on Thursday, May 9, to talk about the kidnapping case in Cleveland. Balloons were released as part of the ceremony.
FBI agents and other law enforcement officers stand outside suspect Ariel Castro's home in Cleveland on May 9. Castro, a former school bus driver, has been accused of holding three women captive for a decade in his house. He has also been charged with rape.
Castro hangs his head low while talking with his public defender, Kathleen DeMetz, during his arraignment on May 9.
Ada Colon prays during a vigil held in honor of the kidnapping victims in Cleveland on Wednesday, May 8.
Relatives of kidnapping victim Georgina "Gina" DeJesus hug after she returned to her parents' home in Cleveland on May 8.
Friends and neighbors cheer as a car carrying Amanda Berry arrives at her sister's house in Cleveland on May 8.
Gina DeJesus gives a thumbs up as she arrives at her family's house in Cleveland on May 8.
Ariel Castro was charged on May 8 with kidnapping the three women.
The family house of Gina DeJesus has been decorated by well-wishers on Tuesday, May 7.
Friends and relatives gather in front of the family house of DeJesus on May 7.
Well-wishers visit the home of the sister of Amanda Berry on Monday, May 6.
Investigators remove evidence from the house on Seymour Avenue in Cleveland where the three women were held.
An FBI forensics team meets outside the house where three women were held as they investigate the property.
An FBI forensics team member removes evidence from the house.
A relative of DeJesus brings balloons to the home of Amanda Berry's sister in Cleveland on May 7.
Children hold a sign and balloons in the yard of Gina DeJesus' family home in Cleveland on May 7.
Bystanders and media gather on May 7 along Seymour Avenue in Cleveland near the house where the three women were held captive.
A bystander shows the front page of The Plain Dealer newspaper to a friend outside of the house on Seymour Avenue on May 7.
Cleveland Deputy Chief of Police Ed Tomba, center, speaks at a news conference to address details of the developments.
The house where the three women were held captive in Cleveland was the home of Ariel Castro, who was arrested and is being held pending charges in the case.
FBI agents remove evidence from the house May 7.
A police officer stands in front of the broken front door of the house on May 7, where the kidnapped women escaped.
Neighbor Charles Ramsey talks to media as people congratulate him on helping the kidnapped women escape on Monday, May 6. He helped knock down the door after he heard screaming inside.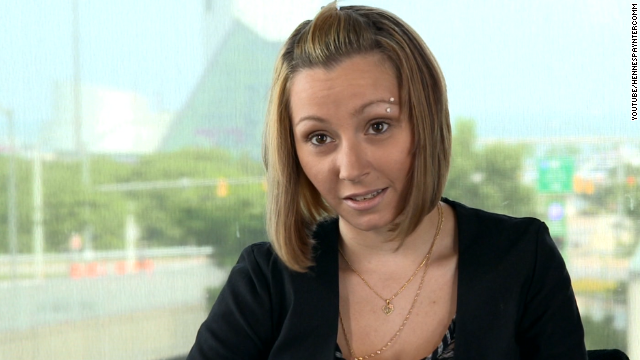 Photos: Kidnapped teens rescued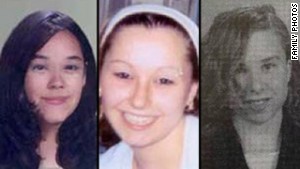 Three separate cases, one rescue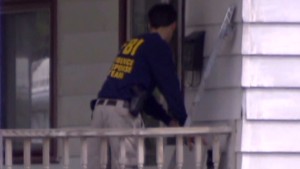 Ohio cop: Never got call about naked lady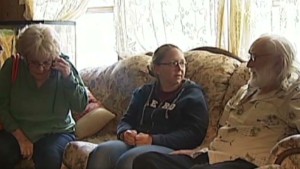 Abduction story stuns Ohio community
Age: 16 when she was reported missing; now, 27.
Missing since: April 21, 2003
Last seen: walking home from a job at Burger King a few blocks from her home about 7:40 p.m., according to the FBI. It was the eve of her 17th birthday.
Clues: She called her sister to tell her she was getting a ride home, CNN affiliate WJW reported.
Appearance: The FBI missing person poster described her as 5 feet, 1 inch to 5 feet, 3 inches tall and weighing 105 pounds.
Law enforcement action: The FBI had 10 postings on its website about her disappearance and offered a reward of up to $25,000 for information about her whereabouts.
Her child: Authorities said they could not talk about the 6-year-old girl because of the investigation. A search warrant was executed on the suspect to obtain DNA, officials said Wednesday.
Family reaction: Berry went home Wednesday morning. Well-wishers from the neighborhood cheered as a gray van carrying mother and child pulled up. The porch was decorated with balloons and stuffed animals and draped with a red banner that read, "Welcome home Amanda."
"We are so happy to have Amanda and her daughter home," her sister, Beth Serrano, told reporters. "I want to thank the public and media for their support and courage over the years."
Amanda Berry declined to speak publicly Wednesday.
"She is a true hero. She was the one who started this," said Deputy Police Chief Ed Tomba. "Something must have clicked and she saw an opportunity and she took the opportunity."
Georgina 'Gina' DeJesus
Age: 14 when she was reported missing; now, 23.
Missing since: April 2, 2004
Last seen: at a pay phone around 3 p.m. as she was walking home from school. The girl and a friend had called the friend's mother seeking permission for a sleepover at DeJesus' house, but the answer was no.
Appearance: The FBI missing person poster described her as 5 feet, 1 inch to 5 feet, 3 inches tall and weighing 135 pounds.
Law enforcement action: The FBI, which mentions her in eight documents on its website, was offering an unspecified reward for information leading to her recovery.
Family reaction: DeJesus arrived at a family home Wednesday afternoon. A large crowd greeted her arrival with cheers.
Her father, Felix DeJesus, said he never doubted his daughter was alive. "I knew she needed me and I never gave up, I never gave up searching for her."
Sandra Ruiz said her niece is "ecstatic" to be back with her family. When she arrived Wednesday afternoon at a family home, "she was happy, she looked at the house and she wanted a tour."
"What more can she say -- her face, her expression, her smile, (her) hugging says it all," Ruiz said.
Wednesday evening, Pastor Angel Arroyo told CNN's Piers Morgan: "The family is totally overwhelmed, and grateful and happy."
Michelle Knight
Age: 21 when she was reported missing; now 32, according to the Cleveland Police Department.
Missing since: August 22, 2002, said Martin Flask, director of public safety for the police; a missing person report was filed the next day.
Clues: Knight's grandmother, Deborah Knight, told The Plain Dealer on Monday that the family had concluded that Michelle had left of her own accord because she was angry she had lost custody of her son. That conclusion was supported by police and social workers, she told the newspaper.
But the missing woman's mother, Barbara Knight, told the newspaper that her daughter would never have broken all contact voluntarily.
Law enforcement action: The FBI website makes no mention of her.
Family reaction: News of her discovery came as a shock to brother Freddie Knight, who didn't know she was missing until he saw the story on TV. He said the family thought Knight might be with the brother of a brother-in-law, but had no phone number to contact him.
"I was freaking happy as hell, because I didn't know my sister was kidnapped," he said.
Barbara Knight told NBC on Wednesday she had not yet spoken to her daughter.
"She's probably angry at the world because she thought she would never be found, but thank God that somebody did," she told NBC.
She was asked what she would say to Michelle if and when she got to see her. "I love you and I missed you all this time," Barbara Knight said.